Wondering how to teach kids shapes? This easy toddler and preschool shapes activity is a wonderful preschool shapes craft perfect for teaching shapes. Add in a 'fishing' aspect to it and it is a sure hit with preschool (or frankly any aged child.) Colors and shapes activities for preschoolers are my amongst my toddlers favorite activities! I created an organization container so that your toddler can do some shape sorting.

Toddler and Preschool Shapes Activity – Shapes on Water
Foam shapes on water is a great activity for teaching toddlers and preschoolers their shapes while working on their fine motor skills too! Toddlers and water based activities always prove to be a magical combination. This one was no exception. Throw in a pair of tongs and you have a twenty minute activity filled with a happy toddler who is so incredibly proud of her own skills. This didn't just stop at my toddler! My older kids had a go too and they found it pretty awesome too.
We have been teaching my toddler shapes for the last two weeks through different activities. We made paper plate shapes, an easy shapes resist painting activity and canvas hearts and have done so many other fun activities as featured on my instagram account. Shapes Crafts can be so much of fun!
Materials required for Preschool Shapes Activity:
A tray or dish of some sort. (Use whatever you have at home: A big bowl, cake pan, etc.)
Foam shapes (I purchased mine from Lakeshore Learning but you can probably find some on amazon.)
Tongs (I used tongs that I had at home but I am ordering these for future projects. They seem to have a wide range of tools and the reviews are excellent from all my friends who have them.)
The Toddler Shapes Activity
I started by calling out the shape I wanted her to find. She would point it out, I'd say, "Yes." Then she would use her tongs to catch it.
Then she needed to control her grasp until she placed the shape into its correct pile. Did I forget to mention that this was a sorting activity too?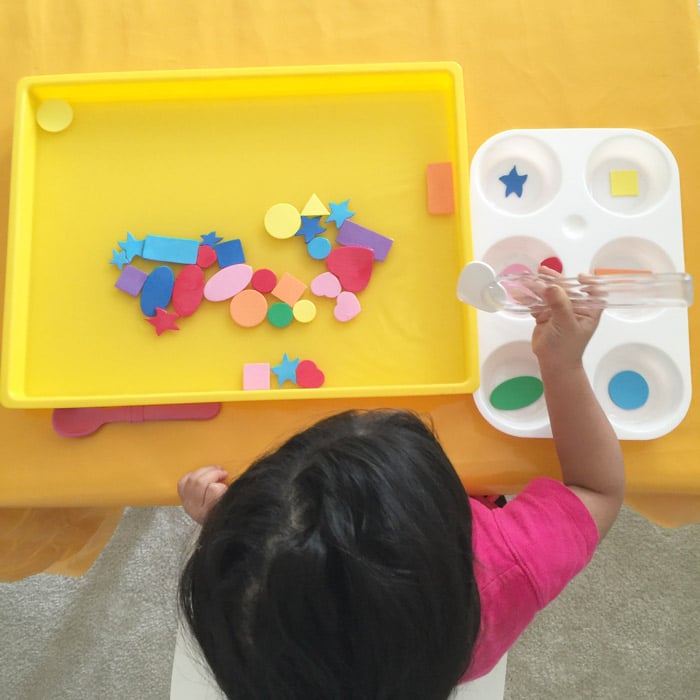 Super fun with simple materials that you probably already have at home!
My daughter loves fishing activities. You should definitely try out our Simple alphabet letter fishing idea!
Are you looking for more toddler activities? Have a look at these:
Shapes Paint Resist
February 2016 Tot Trays and activities
Our favorite toddler iPad apps

More Preschool Shapes Activities: