These 12 Favorite Preschool Ipad Apps are perfect for toddlers and preschool aged kids to play and learn during their tech time. Kids will love the imaginary play while working on their visual perception, letter formation and recognition, and early math skills. I have listed some of our favorite kids iPad apps as well as our favorite cover to prevent kids breaking iPad.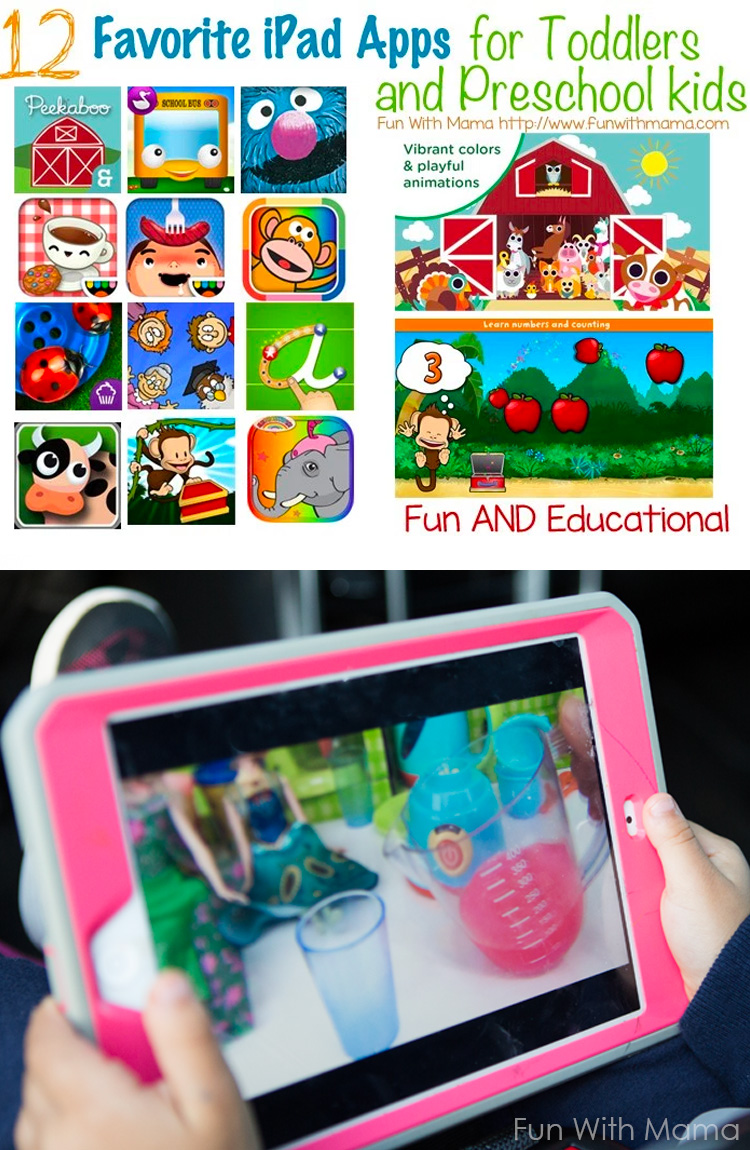 12 Favorite Preschool iPad Apps:

Are you on the lookout for some fun, educational and engaging iPad apps for kids in the age groups of: a toddler, preschooler, or child aged 1, 2, 3 or 4? Here is a very comprehensive list of our favorite and best kids apps. As a seasoned traveller and also a very tech savvy Mom I am always on the lookout for a fun and educational app especially apps to keep my kids busy while traveling. I have noticed that my kids have learned their numbers, abc letters, shapes, and writing so much quicker since they started using apps. Apps teach kids the above in a very playful and fun way.
We have tried and tested many apps and I have come up with a list based on the best apps for my children!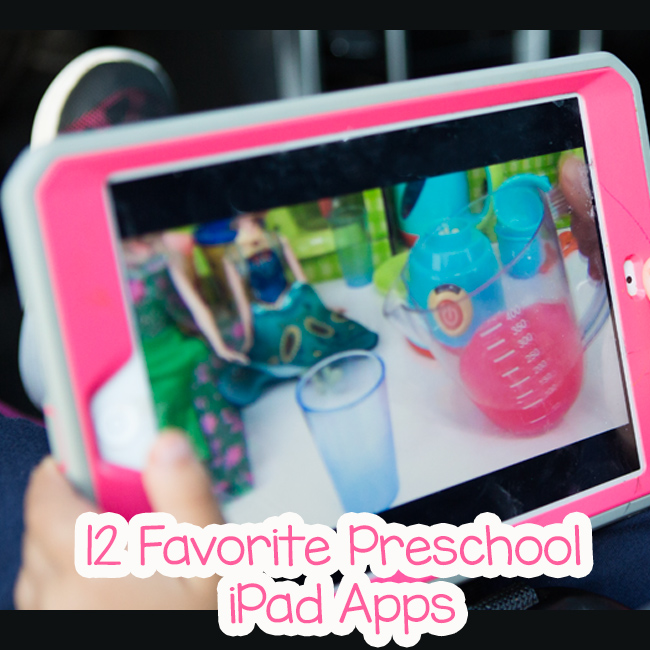 Our toddlers favorite iPad apps (17 months old):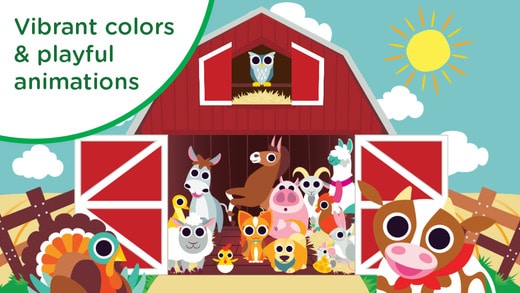 1 Peekaboo Barn – This is a simple but entertaining game for toddlers! Animals hide in the barn and then knock on the barn door. Your child has to press the screen to open the door. Thereafter, you hear that animal's sound and name. You Can Try the Lite Version, which is free. I used that for a little while but because there are not many apps aimed at my daughters age group I went ahead and purchased the full version so we could have more animals. My toddler is always coming to my iPad asking for 'peekaboo'.
Link: Peekaboo Barn Price: $1.99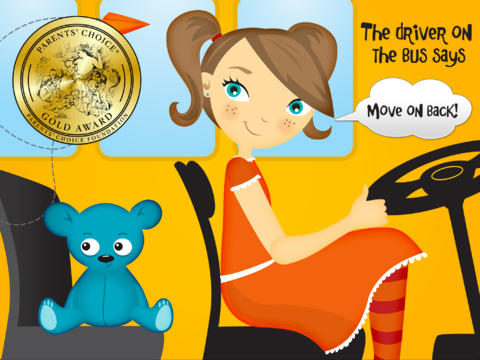 2 Wheels on the Bus by Duck Duck Moose is an award winning app that takes this greatly loved classic song and turns it into an interactive experience. Mom or child can also record their own voice to sing the song! The child can spin the wheels, drive the bus, open and close the bus door, and help the baker serve cakes. All the Duck Duck Moose Apps are lovely and I had a hard time choosing just one to put in this list. If you can spring for the full pack I would definitely purchase it, it includes 10 games at 50% off!
Link: Wheels On The Bus Price: $1.99

I recommend the following Duck Duck Moose Apps: Itsy Bitsy Spider, Fish School, Old Mac Donald and Peek A Zoo.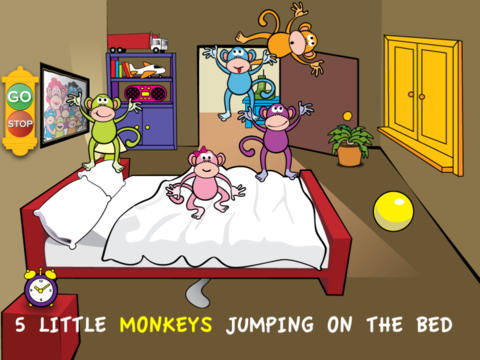 3 Five Little Monkeys I don't know a single child who does not love the song five little monkeys. I think that at this age kids really love music and to sing and dance which is probably why apps based on songs do so well and grab their attention.
Link: Five Little Monkeys Price: $1.99


Favorite Preschool iPad Apps: For 2 year old+:



4 ABC Mouse A new favorite app that has SO many letter activities, games and more is ABC Mouse. Try it for free for a month to see if you like it. It is like a preschool at home.
5 Monkey Preschool Lunchbox is the game I recommend most often to friends looking for an educational app for their 2-4 year old. This app includes games that reinforce learning about counting, colors, matching, letters, spot the difference and shapes. This is a must have app for any toddler/preschool aged child.
Link: Monkey Preschool Lunchbox Price: $1.99
6 Toca Boca Tea Party is one app that never gets old in my house. I don't know what it is about this app but girls AND boys are always drawn to it. The app allows you to have a virtual tea party (with up to four people in your household). You can basically 'eat' your portion of food that your daughter/son puts on your plate while your child plays host to the tea party. Sometimes the tea falls and has to be 'cleaned' up. It is a great app for imaginary play. It is no wonder why this app has won awards and is always found on all the 'Top Ten App' Lists.
Link: Toca Boca Tea Party Price: 0.99 cents (on sale right now!)
7 Toca Kitchen – When Toca Boca releases an app, I don't even look at it. I just immediately download it because there has never been one app of theirs that my kids didn't love and play with. With Toca Kitchen children get to prepare food and then feed people this food. I think that because kids can't have free reign in the kitchen due to the obvious dangers, they love being able to 'cook' in a safe environment.
Link: Toca Kitchen Price: $2.99 Toca Big Box Bundle Price: $16.99
As I mentioned, I recommend ALL the Toca Boca Apps, but some of our favorites are:
US links: Toca Hair Salon Me, Toca Birthday Party, Toca Store, Toca Train, Toca Doctor
8
The Monster At the end of this book
(Age 1-10) takes the classic book and turns it into one of the most amusing interactive book experiences. Your kids will giggle at how funny this book is. The character of Grover tries his best to tie down each page so that you don't turn the pages. He fears that there is a monster at the end of this book. The child has to break down these ties, bricks etc to turn the page. It is very amusing and even as a parent, I love it.
US Link
:
Monster At The End Of This Book
Price: $4.99
9 Preschool Adventure
– includes 18 interactive games that will have your child learning many different things! Includes Dot to Dot numbers, matching, monkey body parts, colors, matching and more.
Link:
Preschool Adventure
Price: 0.99 cents

10 Bugs and Buttons
is a bug themed game that has your child count bugs, do mazes, practice letter formation, and sort out different types of bugs.
11 Tozzle
– My kids seem to always score highly on Visual perception and I attribute this to this app. This app helps you child recognize various shapes by having only a black cut out as a clue for each piece. A used to play this from the moment she turned 2 and she was very good at it.
12 Letter School
is a great app for teaching children how to write their alphabet letters. Each page has a themed way of having your child write the letters. This app makes it fun to learn how to write!
Link:
Letter School
Price: $4.99
*13 Big Top Circus
– Have your child join the circus while learning more about shapes, counting, colors, and matching! My daughter especially loves helping the baby animals find their mommy! It is so cute and so lively!
Link
:
Big Top Circus
Price: $ 0.99
These are the apps that I would recommend for Toddlers and Children aged 1, 2, 3, and 4. Most of these apps like the Toca Boca Apps and Monster at the end of the book are great for older kids too!
14. Kidloland – My toddler is loving this app. From nursery rhymes, games, songs and abc activities there is always something fun and exciting to do.
Letter Factory iTunes Movie
My preschooler loves watching Leapfrog's Letter Factory. The songs are catchy and it is a great way to help the toddlers and preschoolers to learn their alphabet letters. You can get Letter Factory on iTunes here. or here on Amazon if you want a physical DVD. You can also rent it on Amazon.
I hope you found this list useful 🙂 I hope to do a regular feature every so often of our current favorite apps. Things change so quickly in the app world and the apps improve so much daily. The list above however, are apps that have stood the test of time! Some are 3-4 years old but still going strong.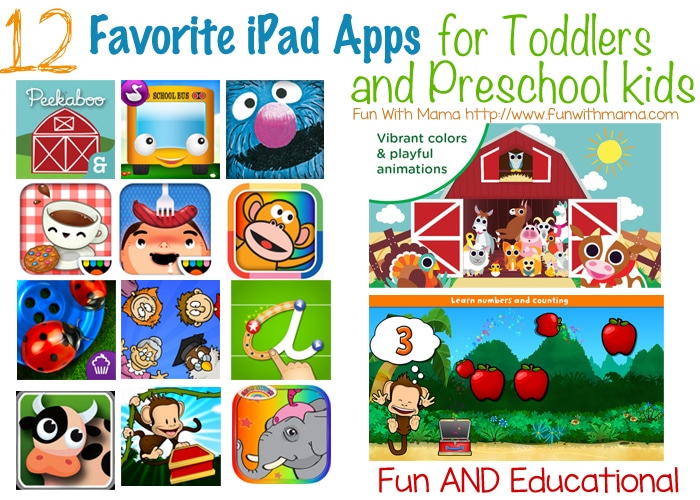 Stay Tuned for my App Recommendations for Older Aged Kids (Coming Soon!)
What are your favorite apps? Let me know in the comments below or on Facebook!
(Please note that the above links contain affiliate links)