Do a Dot Printables are some of our favorite quiet time activity especially when Mom needs a break. These Printable Do a Dot Heart Shapes Activity is virtually mess free and allows the kids to create art in a low key kind of way. It is no secret that Do A Dot Markers are amongst our favorite art material ever and I think every home should have a set! This activity is a part of our Best Preschool Shapes Activities and Crafts. Read on to learn why.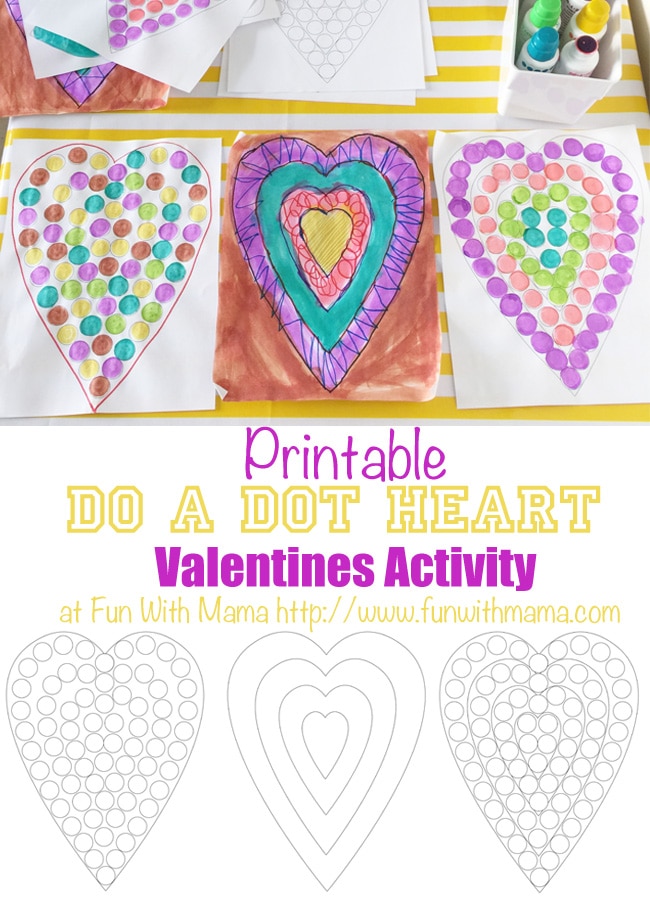 Printable Do a Dot Heart Shapes Valentine's Day Craft
This weekend I purchased our first set of Do A Dot Markers and I was blown away by how much fun they are to use! We first started using them in their conventional way by making dots on paper but I was surprised to find that when you glide the markers across paper they paint so smoothly. They are not at all messy like regular paint and I would feel completely comfortable and letting my kids use this whenever they wish to (no need for newspapers, oil cloth or drop cloths!). In this activity I used oil cloth on my table to contain any mess (there was none).
We now regularly use them above one of our many trays and I rarely ever need to wipe the trays down afterwards.
Benefits of playing with Do A Dot Markers
It's great for strengthening fine motor control because the child is trying to aim for each dot.
It is wonderful for working on concentration.
It works on a child's visual perception through aiming the marker in the middle so it covers the full circle.
The stroke of paint is a very soothing and calming feeling for a child.
The child gets to experiment with cause and effect. Manipulating the marker in different ways brings about different results in the picture.
The child can work on patterning by alternating colors a certain way.
It allows a child to be creative and encourages exploration.
Most importantly its great for mess free fun!
Please note that the resources on this post contain affiliate links. If you choose to purchase these items at no cost to you, I will be credited a small percentage for the referral which could be used to buy us some more paint. Please see my disclosure policy for more information.
Supplies Required:
Do A Dot Markers in Rainbow (Amazon link) and Brilliant (Amazon). You can also purchase these at Discount School Supply Brilliant and Primary. You don't need to purchase both to begin with. You can purchase one set to test it out (but i'm almost certain you will go back and want to buy more.) I started with the Brilliant color set. You can also purchase these at Discount School Supply Brilliant and Primary.
Optional: Activity Book (These are wonderful and would be perfect for a quick put together activity.)

I created a Printable Do a Dot Hearts Shape Activity that is perfect for the month of Valentines!
Here awaits an invitation to create…
I placed the dot markers and pages on my kids table so that when they came home from school they would naturally gravitate towards the activity when they were ready. This was my creative invitation.
And just like I thought, my two and six year old walked into the house and when they walked by their table they both stopped, their faces lit up and went straight to 'work'. (Hey… they were supposed to eat lunch first!)
My kids had a blast with this activity and enjoyed making it even more unique with new squiggly designs and lines. I have printed these out for them more than three times in the past week and they have changed it up every single time.
Sometimes they use crayons, markers, glitter glue etc inside each circle instead of the Do A Dot Markers.
Looking for more valentines heart crafts? Check out these Easy Heart Crafts.
Download the Printable Do a Dot Heart Shape Activity Here
Tag me @funwithmama and hashtag #funwithmama on Instagram to be featured on my page.
Join me on Pinterest to see more Valentines Themed Activities.
More Valentine's Day Activities

Favorite Preschool Shapes Toys and Materials:
Looking for more Shapes Activities?
Check out the Best Preschool Shapes Activities and Crafts