Try these Valentine letter activities. Includes an easy alphabet scavenger hunt that's easy to set up and gets your kids moving. We've also got some great Valentine book suggestions and simple spelling activities. FREE printable.
One of the most popular activities for the preschoolers at the library are treasure/scavenger hunts. Valentines Day is coming up, so it seemed a good time to set up a fun Valentine's Day alphabet scavenger hunt. We've created a free printable to make it super easy.
MATERIALS REQUIRED:
Instructions
Print the Valentine letters on card stock.
You may want to laminate them, so they will last longer.
Cut along the grid lines to make individual heart cards.
Now you are ready to play! Decide how you want to use them.
Do you have several children playing? Use the whole alphabet.
One child? Maybe hide the letters of their name.
Hide the hearts all over the house and invite your child to search for them.
Take it a step further
Invite your children to tell you what each letter is and what sound it makes. In the printables you will find a sheet with all of the letters written on it. Older children can cross off the letters as they find them.
Create a treasure hunt
Lay out the heart in order, turn them over, and print a message on the back of the cards. Print one word on each letter. You could say something like "Hurrah you put the alphabet together. You win a prize. Let's make hot chocolate with marshmallows." Don't worry if you have a few blank cards, but don't go over 26 words!
If you have laminated the cards, you can use a white board marker and change the message each time.
Here are some ideas for Valentine prizes
Make Valentine cookies
You will find a Valentine surprise in (name place)
Do a Valentine craft
Read some Valentine books
Books For Valentine's Day
Of course I have to share some Valentine themed books that you can read to your children. While alphabet activities are fun, reading to your children every day is something that is guaranteed to get them reading.
Some other Valentine letter activities you can do with the heart cards
Challenge children to sort the hearts into colors
Older children may enjoy spelling out simple words. Make it into a game by saying, "Can you find three hearts that spell cat? Can you find four hearts that spell jump? You can use this to help your children learn the Dolch sight words. Grab some lists of sight words here.
Print out both the upper and lower case hearts and play a letter memory game
Use the cards with a Valentine sensory writing tray.
Now it's your turn
Do you enjoy any fun Valentine letter activities with your preschoolers? Share your ideas in the comments below.
Want to remember this post for later? Pin the image below!
GET THE VALENTINE ACTIVITY PACK HERE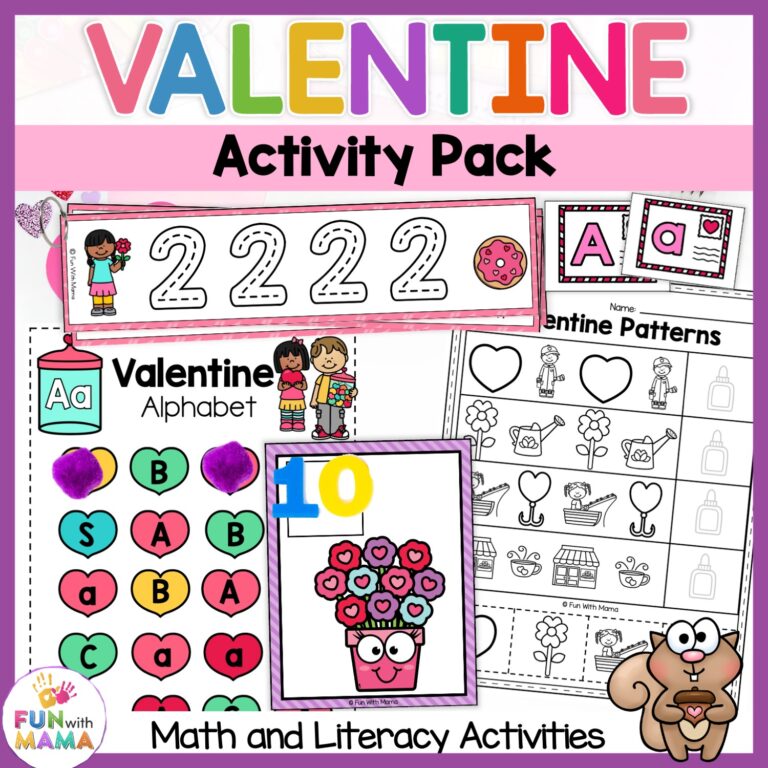 With over 260 pages of fun activities your students or child will be learning more about alphabets, letters, numbers, and sight words too! The hands on activities pack includes activities for task card boxes as well as for centers.