Painting is a fun activity that most kids have a ball with. Using paintbrushes is traditional and finger painting is popular. We have a different idea that may be even more fun, Q-Tip painting. Have you done it before? This is a fun way to work on fine motor skills while learning the letters of the alphabet. These alphabet printables include alphabet letter q-tip painting. You can find all of our alphabet activities for kids here.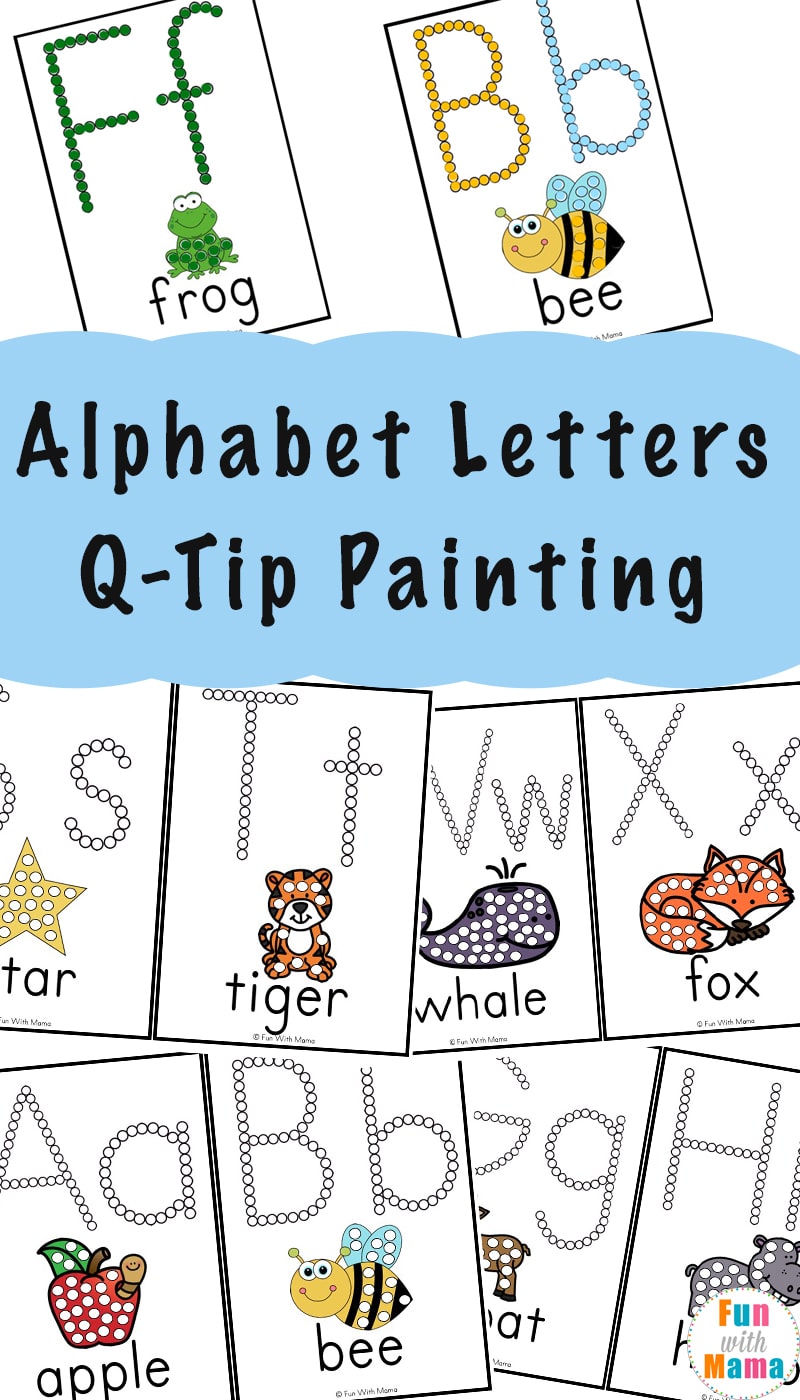 ALPHABET Printables
This printable pack is aimed at you children who are learning the letters of the alphabet. While having fun painting with q-tips, they will also be strengthening their fine motor skills by dipping the q-tip in the paint as well as dotting the paint onto the pages of this pack. These are great to add on to my bestselling alphabet letter worksheets.
Materials Required:
Please note that affiliate links are used in this post.
Here are some items that pair well with the alphabet printables. You will use each of these items over and over during all my printable preschool activity packs.
Card stock(to print everything out on.)
Q-Tips
Paint
Alphabet Letters
This Q-tip activity is very easy to set up, just print off the sheets, cut in half and give them to your child with a few q-tips and a tray of paint. A little direction of how to gently dab the q-tip in the paint and then on the picture and your child will be enjoying these fun worksheets. If you like, talk to your child about the letter and letter sound as they are working on the page. Alphabet printables are a great way to help children recognize letters. My children love the printable letter crafts we do as well as the weekly alphabet ABC printables, worksheets and activities.
There are mats for each letter of the alphabet, with two letters of the alphabet on each page. After printing out on white cardstock, you can cut the page in half and give one letter to your child at a time.
Each mat contains the uppercase and lowercase of each letter of the alphabet with dots instructing the children where to dot their q-tips. The pages also contain a picture that starts (except for X, which is fox) with the same letter which children can also color in with their q-tip.
As a bonus, this alphabet printables pack also contains pages for the numbers zero to fifteen. On these pages, there is a small colored number for the children to paint as well as a large number. They can practice their counting skills while completing these pages.
Where to get the activity
GET THE ALPHABET QTIP PAINTING ACTIVITY HERE
The alphabet cotton bud painting activity is available here in the shop and includes a color, as well as a black and white copy.
Find more printable alphabet activities here and more printable preschool activities here.