The Constellations for kids activities pack is a great way to introduce and teach children about many of the different constellations that can be found in the night sky. This pack would go well as part of a space, astronomy or science themed study. Add it to our Solar System Activities
I have always been fascinated with stars. They are like glitter masking the sky, what is not to love. My true love came, though, when I realized there was something in the sky I could search for. There are actual sets of stars that have names and patterns. That is when my real love began and it has never left.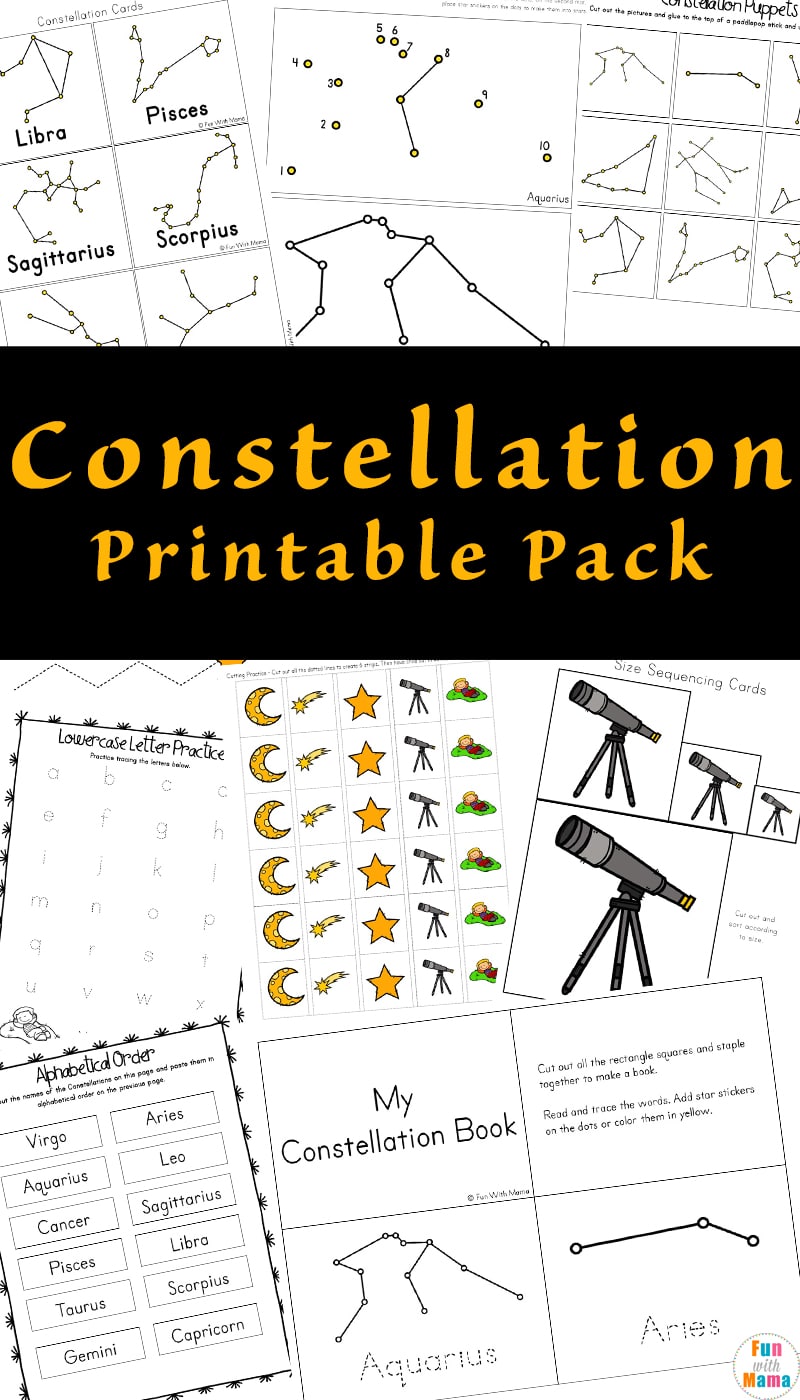 CONSTELLATIONs for kids
This Constellation Pack is aimed at children in preschool through grade three. It is full of activities that will help children to recognize a variety of different constellations.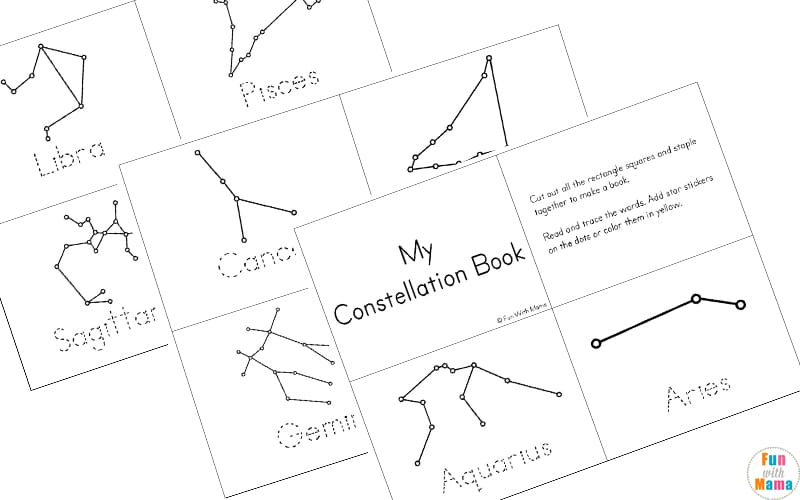 The printable constellation book can be used for tracing.
This Constellation Printable pack contains 55 pages and includes a variety of activities.
At the start of the pack is a worksheet that introduces children to constellations. Following this, there is a constellation book. As part of this book, children will see the shape of the constellations, practice writing the name of the constellation and then can create it by adding star stickers on the dots.
This is followed by the constellation cards, which can be used in multiple ways. Some ways are, in memory or matching games when two copies are printed or for reading and spelling practice. I printed these out on white card stock and laminated them and keep them together with a binder ring done up in the top left-hand corner.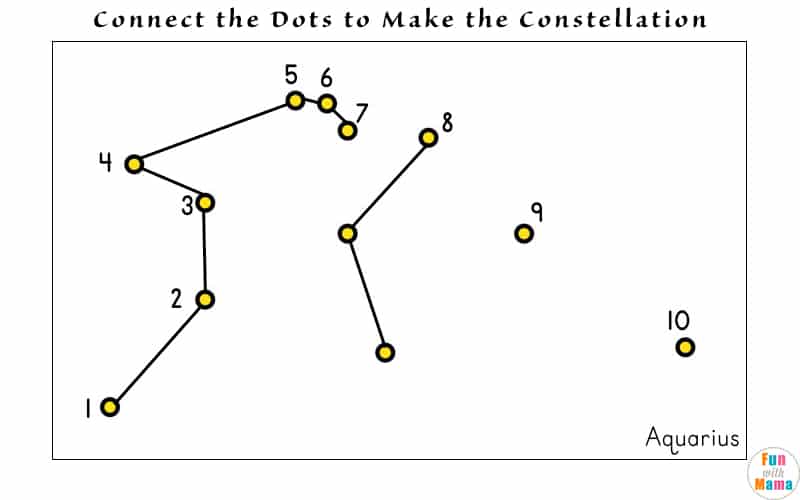 Next are the Constellation Mats. There are two mats for each of the 18 constellations focused on in this pack. The first mat can be laminated and then used as a reusable dot-to-dot puzzle by using a dry-erase marker. Children could also use playdough to create a line between each dot to create the constellation. The next mat, our boys used star stickers to recreate the constellation. Again, these can be used with playdough, creating dots or stars from playdough and then connecting them with strings of playdough.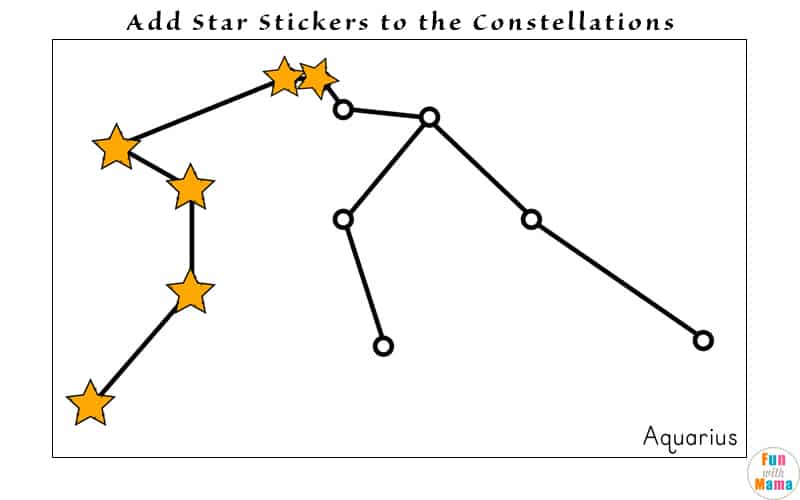 Other fun and exciting activities included in this printable pack include bingo cards, number puzzles, placing the names of the Constellations in alphabetical order, count and clip cards, creative writing pages and size sequencing cards.
You may also like these Constellation Cards or Constellation Book.
Constellation cards include:
Big Dipper constellation, Leo constellation, Bootes, Cygnus , Little Dipper , Orion , Triangulum , Gemini , Aquarius, Aries , Cancer , Capricorn , Librar , Pisces , Sagittarius , Scorpius, Taurus and Virgo constellation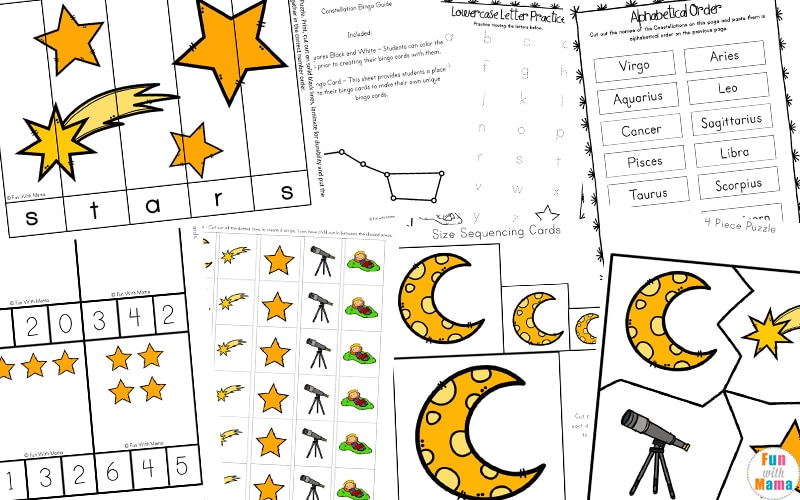 Constellations names and meanings
Aquarius – The Water Bearer
Aries – The Ram
Bootes – The Herdsman
Cancer – The Crab
Capricorn – The Sea Goat
Cygnus – The Swan
Gemini – The Twins
Leo – The Lion
Libra – The Scales
Orion – The Hunter
Pieces – The Fish
Sagittarius – The Archer
Scorpius – The Scorpion
Taurus – The Bull
Virgo – The Maiden
Where to find this activity
GET THE CONSTELLATION PACK HERE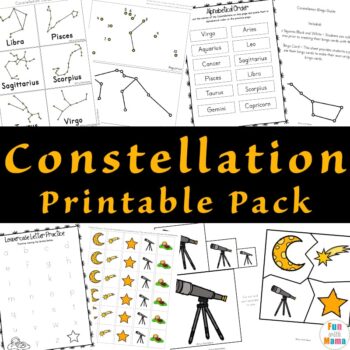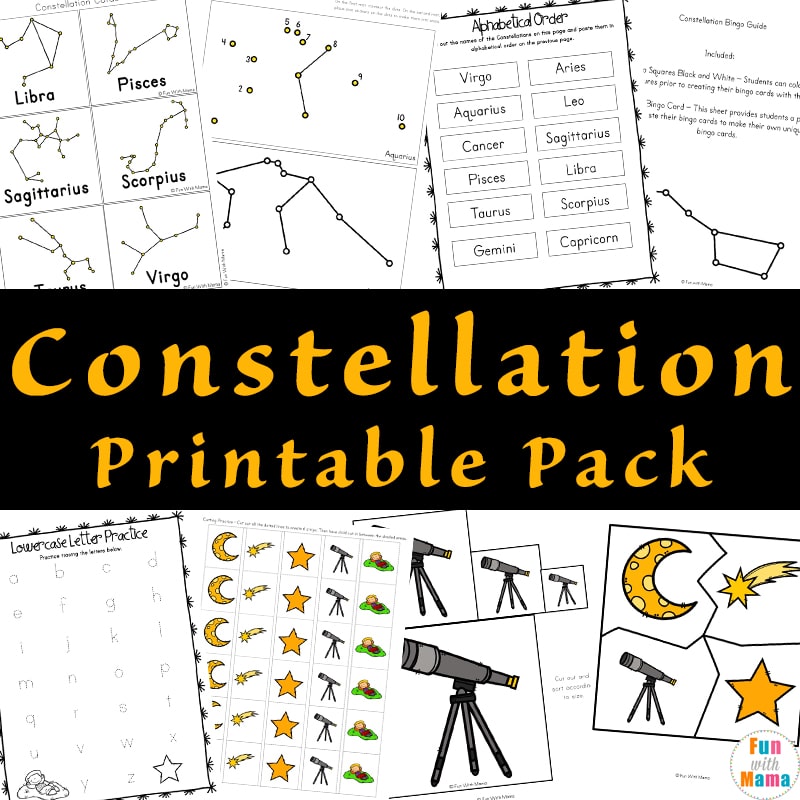 Explore the Constellation with this activity pack. Constellation + Zodiac signs included: Aquarius, Aries, Cancer, Capricorn, Gemini, Leo, Libra, Pieces, Sagittarius, Scorpius, Taurus, Virgo, Big Dipper, Bootes, Cygnus, Little Dipper, Orion, Triangulum
Learn more about the solar system:
GET THE CONSTELLATION + SOLAR SYSTEM PRINTABLE PACK HERE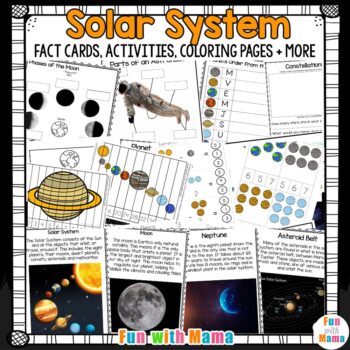 This 116 page activity pack includes solar system activities and facts, clip cards, writing pages, puzzles, and so much more!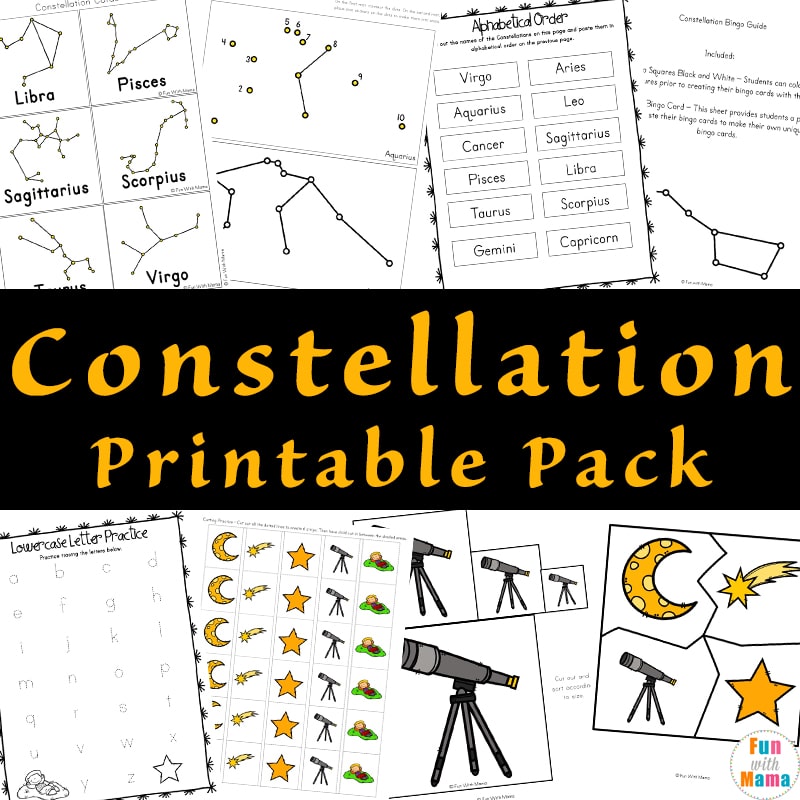 The star constellations for kids is an exciting pack for children who want to learn more about astronomy.
Don't forget to check out all of our printable activities and worksheets packs