Combining Valentine's activities with alphabet learning is so much fun. Learn the alphabet and practice beginning sounds using this fun set of printable alphabet activities for kids.
This Valentine A to Z Printable Pack is sure to bring loads of fun into learning and your learners will enjoy the cute clipart as well as the fun activities included in this printable pack. Simply download these Free ABC Printables and have fun learning the alphabet with a little Valentine twist!
Make sure to check out my 50+ Valentines Day Activities For Preschool for even more fun themed-learning ideas!
Check out my Valentine's Day Bucket List Printable and The Best Valentine's Day Movies for Kids.
Free ABC Printables for Valentine's Day
This Valentine Alphabet Printable Pack contains several Valentine's activities that learners can do to practice and firm up their alphabet and beginning sounds. Check out these 20+ Valentine's Day Books For Preschoolers Toddlers & Elementary Students.
Alphabet activities are hands-on and engaging and your preschoolers and kindergarteners will have a fun time learning. These alphabet worksheets A-Z are great for letter recognition!
Alphabet Printable
This printable pack is packed with a whopping 6 activities and printables. Simply choose which of the printables and activities you wish to do with your learner, print out the pages, and have fun learning!
Valentine Alphabet A-Z Printables
These Valentine-themed A-Z printables will likely contain vocabulary that your learners are not familiar with. Hence, in order to let learners familiarize themselves with the words, they can start off with these activities below.
Valentine Alphabet Flashcards
In order to prep this activity, simply print, laminate, and cut apart the printable alphabet pages to create the flashcards. To make storage of these cards easy, punch a hole at the corner of the cards and keep them together using a binder ring.
These printable alphabet cards can be placed in a pocket chart or just simply used as flashcards for learners until they get familiar with their new Valentine vocabulary.
The flashcards can be also used as fun write the room activity. The cards can be placed all around the room. Learners can be given a simple recording sheet or whiteboard. They will walk around the room, find the cards and write down the alphabet letter or the word on their recording sheets/whiteboard.
Valentine Alphabet Chart Printable
This cute Valentine Alphabet Chart is perfect as a reference tool for your learners. Simply print this page out and stick it up onto a wall, where learners have easy access.
The alphabet chart can be coupled with the alphabet flashcards for a simple game as well. Learners will draw a card from the alphabet pile. They can walk over to the alphabet chart and then point out the matching alphabet on the chart.
Valentine Alphabet Puzzles
Students will have a blast matching these alphabet puzzles. Learners will first need to match the uppercase and lowercase letters. This will allow learners to practice alphabet recognition. Learners will then need to find the matching vocabulary puzzle piece and complete the puzzle. This gives learners the opportunity to practice their beginning sound recognition.
If learners do need some help completing their puzzles, they can always refer back to the Alphabet chart. This allows students to complete their work independently.
To prepare this center, print the puzzle pages and laminate if desired. Cut apart along the lines to create the puzzle pieces and you are all set.
Valentine's Beginning Sounds Alphabet Mats
These interactive alphabet mats are perfect for practicing beginning sounds. Learners will pick up a card and place it on the box. They will then place a magnetic letter matching the beginning sound of the word onto the heart on the mat. Alternatively, learners can write the alphabet letter using a dry-erase marker on the mat.
This printable alphabet mat comes in two versions to allow for differentiation. In the first version, the picture cards only contain the picture and do not have any text on them. In the second version, the picture card contains the word as well. If necessary, learners can look at the word and figure out the beginning sound.
In order to prepare these Valentine's activities for centers, print out the pages and laminate if desired. Choose the pages depending on which version your learners will require. Accordingly, the picture cards that need to be printed will differ so do make sure the correct version is being printed.
Check out this Valentine's Activity Pack from our shop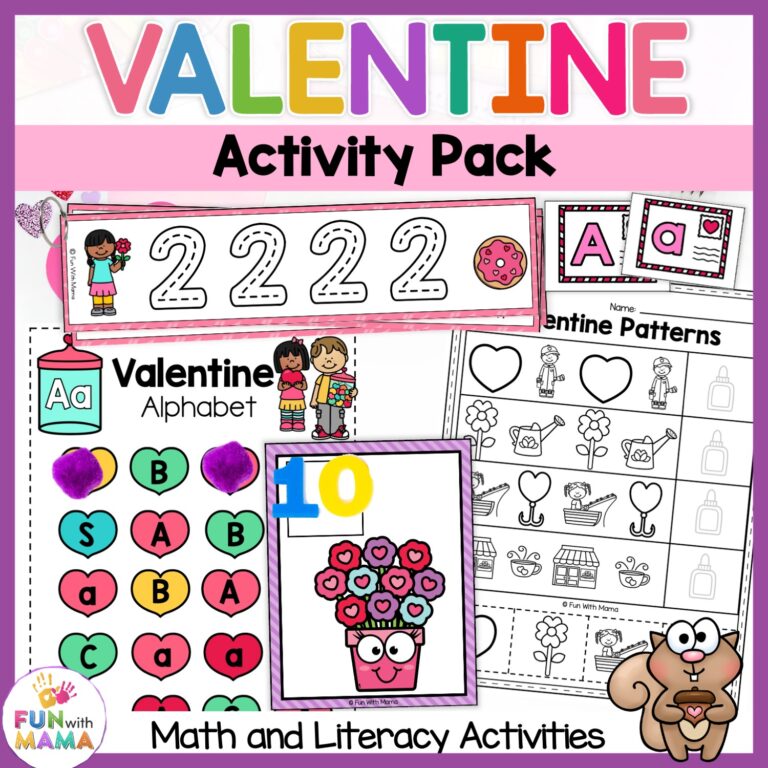 With over 260 pages of fun activities your students or child will be learning more about alphabets, letters, numbers, and sight words too! The hands on activities pack includes activities for task card boxes as well as for centers.
Valentine Alphabet 3-Part Vocabulary Matching Cards
The final activity in this printable is the 3-Part vocabulary matching cards. This is a slightly more advanced activity and can be used for older learners as well. In this activity, learners are required to match the vocabulary word to the picture.
The vocabulary card containing both the word and the picture will be used as a control card for the learner to check their work.
This activity can be differentiated by removing the word cards and only having the learner match the picture cards to the control card. This makes the activity simpler allowing for differentiation of the activity.
To get access to this printable pack, click on the link below to download.
GET THE FREE VALENTINE PACK HERE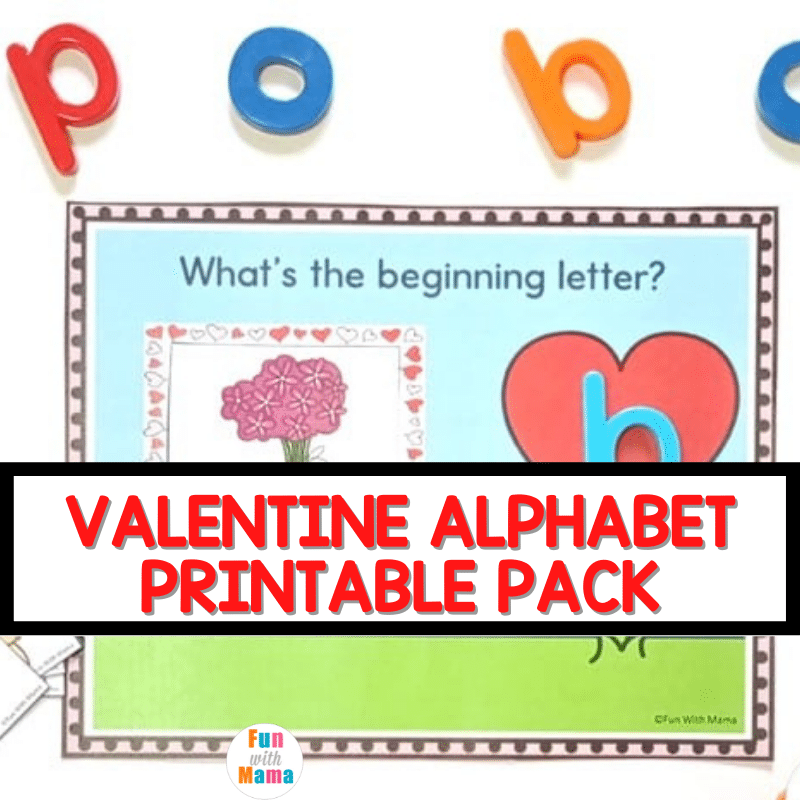 Already subscribed? No problem. Just enter your details above so we can send this activity directly to your inbox.
More Alphabet Activities