Love is in the air! Celebrate this with these heart and love themed Valentine's day books for preschoolers and toddlers. Valentine's Day is such a fun holiday for reminding those you love how important they are to you. What better way to share your feelings with your kids than with some fun Valentine's themed read aloud time? Check out this list of fun Valentine books for preschoolers and families to share. Encourage kindness, hugs, kisses, love and appreciation! From board books to picture books, there is something here for all ages to enjoy!
Valentine's Day Books For Preschoolers
The list below includes valentine's Day books for toddlers and preschoolers.
Valentine books for toddlers – board books
These are great books for 1 year olds, 2 year olds and will last you up until children are done with preschool.

Where Is Baby's Valentine?: A Lift-the-Flap Book
by Karen Katz is a fun addition to her collection of holiday themed lift the flap books. Kids will love lifting the flaps and discovering the symbols of Valentine's Day located underneath as they help Baby search.


Ollie's Valentine (Gossie & Friends)
by Olivier Dunrea follows Ollie, a little gosling who is looking for a special Valentine. All of his friends have Valentine's and he decides to search for his own. This sweet story is told through simple text and cute illustrations that kids will find appealing.


Valentine's: Lift-a-Flap Board Book (Babies Love)
was written by Holly Berry-Byrd and illustrated by Martina Hogan. This colorful chunky board book is a great way to introduce little ones to the symbols and traditions of the holiday. The simple sentences and adorable illustrations are sure to entertain little ones.


Mouse's First Valentine (Classic Board Books)
was written by Lauren Thompson and illustrated by Buket Erdogan. As Mouse's sister gathers materials to make something, he follows behind her watching. What could she be making? This cute story is told through beautifully vivid illustrations and simple sentences.


Tucker's Valentine
by Leslie McGuirk follows Tucker, the energetic little puppy as he dodges Cupid's arrows. Cupid wants Tucker to fall in love, but Tucker is too busy! Kids will love following the antics of this adorable little puppy!


Beecause I Love You (Made With Love)
by Sandra Magsamen is a fun way to share your love with your kids. This board book is full of sweet messages and cute illustrations which parents will enjoy sharing with their little ones. Kids will also love the plush bee antennae attached to the book.


Love Monster
by Rachel Bright follows an adorable little monster who goes in search of someone who will love him for who he is. The sweet story is accompanied with fun illustrations, and kids will love the monster. Add the adorable plush doll here.
My Fuzzy Valentine (Sesame Street)
was written by Naomi Kleinberg and illustrated by Louis Womble. When Elmo receives a Valentine, he goes on a mission to find out who sent it. The engaging illustrations and sweet story starring everyone's favorite monster are sure to entertain young readers. Add an
Elmo plush doll
to this gift!

Happy Valentine's Day, Mouse! (If You Give…)
was written by Laura Numeroff and illustrated by Felicia Bond. Join Mouse as he creates special Valentines for all of his friends. The colorful illustrations are sure to keep kids engaged and maybe inspire them to create their own Valentines.


Huggy Kissy (Leslie Patricelli board books)
by Leslie Patricelli is a sweet rhyming book illustrating all the different ways that families show love and affection. The simple and adorable illustrations even show different styles of hugs and kisses for families to share.
Snuggle Puppy by Sandra Boynton is a family favorite. With a sweet and easily memorable song this book is a must for toddlers! "OOO, Snuggle Puppy of mine! Everything about you is especially fine. I love what you are. I love what you do. Fuzzy little Snuggle Puppy, I love you. "
Llama Llama
by Anna Dewdney – No home library is complete without Llama llama books! They quickly turn into family favorites. Add a little
llama doll
to make this gift even more special. I love that this book is super quick to read! This one is better for the younger kids ages 1,2 and 3.
Valentine's Day Picture Books For Preschoolers

The Yuckiest, Stinkiest, Best Valentine Ever
was written by Brenda Ferber and illustrated by Tedd Arnold. This hilarious story follows Leon, a little boy with a big crush, as he decides to create a Valentine for a little girl in his class. The Valentine has other ideas, and runs away proclaiming that love is yucky. The chase takes them throughout town, picking up more kids along the way. Kids will enjoy this different take on Valentine's Day stories, as well as the vivid illustrations.


A Crankenstein Valentine
was written by Samantha Berger and illustrated by Dan Santat. This is a great book for those kids who are a bit grumpy about Valentine's Day. Crankenstein isn't a fan of all the mushy parts of Valentine's Day, but can he find a way to enjoy the day?


The Valentine Bears
was written by Eve Bunting and illustrated by Jan Brett. Since Valentine's Day falls right in the middle of hibernation season, Mr. and Mrs. Bear have never celebrated together. When Mrs. Bear decides to set her alarm and surprise Mr. Bear, a sweet story unfolds.


The Night Before Valentine's Day
was written by Natasha Wing and illustrated by Heidi Petach. In another delightful take on the famous Christmas poem, Natasha Wing introduces readers to the fun traditions of Valentine's Day. Join a group of kids as they create their own Valentines and prepare for the celebrations at school. The easy rhyming and colorful illustrations make this a fun one to read aloud.


Groggle's Monster Valentine
was written by Diana Murray and illustrated by Bats Langley. This vividly illustrated tale follows a little monster named Groggle as he attempts to create the perfect Valentine for his best friend Snarlina. The only problem is that his monster appetite keeps making him eat them! Will he be able to create a wonderful Valentine for his friend? Kids will love the adorable little monster as he tries and tries to create something wonderful.


Snowy Valentine
by David Petersen follows Jasper, an adorable little rabbit who wants to find the perfect gift for Valentine's Day. He enlists the help of his friends, but can't seem to get it right. The sweet ending is sure to please both kids and adults alike.


Amelia Bedelia's First Valentine
was written by Herman Parish and illustrated by Lynne Avril. The always hilarious Amelia Bedelia is so excited for Valentine's Day. She makes cards for everyone at school, but when she forgets them on the bus, she has to use her own brand of unique thinking to save the day. Kids will love the hilariously literal Amelia and parents will appreciate her resourcefulness and creativity.


The Biggest Valentine Ever
was written by Steven Kroll and illustrated by Jeni Bassett. When Clayton and Desmond (from The Biggest Pumpkin Ever) team up to create a Valentine's Day card for their teacher, things don't go as planned. Can they work together to create the biggest and best Valentine ever?


Roses Are Pink, Your Feet Really Stink
by Diane deGroat shares an important message about saying and doing nice things, even when you don't want to. Gilbert is writing out Valentine's Day cards for his classmates, but he doesn't want to write nice things for two kids in class who were mean to him. Instead he writes mean poems and signs the wrong name. When Valentine's Day comes, his cards cause hurt feelings, and Gilbert must figure out how to fix it.


Day It Rained Hearts
by Felicia Bond follows Cornelia Augusta as she collects hearts that are raining down from the sky. She decides that the different hearts would be perfect for creating Valentines for her friends. The simple text and illustrations make this an easy story for young readers, and Cornelia's creativity may inspire some Valentine's Day creations of your own! Who knew valentine's day books for preschoolers could be so sweet?!
Fancy Nancy Heart to Heart
By Jane O'Connor is super fancy and includes a pair of stickers too! Perfect for little girls who love to dress up.
There was an old lady who swallowed a Rose
– I automatically purchase all the "old lady who swallowed" books. My 4 year old daughter adores the books because the repetition makes it fun to memorize it. She loves to "read" the book back to me.
Tickle Monster
has to be one of my most favorite valentine books for preschoolers. While it isn't necessarily Valentine's Day themed, it is completely love themed! Make sure to purchase the kit with the tickling gloves for even more fun.
Books that encourage emotional intelligence in kids
Somebody Loves You, Mr Hatch
– Mr Hatch is a lonely neighhbor, when suddenly he receives a mysterious package. What a wonderful book that encourages kindness, empathy and love. You will want to read this book over and over and over until your children are at least 8 years old!
Words and Your Heart – This book is about your heart and how the words that you use and hear can affect how your heart feels. It is a great book that teaches children the power words have on themselves and others.
In My Heart – A heart can feel so many things. Happiness, sadness, bravery, anger, shyness. Some make us feel as light as a balloon, while others make us feel heavy like an elephant. With vocabulary wonderful for toddlers and older children, kids will learn to put a name to their feelings.
Valentine's Day books for elementary students
Junie B Jones and the Mushy Gushy Valentime
by Barbara Park is an adorable book about the world's funniest kindergartener! In this mushy gushy book, Junie receives a valentine's day card from a secret admirer! What an adorable little mystery this is! I bet once your child reads this book she will want to read more books in this series.
Nancy Clancy Secret Admirer
– For children that enjoyed the Fancy Nancy book series they will be excited to join this next chapter in the Fancy Nancy series. Nancy and Bree decide to play matchmaker. Will their efforts work?
We also love to add stuffed animals that match with books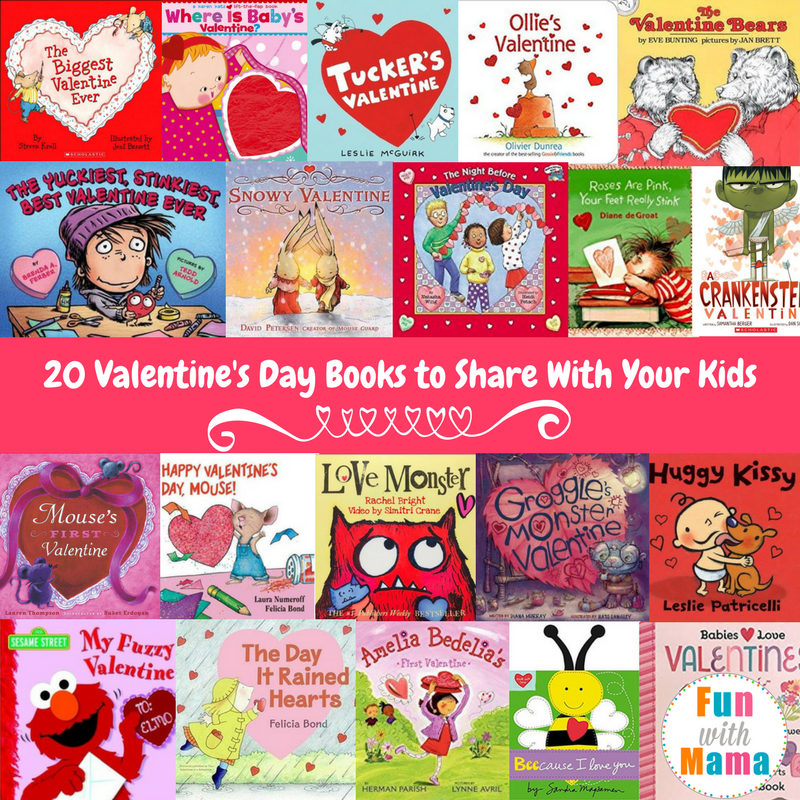 I hope you enjoyed the list of Valentine's day books for preschoolers.Do you have any valentine books to add?
Check out all my kids Valentine's Day activities.