Valentine's Day is usually all about the couples, but we've come up with a fabulous idea to help your kiddos celebrate as well! This printable Valentine's Day bucket list is filled with fun and easy Valentine's Day activities for kids. You'll find great ideas they can accomplish on their own, as well as ones that will get the whole family involved.
Make sure to check out our list of The Best Valentine's Day Movies for Kids for even more fun ways to celebrate Valentine's Day.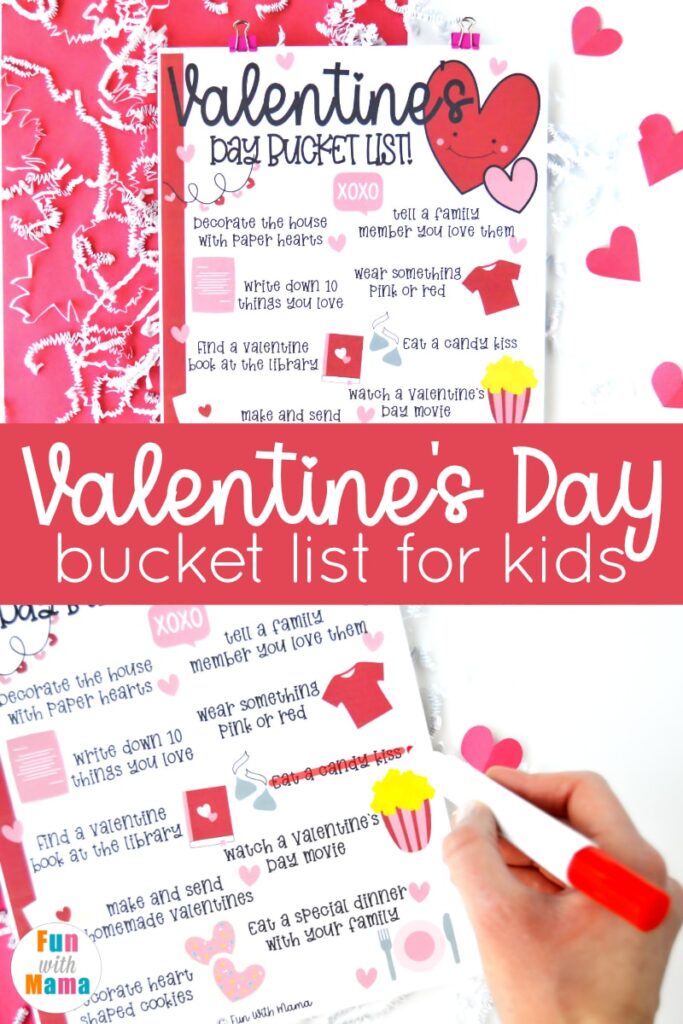 Valentine's Day Bucket List – Fun Valentine's Day Activities for Kids!
Kids will absolutely love doing these Valentine's Day activities and it's a great way for parents to get them more involved in the holiday. Plus, a lot of the activities are designed to teach your children more about gratitude and showing service to others. How great is that?
Fun Valentine's Day Activities
Please note that affiliate links are being used in this post.
Materials Required: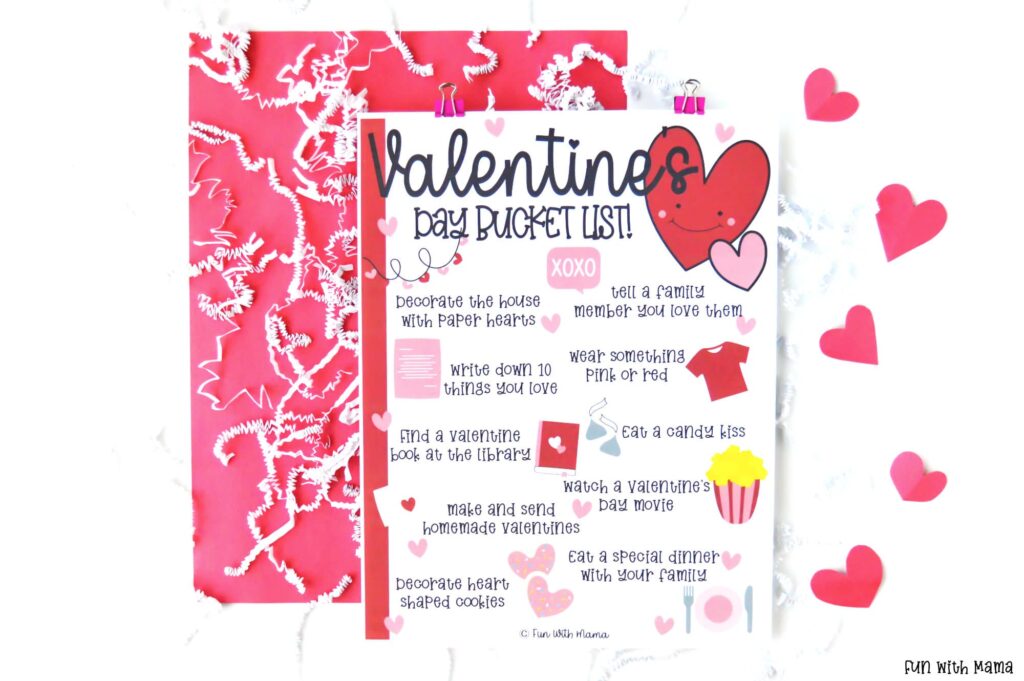 How To Print and Use your Fun Valentine's Day Activites for Kids Bucket List
Printing and using your Valentine's Day bucket list is so easy. Simply print the list on computer paper or cardstock (this will make your list much more durable).
Trim the edges if you wish, and display your list somewhere the entire family can see. A fridge is always a good place! You might even consider laminating your list to keep it extra safe from any spills or splashes.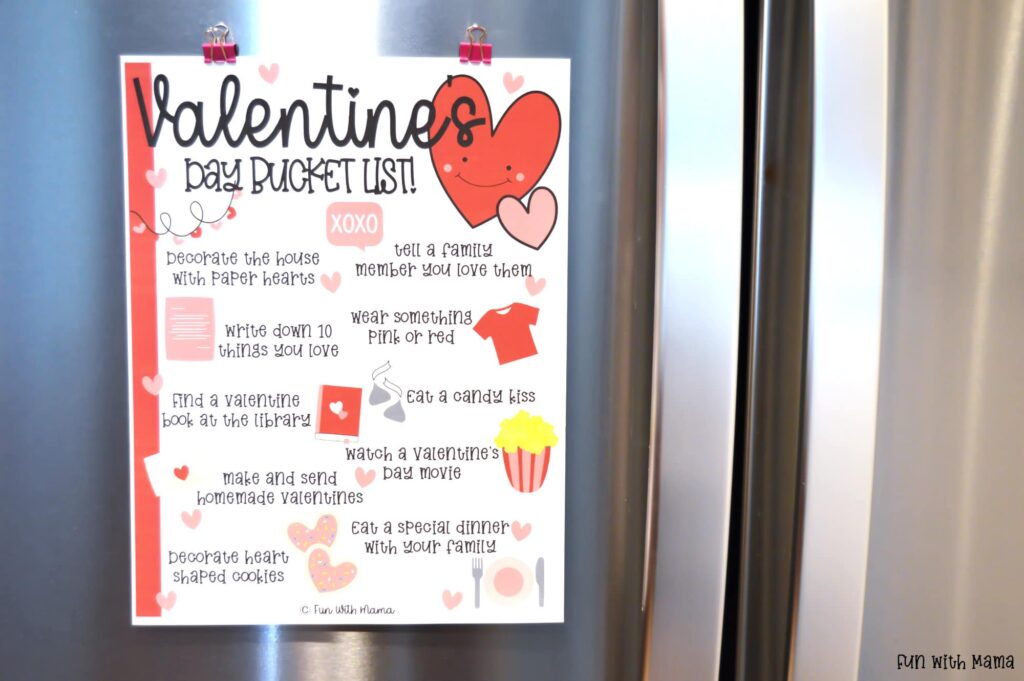 Now comes the fun part! Have your kid(s) pick a different task to complete each day leading up to Valentine's Day. You could even go crazy and knock out all the activities on the big day itself! After each activity is completed, find a way to mark off that task on the list.
You might have your child cross it off with a pen, pencil, or marker, or cover it with Valentine's Day sticker. If you've hung your bucket list on the fridge, it would be so fun to cover each item with a heart-shaped magnet! Or, in a pinch, you could cut out a paper heart and tape it on top.
Whichever method you choose, little ones will love keeping track of which tasks have been done and which ones are left.
Bucket List Activities for Kids
Are you curious about which types of fun Valentine's Day activities for kids are included on your bucket list? Take a peek below!
Decorate the house with paper hearts
Write down 10 things you love
Find a Valentine book at the library
Make and send homemade valentines
Decorate heart shaped cookies
Tell a family member you love them
Wear something pink or red
Eat a candy kiss
Watch a Valentine's Day movie
Eat a special dinner with your family
Your printable Valentine's Day bucket list has some great included activities, but you might consider coming up with your very own bucket list as well! Try sitting down with your kids and deciding what type of activities you would like to do.
Fun Valentine's Day Activities for Kids
If you need a little inspiration, take a look at some of our favorite Valentine's Day activities below.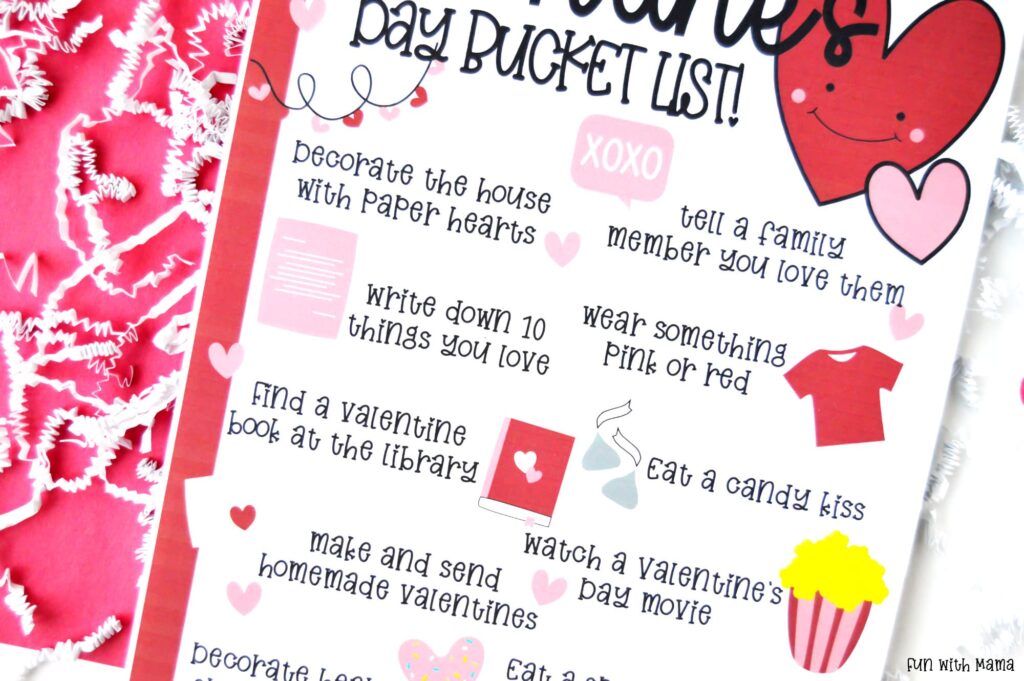 Get the Valentine's Day Bucket List for Kids Here