Looking for Valentine's gifts for kids? Then why not create a fun Valentine's Basket for kids! You can create a book basket by using only heart and love themed books or you can theme it like I did below with red, purple and pink colors and a theme of love.
Valentine's Gifts For Kids
I often create special themed baskets for my children. I love to theme them according to the current holiday or even a season change. Sometime's I create a Book basket.
After perusing the web for Valentine's Day gift basket ideas, I decided to choose items that I knew we would use over and over and also gifts that would follow my daughters natural interest.
When choosing your valentine's gifts for kids, make sure that you think of your child's age and current interests. What would she LOVE to have? A stuffed animal always comes to mind.
Valentine's Day Baskets For Kids
Please note that affiliate links are included in this post. Please see my disclosure policy for more information.
I normally give our Valentine's basket to my children on February 1st. Sometimes, I give it a little earlier, especially if there are a lot of books in the book basket. This allows us time to go through each of the heart themed books multiple times throughout the month of February. I would add in some Valentine's themed pajamas to the mix… but I prepared this example basket a little earlier than normal, before I could grab a pair of Valentine's pajamas for kids. (I will definitely be giving them themed pajamas, it just wont be added to the basket this year.)
I chose books on our Valentine's Day books for preschoolers and kindergarten book list that we didn't already have. These were new additions. You can find links to our favorite themed Valentine's books, as well as new books that have amazing reviews!
Here is a video on my YouTube channel of how I created the Valentine basket
Here are my Valentine's gift basket ideas for kids:
In my 4 year old daughters basket I included the following items:
Items I added in later:
Toddler Valentine Gift Ideas
Last year, when my daughter was 3 and if you are looking for Valentine's gifts for toddlers I would recommend the following items:
In my 8 year old's Valentine's gift basket the following items were included:
It was truly exciting shopping for the Valentines gifts for kids. There were so many sweet possibilities. Some may elect to add in chocolates too!
How To Create A Book Basket
You can create a book basket easily by just including books and little characters from books instead of toys and clothing.
Do you have anything to add to the Valentine's Day gifts for kids?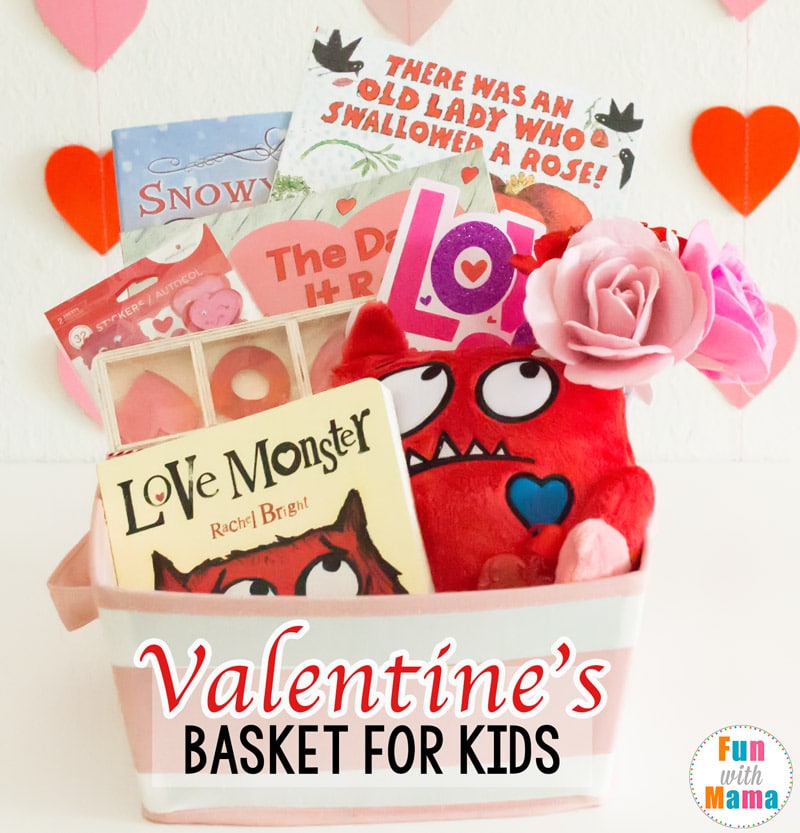 Valentine's Day Ideas for Kids