Kids love visiting the zoo, seeing all the animals, and watching them being fed. Our boys have loved having the opportunity to feed some unique animals, like dolphins. These Zoo animal activities for preschoolers encourage children to learn more about the animals they see at the zoo. There are zoo activities for toddlers as well as zoo theme preschool activities too.
The more difficult zoo animal worksheets can be used with kindergarten and first-grade students. Make certain to also check out our Zoo Bingo Game For Kids, too! It's another great way to work in a fun zoo learning theme!
Zoo Animal Activities
In this zoo theme, preschool lesson plans, and printable activities pack you will find over 80 pages of fun toddler activities, preschool activities, and educational activities for kids. They will love learning alongside an elephant, a giraffe, a gorilla, and a leopard.
We also like using these Zoo Animals Life Cycle Printables as well in our learning lessons!
Materials Required:
Please note that affiliate links are used in this post.
Here are some items that pair well with these activities. You will use each of these items over and over during all my printable preschool activity packs.
Zoo Activities For Preschoolers
This massive printable pack comes in two versions: One is in color and the other is in black and white for those who have limited ink for their printers. The links for you to download them are at the end of this post.
Included in this massive printable pack you will find a printable storybook that can be printed out and stapled together. Children will love to learn to read the story themselves. They can also use this in conjunction with the printable puppets included. In this book, they will learn the names of some of the animals they would see at a zoo. They will also practice their letter formation and learn to spell the animal names while tracing them.
There is an 'At the Zoo' page. This page can be printed out multiple times and bound or stapled into a book. Each page can be used for each animal they see at the zoo. If they are not visiting the zoo, they can research different animals they would find at a zoo and complete the activity using what they find.
Activities on this page include:
Drawing a picture of the animal
Circling the correct answer – It is a vertebrate, reptile, mammal, marsupial, invertebrate, amphibian, bird, or fish.
Tick if this animal is a herbivore, carnivore or omnivore
Tick how the animal moves
Color in on the map where the animal lives
And write some interesting facts they have found out about the animal
There are also many zoo animal games, math activities that work on counting and literacy activities that work on letter recognition, letter formation, and spelling.
You may also like these Zoo Animal Clip Cards, Tiger play dough and build your own zoo activity set.
I hope you enjoy the free preschool worksheets! The Do a Dot zoo coloring pages, as well as the patterning and size sequencing cards, are fun zoo animal activities for toddlers.
If you want a black and white copy and the color copy of the activity, including these above zoo mats you can download it below: Zoo Animal Activities Pack
GET THE ACTIVITY PACK HERE
GET THE ZOO ANIMALS ACTIVITY PACK HERE
The zoo activity pack comes in color and black and white. It includes a fun Zoo scavenger hunt and fun activities for your math centers and literacy centers.
EXTEND THE ACTIVITY WITH A DEEPER ANIMAL STUDY
GET THE ZOO ANIMALS LIFE CYCLE + ANIMAL STUDY HERE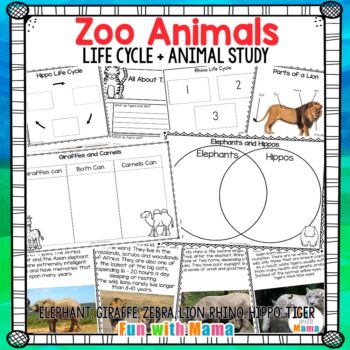 This Zoo Animals Life Cycle and Animal Study Pack encourages children to learn more about zoo animals. This set would be great for your animal theme classroom! I have included some fact cards and life cycle sequences. There are a lot of real life pictures and it is perfect for zoo day prep. The animals included are: Elephant, Giraffe, Zebra, Lion, Rhino, Hippo, and Tiger. Learn animal facts and about their life cycle.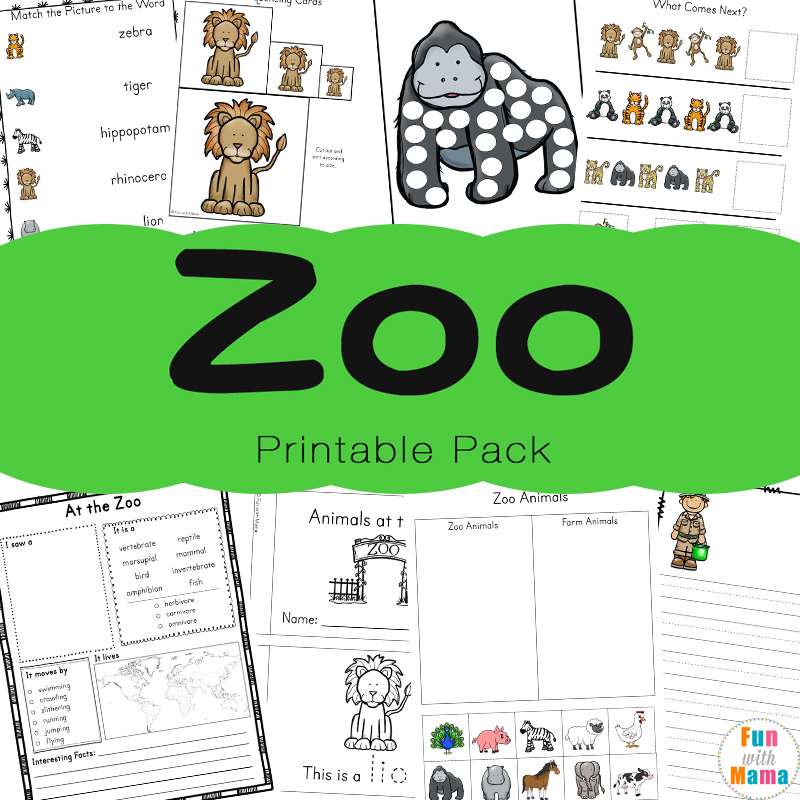 You can also find a lot of zoo crafts in my printable alphabet letter crafts bundle. Zoo animals in the craft include a zebra, llama, and lion.