A fun way to learn about the life cycle of different zoo animals, is with this exciting Zoo Animals Life Cycle Learning Pack. It is also a fun activity pack that would be great to use as part of an Animal or Zoo themed unit.
ZOO ANIMALS LIFE CYCLE LEARNING PACK
Have you seen our Zoo Animal activities and Zoo hunt? they are great for a day at the zoo!
Children will love learning about the life cycle of different zoo animals with this zoo animal life cycle learning pack that contains real photos!
Pair the 20 Zoo Books for Kids to these activities for a zoo themed week at school.
Does your child have a favorite zoo animal? Hopefully one of them is contained in the pack. There are real life pictures, multiple worksheets to go through and fun ways to learn more about these amazing animals.
There are seven different zoo animal life cycles in this pack. The animals included are:
Elephant
Giraffe
Lion
Zebra
Rhino
Hippo
Tiger
The following activities included in this 200+ page printable pack area available for each of the above seven animals. They are:
Cards containing real life photos of the animal life cycle
Posters of the characteristics of each animal as well as their life cycle which may include the following topics: baby, young, adult, appearance, prey, predators, group.
Each animal can, have, are.
Each Animal – what I know, what I think about, what I learned.
Parts of Each Animal –a poster and a cut and paste activity
Zoo Animal Life Cycle –a poster and a variety of different cut and paste activities
Zoo Animals –Venn diagram
Zoo Animals –What they each can have and what both can have.
All About Each Zoo Animal –A book for children to complete about what they have learned about each animal.
Life Cycle of Each Zoo Animal–A book for children to complete about what they have learned about the life cycle of a penguin.
Where to get this activity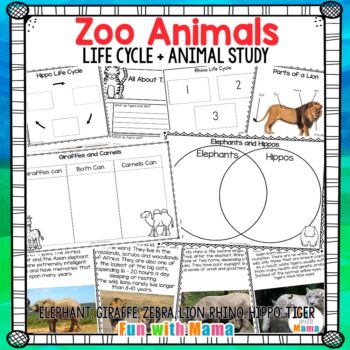 This Zoo Animals Life Cycle and Animal Study Pack encourages children to learn more about zoo animals. The animals included are: Elephant, Giraffe, Zebra, Lion, Rhino, Hippo, and Tiger. Learn animal facts and about their life cycle.
EXTEND THE ACTIVITY WITH MORE ACTIVITIES
GET THE ZOO ANIMALS ACTIVITY PACK HERE
The zoo activity pack comes in color and black and white.It includes a fun Zoo scavenger hunt and fun activities for your math centers and literacy centers.