Have you tried the Skittles rainbow science experiment where you turn skittles into a rainbow? My kids love this activity so much that we just HAD to make a Valentine's version.
We used the purple bag of Skittles (removing the blue and green ones) to make our Science Valentines Skittles experiment. It's so much fun when you can mix art and science together so easily using household supplies. It's a "wow" activity that kids will beg to do over and over!
This is such an easy science experiment that kids will love. This activity is suitable for all ages, especially for toddlers, preschoolers, kindergarteners and even grade schoolers.
Skittles Science Experiment
My kids absolutely love science experiments! Although some science experiments require a lot of time and involvement, this one can be done in about 10 minutes.
This activity was so much fun and the kids loved the Valentine's Day twist to this activity. The Skittles Science fair project never fails to amaze us all!
Materials Required:
You will be glad to know that this activity only requires 3 things, and you may already have all of them!
A plate or bowl… something that is slightly sloped in towards the middle and something that is sloped away from the middle.
Water – Hot water will make the reaction happen faster, but experiment to see if cold makes prettier colors!
How to do the Skittles Science Experiment
Follow along with these simple steps to make your Valentine fireworks:
We removed the blue and green Skittles from our bag for this Valentine version, but you certainly don't have to remove them! The kids made a pattern of purple, red, pink.
Line the edges of your plate or bowl with skittles. This will help the colors spread evenly.
Pour water carefully over the skittles using just enough to cover the bottom of your container.
Watch as the color spreads right before your eyes! It is truly amazing what skittles and water can do!
Experiment with arranging the Skittles in different shapes and watch what happens!
Variations: Older kids can work on patterning. We also experimented with using different types of containers to see if we could get the skittles to make different shapes. The kids loved that our plate made a heart! You can also experiment to see if using different temperatures of water will change the swirl of the skittles at all.
CHECK OUT THIS VALENTINE ACTIVITY PACK FROM THE SHOP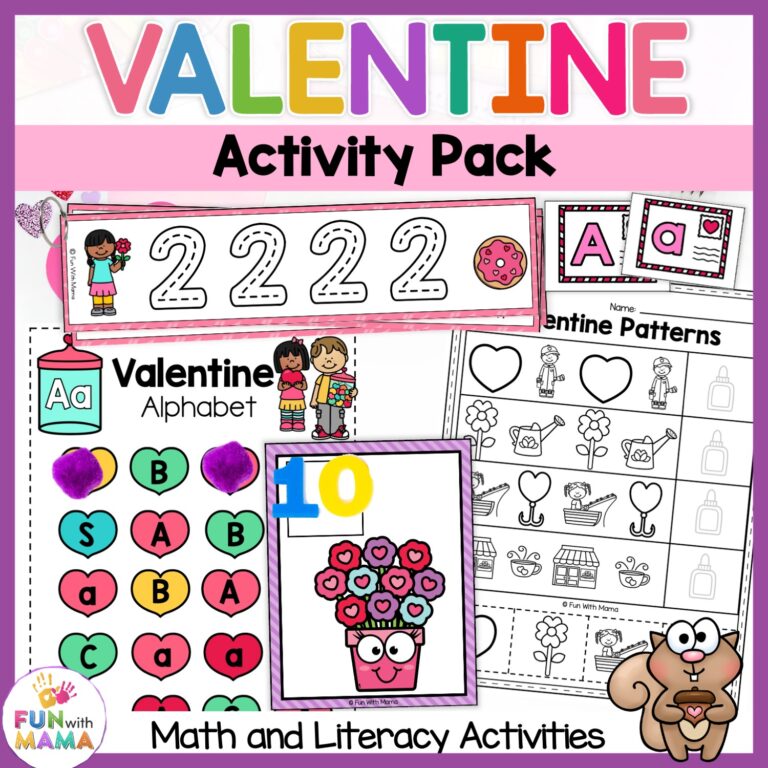 With over 260 pages of fun activities your students or child will be learning more about alphabets, letters, numbers, and sight words too! The hands on activities pack includes activities for task card boxes as well as for centers.
WHAT IS THE SCIENCE BEHIND THE VALENTINE SKITTLES FIREWORKS EXPERIMENT?
Skittles are made and coated with sugar, so once you add warm water to it the coloring and coat begin to dissolve very quickly. The slope of the bowl or plate determines where the sugar will spread.
Did your kids love the experiment? Then check out this fun Volcano science experiment or fizzy candy canes experiment too!
DO YOU HAVE A SCIENCE LOVING KID? HERE ARE MY FAVORITE SCIENCE THEMED PICKS FOR KIDS:
CHECK OUT THESE POPULAR POSTS FROM FUN WITH MAMA:
Check out this Printable Alphabet Valentine's activity.