I am one of those moms that loves to find toys for the kids that have a great educational aspect to it. I have found that these toys last much longer in my home and are definitely our Kid's toy staples. The STEM Kids Gift Guide 2017 list I include below will show you 10 fun toys to encourage STEM skills. Whether you are looking for a holiday gift guide, a birthday gift guide, or even a stocking stuffer this list has you covered on toys that will be the most bang for your buck!
Kids Gift Guide 10 ways to Encourage Stem Skills
These gifts for kids under 10 are fun for adults too. Don't forget to also check out the best games for families to play together.
Please note that affiliate links are used in this post.
But wait… What is STEM?
STEM stands for Science, Technology, Engineering and Mathematics. STEM surrounds every part of our lives. By encouraging creative thinking and stem skills we will help our children become more innovative.
STEM Toys hold the kids interests for much longer
I personally find that for my kids, the toys that get their brain working hold their interest for much longer than other toys. They can revisit these types of toys at ANY age and it would still get them hooked. I love getting the most bang for my buck and I shy away now from products that seem fun and then the kids forget about them the next day and now I have to figure out where to store this often expensive but now boring item.
I also love that I can find these STEM toys on Amazon! There is no better convenience to me in this world than Amazon Prime.
Try the Amazon Prime 30-Day Free Trial
.
10 Fun Toys To Encourage Stem Skills Kids Gift Guide:
Suitable for Ages 2+
Yep, there is a good reason why Lego have been popular since their first release. They not only have the ability to hold a child's interest but also an adult's interest too! I recommend that you purchase this Large Creative Box because it has the most value per piece. This set got my kids creating for hours and hours day after day.
*I also suggest you get the Lego Education Wheels Set because we all know how much kids love wheels! The Lego Amusement Park Set and the Lego City Trains Cargo Train are great for working on those future engineering skills too!
I generally purchase our Lego from the Lego website directly, because they run VIP specials and have good stock.

Suitable for Ages 3+
Your child doesn't have to be a preschooler to get value out of a Train Set. Yes, train sets are good for imaginary play but think about all the skills they are using here. From fine motor skills, visual perception, building, and engineering skills, this toy is definitely packed full of creative thinking and engineering opportunities.

3. Marble Run
A marble run is good for a child's mind. Children learn building skills. My preference is for a wooden marble run… but the downside is that if you bump into it, it breaks the structure you built and then you will have to build it again. A plastic marble run is good for allowing some movement once built, but it is hard to take the pieces apart at times. Wooden vs plastic is a little different.
Suitable for Ages 4+ (This age requirement is strictly because of a fear of kids under 4 putting the Marbles in their mouth. You must make sure to watch your child at all times when playing with marbles.)
Marble Run's never go out of fashion. They can hold a child's interest for years and Hape Quadrilla Wooden Marble Run Construction is definitely the king here. I am not one for plastic Marble Run's. I think it is incredibly important for a child to feel the weight of each object to receive a bit of sensory stimulation. Marble Run's have your child working on their critical thinking skills, fine motor skills, and logic and engineering skills. There is no mystery here why this toy was named by the Wall Street Journal as one of the top toys to teach kids STEM principles. I absolutely love that you can add the musical marble set to the marble run to make it create music.

Suitable for Ages 8+
This award-winning Lego-style toy will have kids learning about electricity and circuits. I don't know about you but my son has a natural interest on how things work and he would LOVE to get inside a TV to see the components. This toy is exactly that minus the breaking my TV part! My husband used to do this with radios as a kid! Kids will build a working model of a photosensory, flashing light, and an adjustable volume siren.

5. Magnetic Tiles
We have really been enjoying our magnetic tiles. The Connetix tiles come with a wonderful variety of pieces and it's been amazing to see all the things we can come up with. I take out our magnetic tiles daily and my 6-year-old is free to play and build as much as she wants. Honestly, I am always joining her in her projects because it is truly SO much fun. I highly recommend the Connetix Tiles and Magnatiles are great too. To start, I recommend. you purchase the 100-piece set and then add on the vehicle pieces too.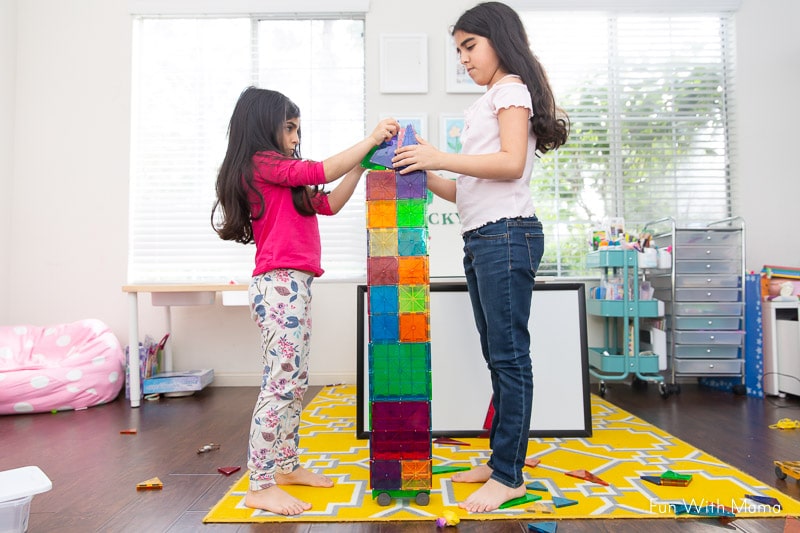 Suitable for Ages 3+
Some say that Magna-tiles are the best toy ever made because they foster open-ended creativity, hold a child's AND adult's interest, and they work on many mathematic skills. Kids will work on patterning, shape recognition, building, and motor skills. Use them with a light table to make them EXTRA magical. I am always amazed by the structures I see kids creating with these. If you want a more budget-friendly version then check out the Magnetic Stick N Stack
Suitable for Ages 5+ (A 4-year-old can use it too!)
Balance Beans is a logic game that introduces algebra and physics principles. The seesaw is super cool and it works on your child's logic skills. Each card indicates where to place the stationary beans on the seesaw. The card also states which beans need to be added to the seesaw in order to balance it. Kids will have to figure out exactly where to place the object to create that balance. Little do they know that they are actually balancing an equation!
Suitable for Ages 8+
I don't think there has ever been a game from Thinkfun that I have not been amazed by! Its compact size and magnetic convenience make it a great activity to take with you when you travel or even for long car rides. The first three prompts have you warm up to the game and the skills required. My seven-year-old got stuck on the fourth prompt so I had to get involved here and I proceeded to spend the next hour solving the different clues. Who says these games are just for kids? I love a game that can hold the whole family's interest. This game develops the skills of deductive reasoning which is a key skill in science, math and computer programming. The more you play the more you learn deductive strategies

Suitable for Ages 5+
9. Rush Hour Jr is my FAVORITE game EVER from Thinkfun. I play it, my husband plays it and my kids play it. This puzzle-style car-themed game teaches logic and sequential reasoning. The challenges have the perfect amount of letters within each level of difficulty to appeal to a wide range of kids and adults. I don't think I have ever come across any parent or child that disliked this game. It is an absolute MUST HAVE. The cars are super cute and can be used as manipulatives for educational activities too! I have the Ages 8+ Rush Hour version on MY Wishlist.

Suitable for ages 8+
This fun family game gets your brain going and reinforces Stem Skills. It is easy to learn, fast-moving and very strategic. This is normally one of our kids first picks for game night! The board is constantly changing and your brain is always active trying to figure out the best way to manipulate each tile on the game board to play as many tiles as you can. I love this, my husband loves it, my 9 and 7-year-old love it! Every family should have this game at home.
Use squares and triangles to build houses, towers, and a magic ball. We love open-ended toys like this one! Trust me when I saw that this set won't be enough… you will keep wanting to buy more and more to add to your collection as your child's imaginative development increases. If you can spring it I'd go for the Magformers Set with the wheels.
Besides being one of the most beautiful rainbows out there and a gorgeous decor piece… there are so many different ways Grimm's Rainbows can be used for during play. We use them for tunnels, 'floors' in 'houses' and rocking chairs in the dollhouse. I hesitated for a while on this because I just didn't see the 'logic' in this being used much… but honestly… it makes me happy to look at and it seems to bring my daughter the same joy. Totally worth it for us!
In this family game kids will need to think and use logic to work out each and every move so that you balance each play. Each move requires you to use your thinking and logic skills. These were definitely our favorite and best gifts for kids in 2016.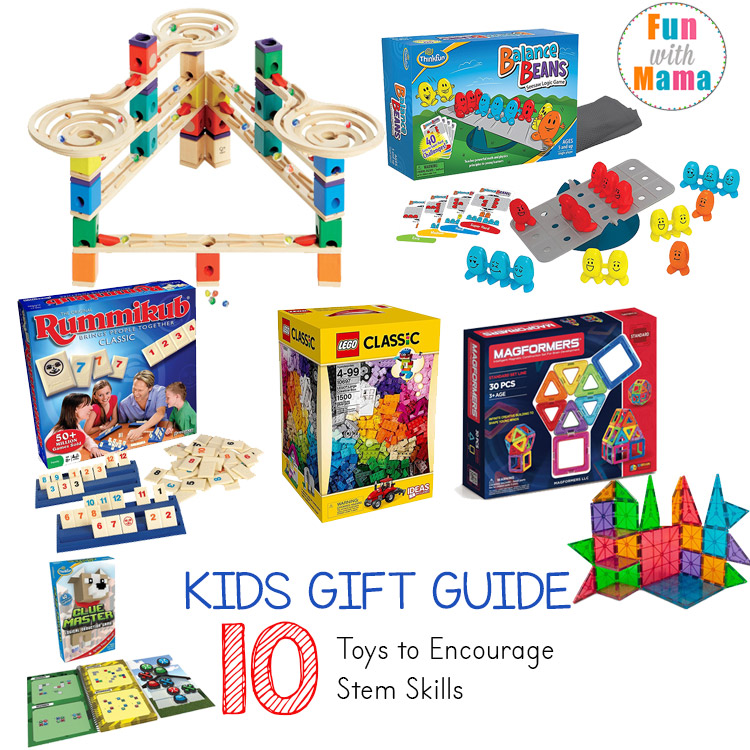 Maybe I should have named this the whole family gift ideas post because they can all be played cooperatively.
Do you have any favorites to add to this list? Leave them in the comments below.
More Popular Posts:
– How to setup a playroom – you will see many of the toys I listed above in our toy room.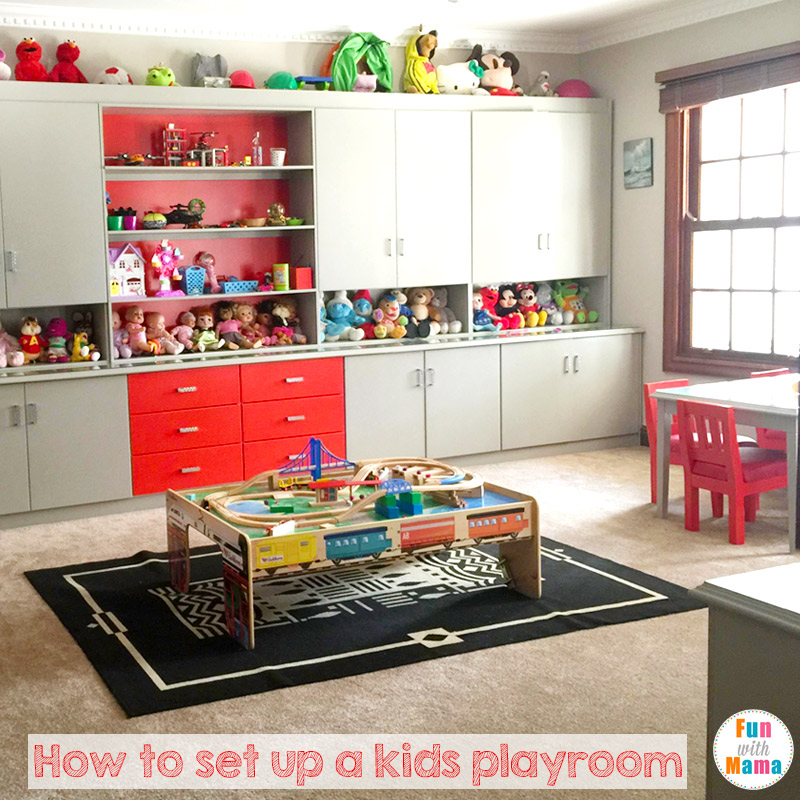 – The BEST Preschool Supplies!