This muddy animal oobleck recipe is the perfect sensory activity for preschoolers. My children adore playing with sensory bins, hence why I have a lot of sensory table ideas all over the blog. I love that sensory bins can hold my child's interest for long periods of time and some of them can be used for a whole month at a time, like this Bugs Sensory Bin.
Oobleck Sensory Table
I recently purchased the Ikea Flisat table with some storage bins and we are in LOVE. We adjusted the changes the legs though, because they were too short for my 6 year old daughter. I purchased these legs to make the table more age appropriate for when she wants to stand and she can also sit too.
Materials Required:
Please note that this post includes affiliate links.
You can find all my sensory bin favorites here.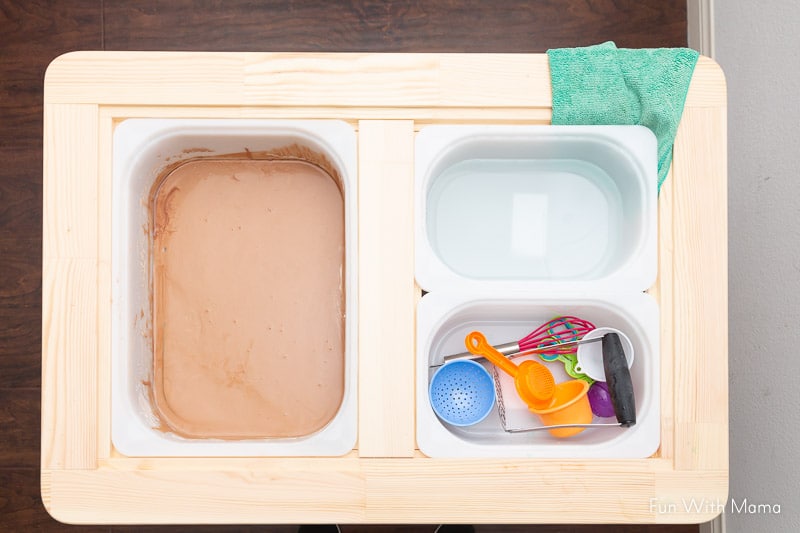 You don't really need to add animals if you want your child to just experiment with the muddy oobleck. I think the animals were definitely part of the fun and made the activity even more enjoyable for a longer period of time.
I chose a mixture of farm and zoo animal babies.
If you are going to the zoo or talking about zoo animals, I suggest you check out the Zoo Animals Life Cycle Printables.. the pack includes facts about zoo animals as well as sequencing and real life pictures.
We love these 20 Zoo Books for Kids, and I have a whole activity pack filled with zoo themed activities – Zoo Animal Activities For Preschoolers + Kindergarteners.
If pairing this with farm animals or an upcoming farm field trip, check out the Farm Sensory Bin and the activity pack filled with tons of Farm Animal Activities For Preschoolers .
Learn how To Make Oobleck Recipe here. Basically I just added cocoa to the bin. I used this oobleck recipe and adjusted the cocoa.
1/4 – 1/2 cup cocoa (The more you add the darker it gets.)
2 cups of cornstarch.
1.5-2 cups water – you will need to add in the water slowly until it forms the right consistency. You don't want it to be too liquid like and not too hard. It must be able to form a ball in your hand but then also ooze out into a liquid when you are done. Oobleck is a non newtonian fluid.
Method: Mix dry ingredients then add the water slowly.
Is it solid? Because if you pick it up, it looks like a ball.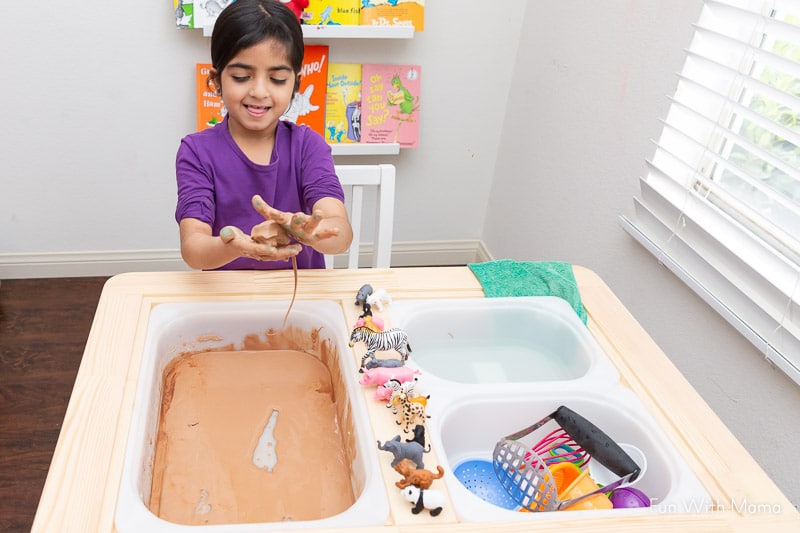 Is it liquid? When you squeeze it, it drips out of your hand.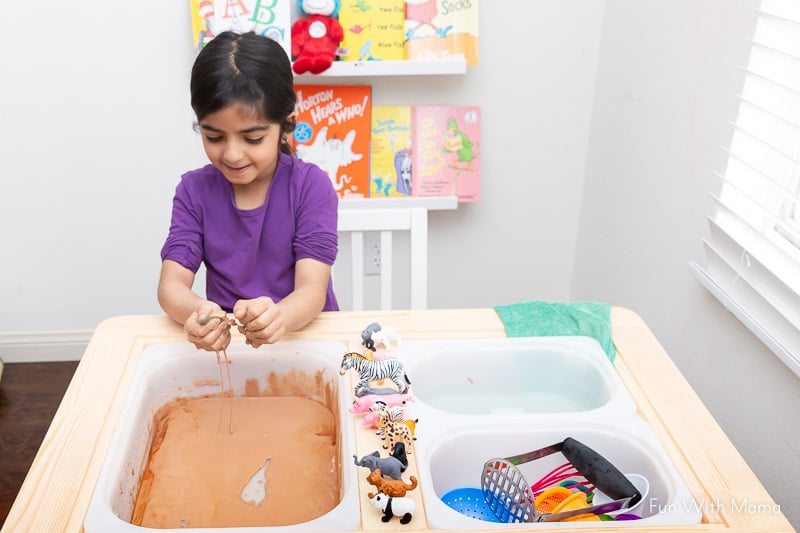 It is truly a lot of fun to play with!
Adding the little water section added a whole lot of fun for my daughther.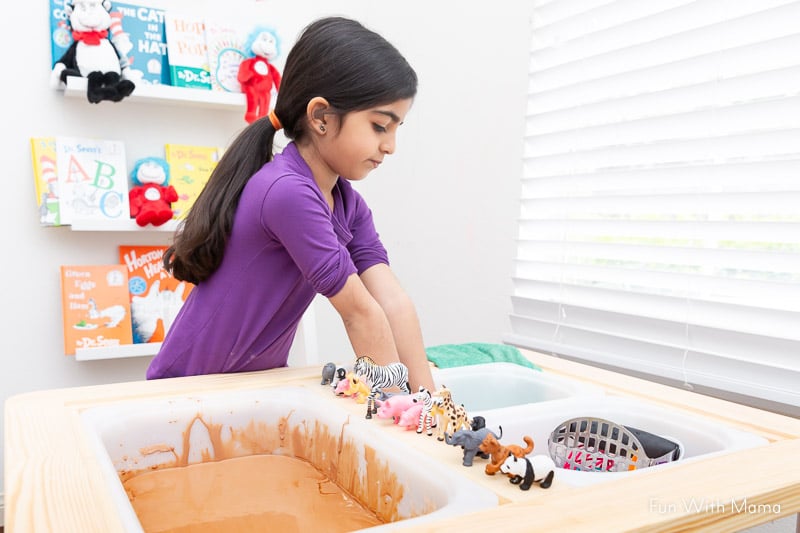 She spent a ton of time in the water section playing, washing animals, etc.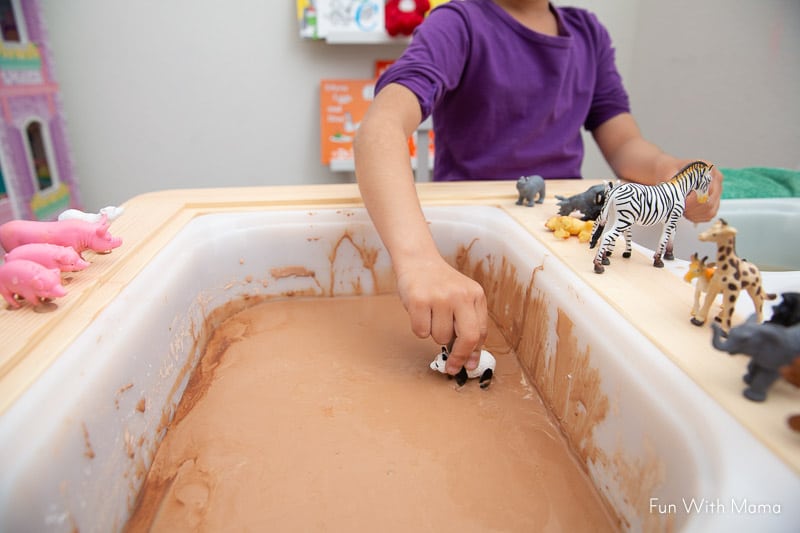 Then she tried to catch the animals using the fine motor tool set we have (linked above.) It was such a fun activity. If your cornstarch gets a little hard or dries out.. just add more water. If it is filled with too much liquid after your child adds the animals back in after cleaning them off with water, just add some more cornstarch.
Follow @funwithmama on Instagram for more fun ideas.