These farm animal activities for preschoolers include farm coloring pages, farm animal mazes, farm animal drawing ideas, farm color by number and more! These animal activities would be perfect for a farm theme preschool class or for your homeschool preschoool.
Do your kids love reading about and visiting farms, watching and feeding all the cute baby animals and helping with the harvesting? My kids love watching baby goats bounding around on the dirt while little chicks squeak along following their mama.
Farm Animals Activities For Preschoolers
This kids farmyard printable pack is aimed at preschool and kindergarten age children, three through eight. It includes a variety of math and literacy activities all with a fun farm and farm animal theme. You can find all of preschool learning activities here.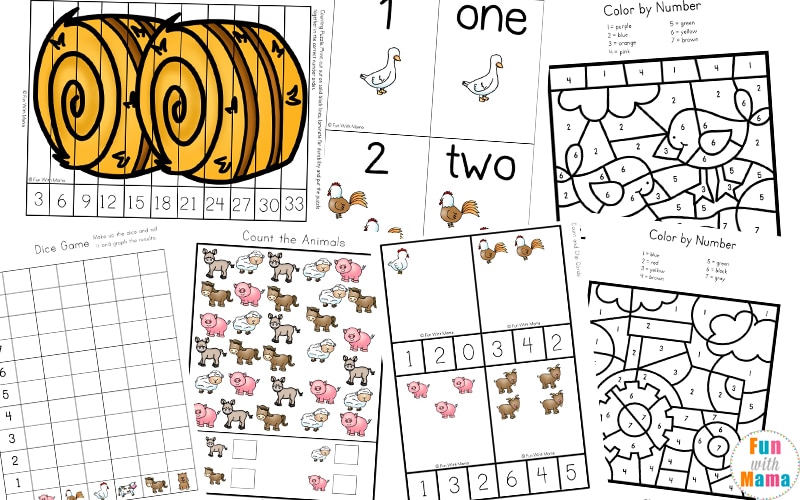 Materials Required:
Please note that affiliate links are used in this post.
Here are some items that pair well with these activities. You will use each of these items over and over during all my printable preschool activity packs.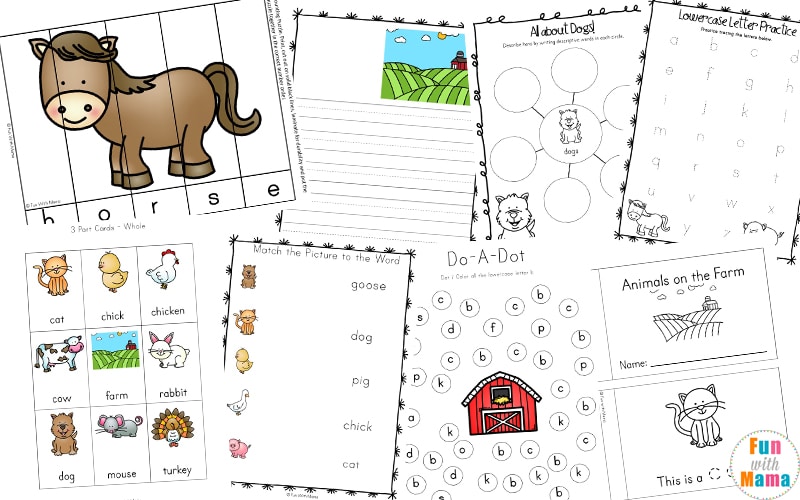 This Farm theme preschool pack contains over 100 pages and includes many activities.
In this printable pack, children enjoy learning about the animals on the farm as well as some of the buildings and equipment you will find there.
There are pages for children to research some of the farm animals, including pigs and goats, and take notes of what they find. There is also a printable book where children can read about different animals on the farm. After reading the sentence and writing the name of the animal, they can decorate the picture however they want, with coloring pencils, markers or crayons.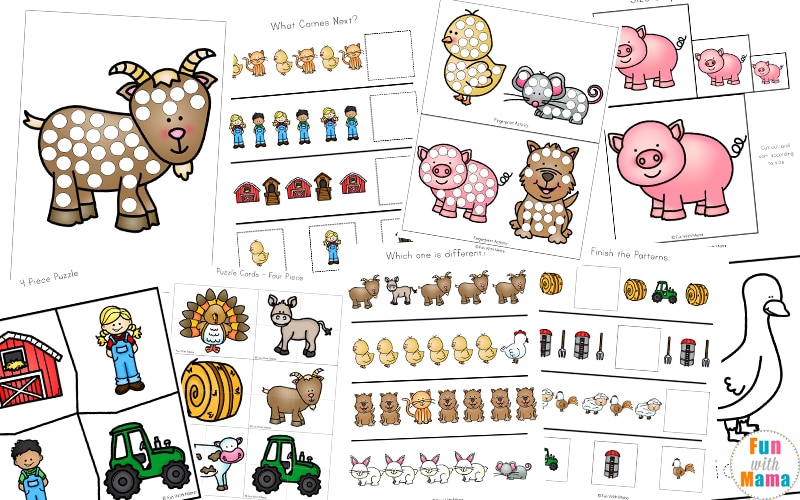 There are also some Color by number / letter / shape pages that would make great posters after they are completed! Children and teachers will love that some of the farm animal activities for preschoolers can be turned into posters!
One of the most fun activities has to be the 'Finish the Farm Animals.' This is a great art project where children will learn to draw the other half of the face of a farm animal. We've included such animals as dogs, donkey, bunny and more. There are two different versions, one simple one and one a little more complex. After they complete their drawings, they can color them in as well. There is also a place to trace the animal name.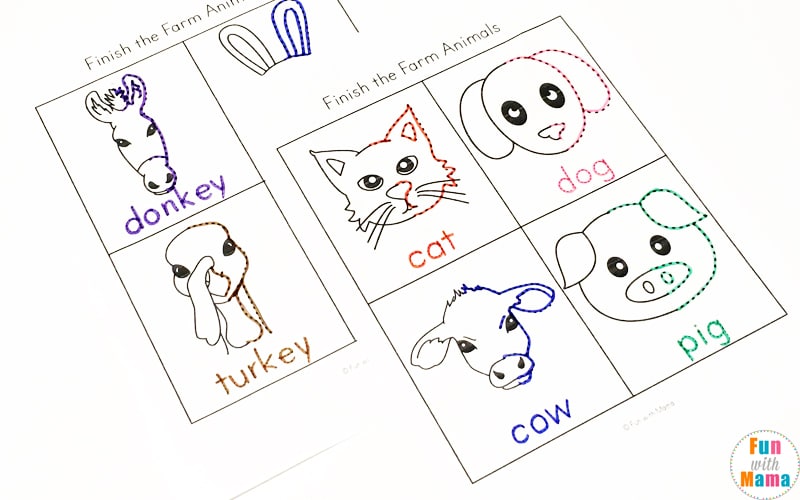 Some extra farm activities that are not found in our normal printable activity packs is this finish the farm animals faces. The one with the tracing lines can be used with younger children. The one without tracing lines are more for older children (pre k, kindergarten or elementary school age) to work on some visual processing. It is very challenging and I urge you, as an adult to try it as well. You could also do these cool barnyard activities. Encourage your children to talk about the farm animal sounds. What sound does the dog make? What about the cat?
Toddlers absolutely love that!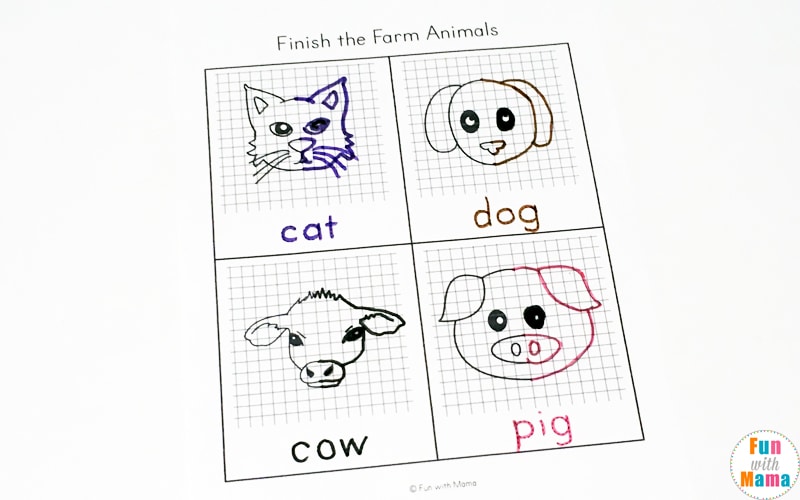 Preschoolers love singing so sing some farm songs! Old MacDonald had a farm is a good one.
You can find my favorite farm toys below:
Where to get this activity pack
GET THE FARM ANIMAL ACTIVITIES HERE
Explore farm animals and all the fun that happens on the farm with these engaging math and literacy activities for your preschool and kindergarten learners. Your students will love learning about farm animals through a range of puzzles, tracing, alphabet, counting, coloring and matching activities and more. Each of the farm animal activities requires very little prep and can be completed with simple resources found around your classroom.
Check out these activities:
Farm Animal Bingo – Printable Free Bingo Cards
20 Farm Stories and Books for Kids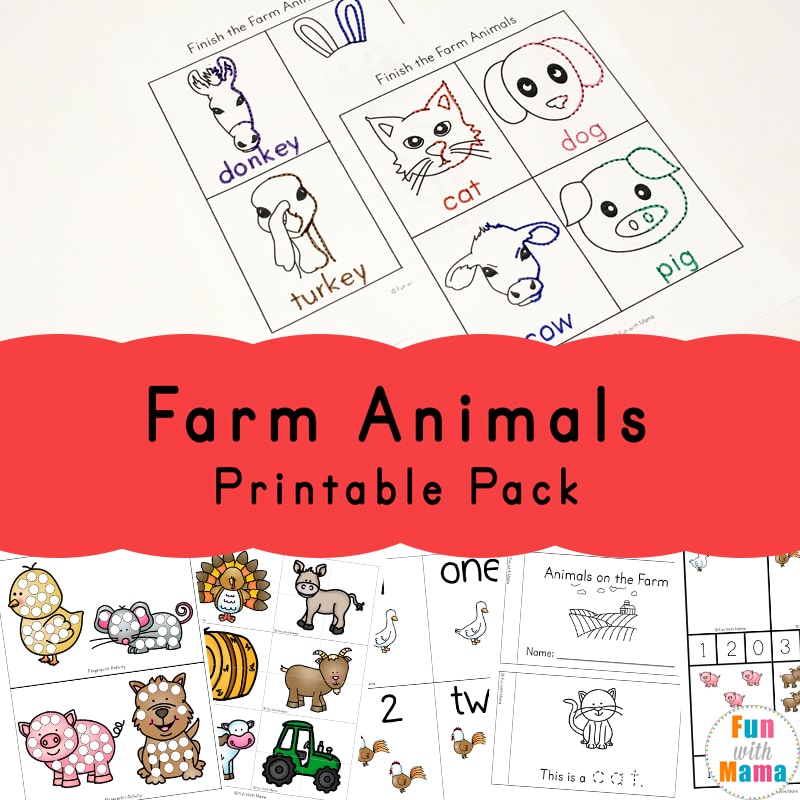 Create a farm sensory bin to go with the activity: