Your child is going to love this adorable farm animal bingo! Who doesn't love farm animals? They'll know all of these farm animals and love being able to try and be the first one to yell BINGO! These printable free bingo cards are a great way to let the kiddos have so much fun at home. Plus, the whole family can join in on the fun!
Farm Animals Bingo Game
What you'll see about these printable free bingo cards is that they're so cute and fun! They're created with the kids in mind and are visually pleasing, too. This farm animal bingo game is a great way to host a family game night at home where everyone can join in on the fun.
We tend to play bingo a lot in our house because the kids love being able to be active and show they're responsible to keep track of their own bingo cards without help.
I love playing bingo with the kids because it works on their listening skills and simple sight words, too.
The great part about these printable free bingo cards is that it shows the pictures of the farm animals and then has the name of them printed above.
If you're looking for a super simple way to have a calm evening at home, playing a family-friendly game, you need these printable free bingo cards!
The farm animal bingo game included for free here is a sampler from our Bingo Variety Pack. The Bingo Variety Pack includes 12 themes with 4 mats.
Fun Prize Ideas for these Printable Free Bingo Cards
We all know that having fun prizes for friendly family games is part of the best part of playing bingo! After you print off these printable free bingo cards, don't forget to gather up some super fun prizes!
Simple bingo prizes for the kids (and adults!) could be:
Sucker
Bookmark
A Quarter (or other small change/money amount)
Extra Screen Time
See how simple it can be to add in some fun prizes to bring out a little friendly competition? Talk to the kids and see what they would like to add to the prize bag!

How to Play This Farm Animal Bingo
The biggest thing that you need to do for this farm animal bingo is that you just need to print out the printable free bingo cards below! That's the biggest part!
Once you do that, grab your bingo dabbers and calling cards and you're ready to get started. (after you cut out a few pieces, of course!)
Give each person their bingo board, shuffle up the cards, and draw them out.
As you well know, the first person in the family to call out BINGO wins!
Just be certain to clarify how bingo can be made. Straight lines, 4 corners, diagonal, etc.
Where to find this activity:
GET THE FARM ANIMALS BINGO GAME HERE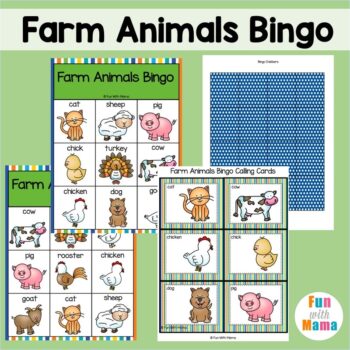 Already a subscriber? No problem. Just enter your details above so we can send this printable directly to your inbox.
Looking for more farm animal activities? Then check this out
GET THE FARM ANIMAL ACTIVITIES HERE
Including color and black and white activities, this farm themed activity pack focuses on counting, vocabulary words, sequencing, and more!
Want more Bingo Games?
GET THE BINGO VARIETY PACK HERE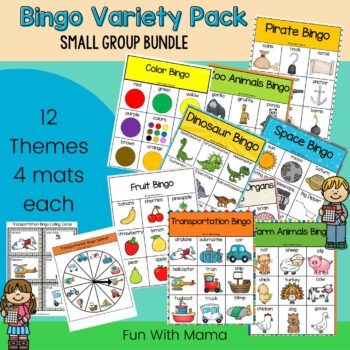 Grab the Bingo Variety pack for small groups. It includes 17 game themes with 4 mats each.
If you are looking for a classroom Bingo set with 30 Bingo Boards per theme in color and black and white then check out the Bingo Bundle Classroom Set. It includes over 12 Bingo Sets, including the variety pack AND includes holidays.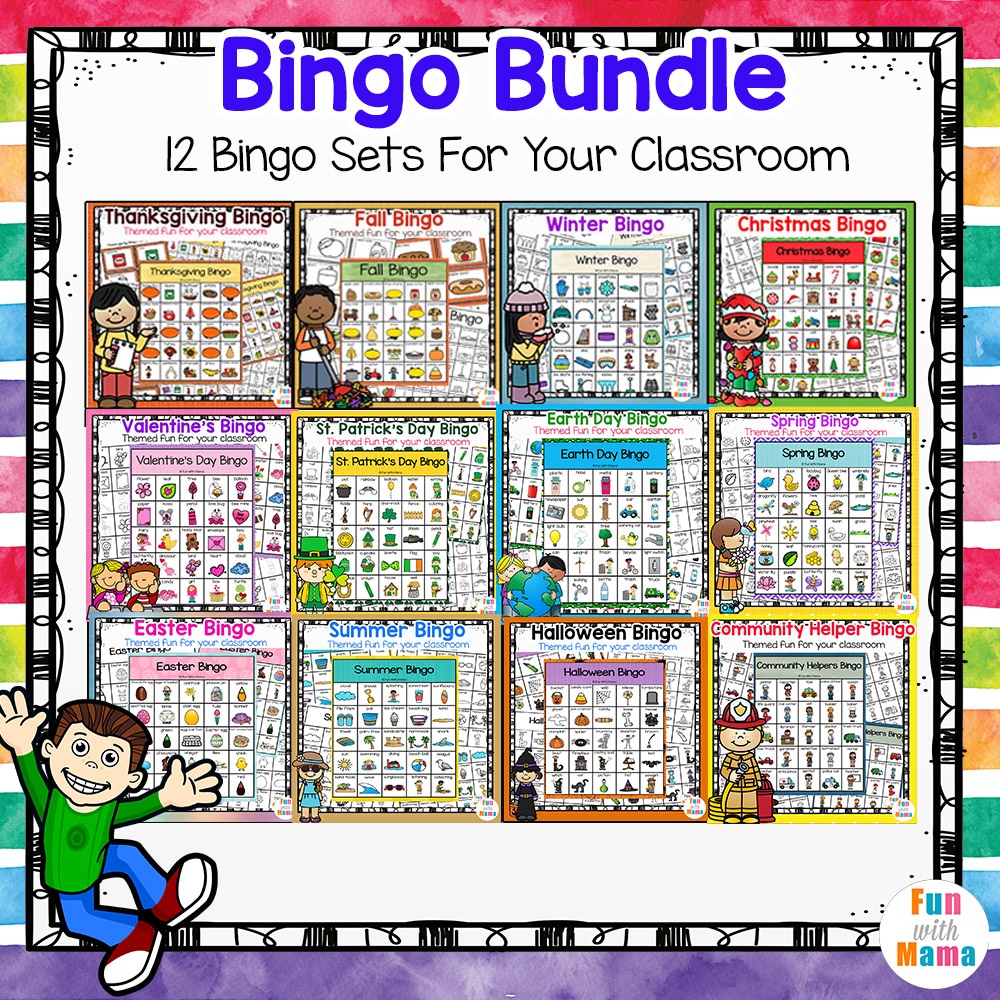 Don't forget to check out our other fun Bingo printables as well: