I think now is a great time to work on improving my 6-year-old daughter's reading fluency. She has some extra time on her hands and I've always said that parents need to be proactive in their child's education. We are working on phonics, decoding, and memorizing sight words.
This Kindergarten Sight Words printable pack focuses on Dolch Primer Sight Words and activities. In this packet, you'll find flashcards, Read Build Write Primer Sight Words mats, and Kindergarten worksheets for a total of 46 sight words. It's geared towards Kindergarteners and even pre-k students may be ready for it once you complete the Pre-k Sight Words Worksheets.
Don't forget to check out all of our Dolch Sight Words worksheets.
Kindergarten Sight Words
Having multiple ways to learn words means that it's an easier process for children to learn and understand. I often try to teach my daughter through her senses, hence why I hid sight word flashcards in the Sight Word Practice Sensory Table Bin and like I did in the Valentine Sight Word Activity.
If you are currently teaching your child to read and want to provide a good foundation for reading, I highly suggest you look at All About Reading Pre Reading Review. It is an AMAZING program and children will love learning along with Ziggy. We are currently moving on to All About Reading Level 1.
While the programs are absolutely amazing… if your child has more deep-rooted reading trouble or possible dyslexia, check out my Barton Reading and Spelling Review.
If you are working with a younger child, I have heard AMAZING things about the 4 weeks to read program and have had many friends who tried it and continuously rave about it. You can get 10% off 4 weeks to read here.
Besides practicing reading and learning reading rules (as you will learn in the All About Reading program), learning sight words can be really helpful in increasing your child's reading fluency.
Kindergarten sight words
The following words are included in the Dolch Primer Word List: all, am, are, at, ate, be, black, brown, but, came, did, do, eat, four, get, good, have, he, into, like, must, new, no, now, on, our, out, please, pretty, ride, saw, say, so, soon, that, there, they, this, too, under, want, was, well, went, what, white, who, will, with, and yes.
The more that your child sees words, the more that they're going to learn them and use them correctly.
Why teach sight words?
Believe it or not, sight words are some of the most common words that are going to be used in sentences. Once your child learns them, they'll be able to recognize them easily and start to progress to build their vocabulary even more.
How to teach Kindergarten sight words
This is where this printable pack comes into play! Every page is dedicated to introducing your child to the primer word on the page. Not only will they learn how to recognize it and spell it, but they'll be able to circle the letters, locate the word, fill in the missing letter, and more.
Teaching your child their kindergarten sight words is an important stepping stone to be able to go onto learning their Dolch First Grade Sight Words Worksheets and their Dolch Second Grade Sight Words as well.
Since I do all my packets in the same way, going from one grade level of learning to another is a consistent and easy approach.
Sitting with your child and talking to them about the word and working through the worksheets are a great way to understand the words and learn them.
We also like to use the words when we're communicating throughout the day and start introducing them into our everyday conversations.
What is included in the sight words activities pack?
I included black and white as well as color copies of the sight word flashcards, a Read Build Write Mat, and worksheets.
Each worksheet asks the child to do the following: Read the sight word, color the sight word, dot the letters of the sight word, circle the sight words, highlight it, trace it, find the missing letter, write it and tell us how many syllables it is.
Materials Required:
Please note that affiliate links are used in this post.
Here are some items that pair well with these activities. You will use each of these items over and over during all my printable preschool activity packs.
Printing out your Kindergarten Sight Words Packet
For the worksheet: You can print double-sided (although I suggest you use thicker paper than printer paper, otherwise the words show through on the other side.
I actually do not print out the whole set of worksheets. I only print out the words my daughter doesn't already know. Basically, just the ones that she needs a little more work on.
I do print out all the flashcards though because those are really great for use throughout the week and are amazing for revision. I laminate my flashcards so that I can throw them int some shaving cream, water, etc.
How to use sight words in everyday learning
Using these packets is a great way to get your child interested and educated in learning but don't forget to use them in real life as well.
I also place the sight words on my child's playroom wall. Here I used spring flowers to write the sight words, but the flashcards work just as well.
You'll start to notice that your child is understanding and getting the hang of sight words when they're pointing them out or using them more in their own vocabulary.
And honestly, this is the point of sight words! To see them and recognize them quickly.
Here I added in the Read Build Write Mat into a write and wipe dry erase pocket and then my 6-year-old daughter used our Magnet letters to build the sight word. She then wrote the sight word.
What are some fun games you could play using these sight words?
Kids love games! If you're wanting to have a few extra ideas in place on how the kids can learn these sight words, think outside the box and make it happen.
Create a sensory bin and hide some of the sight words in it for them to find. Once they find it, have them say it and use it in a sentence.
Go on a fun and simple scavenger hunt and see if they can locate all the "lost" sight words.
See how much fun it can be to combine learning and imagination?
Another fun way to practice sight words is with this Beach Sight Word Printable Pack.
How to Create a Sight Word Book for Your Child
I printed out the words my daughter didn't already know and then I decided to bind them using my binding machine and a 1/2 inch coil. I did a tutorial and video on How to Bind A Book if you would like to see how to do this.
Grab your Kindergarten Sight Word Printable HERE
You can get a sample page or by clicking the button below and if your child likes it, you can purchase the full set here!
WHERE TO GET THE ACTIVITY
GET THE FULL SET OF THE KINDERGARTEN SIGHT WORD PRINTABLE HERE
1st Grade Sight Words – High Frequency Sight Words Worksheets, flashcards +st
GET THE KINDERGARTEN SIGHT WORD WORKSHEET SAMPLER HERE
Already subscribed? No problem. Just enter your details above and we'll send the printable activity directly to your inbox.
WHERE TO GET THE ACTIVITY
GET THE FULL ACTIVITY HERE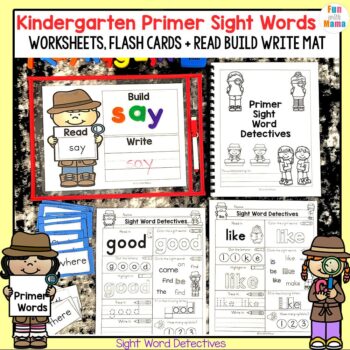 Includes flashcards, worksheets, and a Read Build Write Mat.
If you need some spelling help then check out my All About Spelling Level 1 Review. It showcases my love for this awesome spelling program.
More Fun Printable Activities: