These Pre K Sight Word Worksheets, called Sight Word Detectives, will have your children putting on their detective hats as they investigate each and every letter within this Sight Word Pre-Primer list. This sight words printable activity pack includes sight word flashcards, sight word worksheets, Pre K sight word lists that can be used at home or in school and even a cool Read Build Write Mat too.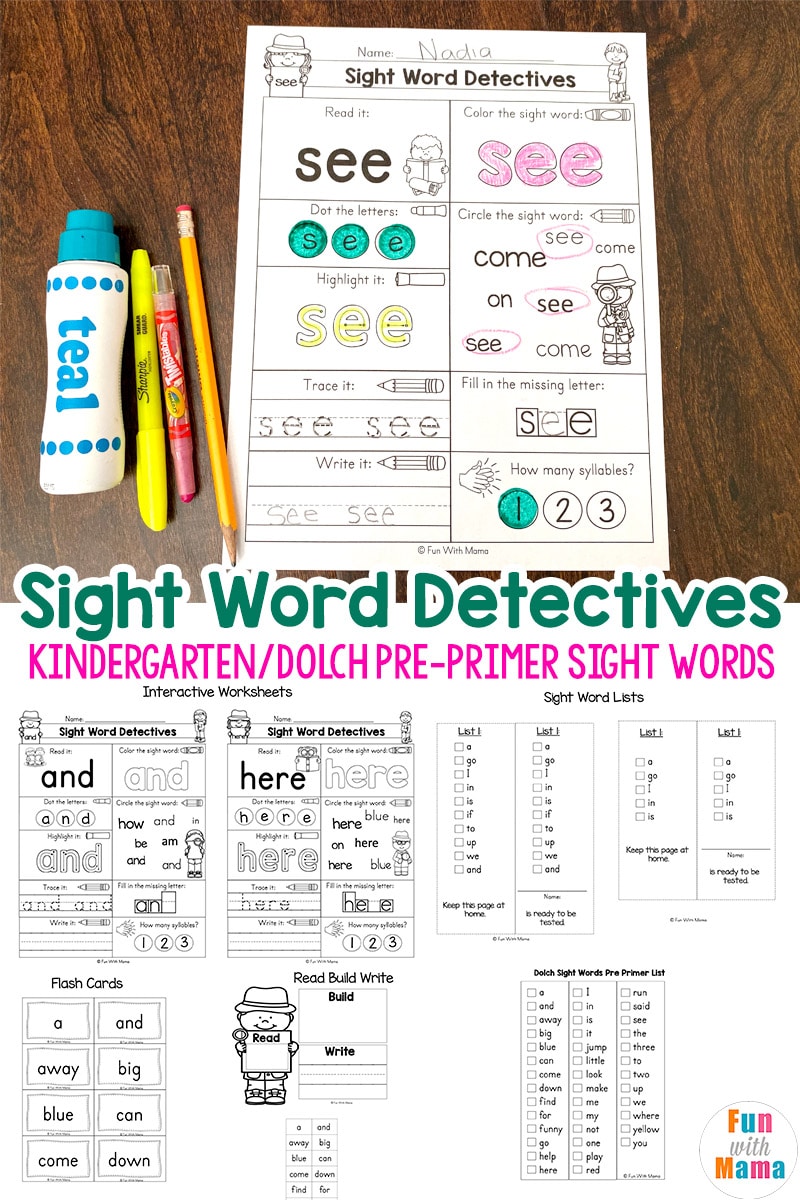 Sight Word Worksheets
As my 5-year-old daughter started Kindergarten at her private school she started to go through word lists each week. I came up with some fun interactive sight word worksheets. My goal was to try and have my daughter see the sight word a few times versus just repeating the sight words after me. I wanted my 5-year-old to take notice of each letter that made up the sight word so that I could ingrain the word subconsciously into her brain. That's why I came up with this sight word printable activity pack. This worksheet pack is called Sight Word Detectives. Students will put on their detective hats and investigate the sight words.
While I already have a pack of worksheets for the FRY First hundred Kindergarten Sight Words the format is different.
Tools required for the sight word worksheets:
Affiliate links are used in this post. This means that if you purchase through one of these links, I may earn a small commission on the sale. Please see my disclosure policy for more information.
Paper We go through a ton of this paper each month. My kids use it for drawing and crafting too.
Pencil
Crayons (I love twistable crayons)
I chose to add multiple tools to be used with these Pre K sight words worksheets to make it fun. How much work do your students or children do with their crayons and pencils? Too much! My daughter enjoys using Do A Dot Markers. They are not messy to use and provide an artistic twist to the activity. She also loves using a highlighter too.
If your child doesn't have Do A Dot Markers then don't worry, just have them color it in.
Pre K Sight Words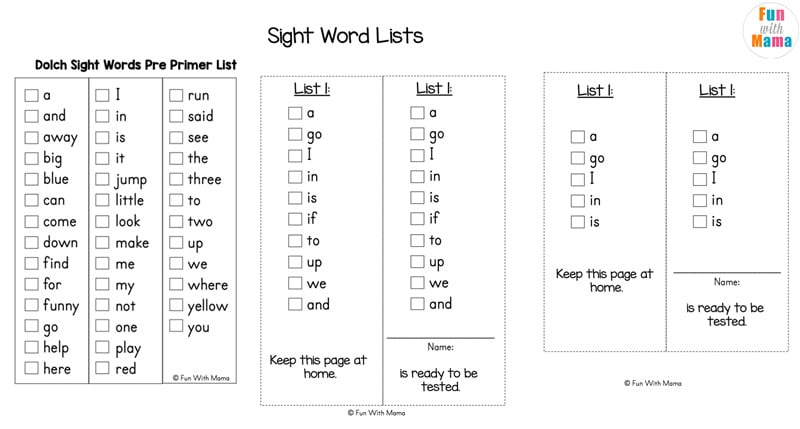 I have included a Pre K sight words list set. One of the pages includes all the sight words. The other pages include lists separated into 10 sight words and 5 sight words. The word list you choose depends on how many you want a child to work on weekly/monthly.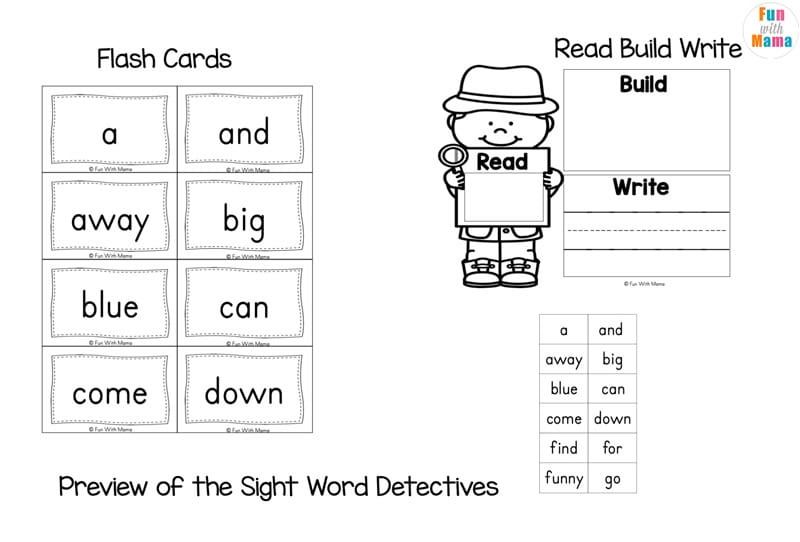 I have also included sight word flashcards and a Read Build Write Mat for children to work through.
For the Pre-Primer sight words worksheets, I used a similar format as the one I used in my very popular Alphabet Worksheets and Numbers 1-10 Worksheets. I knew that this format has been tried, tested, and loved by children, so I made sure to extend upon those basic worksheets for an older child too. The worksheets would make for a great independent activity too.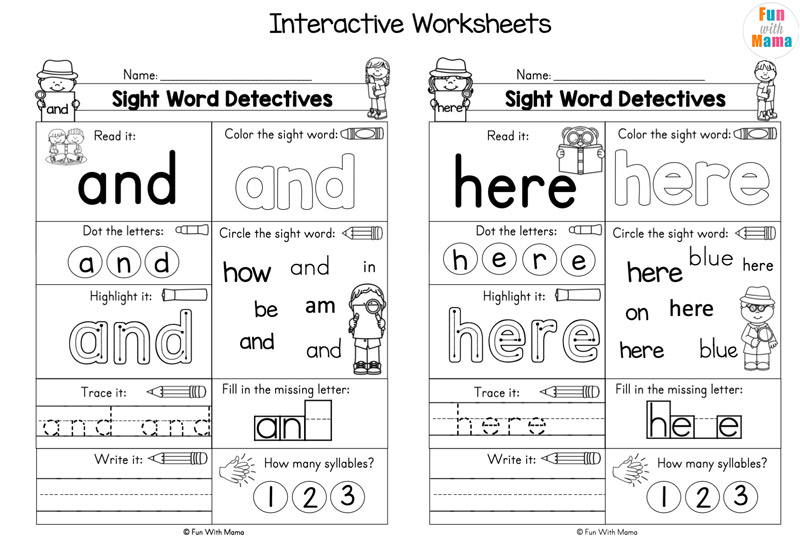 There are 40 sight word worksheets included in the sight words printable pack. I do not have my daughter do all the worksheets. I only have her do the ones that I know she is having difficulty with. This makes those challenging words a little more fun to work on and prevents the worksheets from being too repetitive.
The words included are:
a, and, away, big, blue, can come, down, find, for, funny, go, help, here, I, in, is, it, jump, little, look, make, me, my, not, one, play, red, run, said, see, the, three, to, two, up, we, where, yellow, you.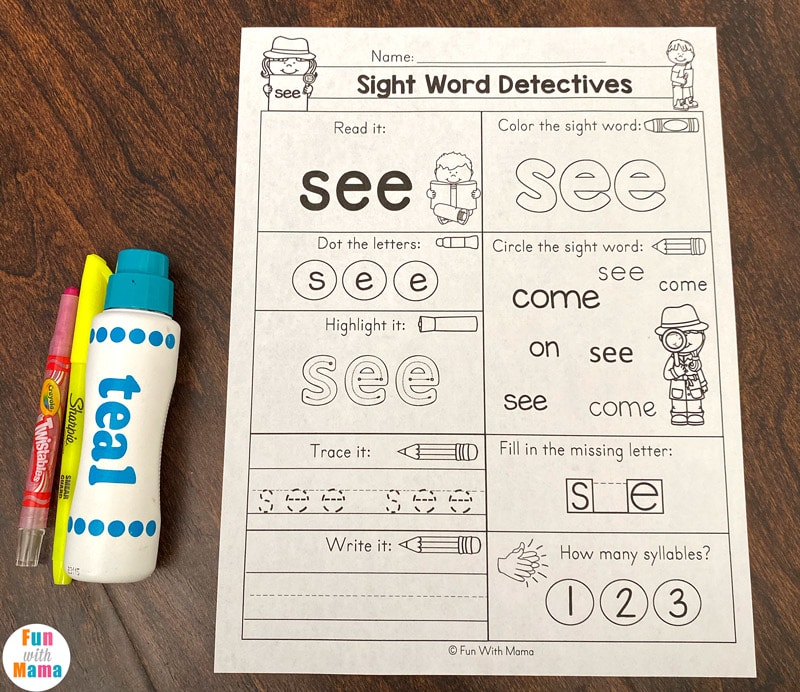 Here is how I set out the activity for her.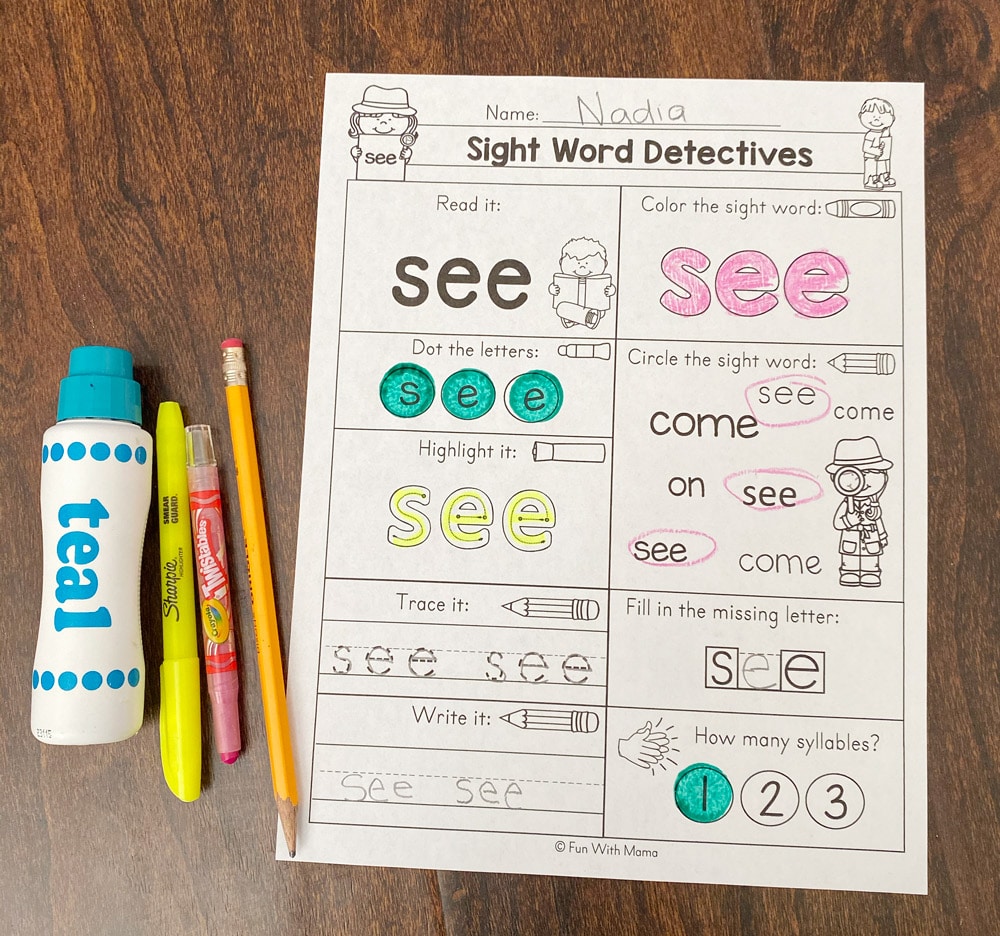 This is what the worksheet looks like when it is completed.
Download this activity here:
I have included a sample of the Sight Word Worksheets here for you today. You can click the button below for the sample that includes the sight word worksheet for the word 'see'.
GET THE PRE K SIGHT WORD WORKSHEET HERE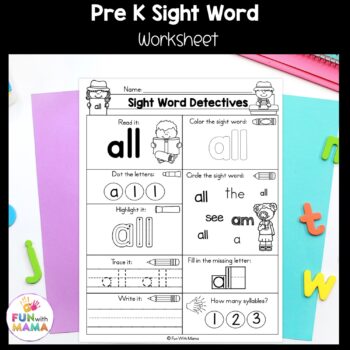 Already subscribed? No problem. Just enter your details above so we can send it directly to your inbox.
Want the whole activity pack instead of just the sample?

GET THE PRE K SIGHT WORD WORKSHEETS + ACTIVITIES PACK HERE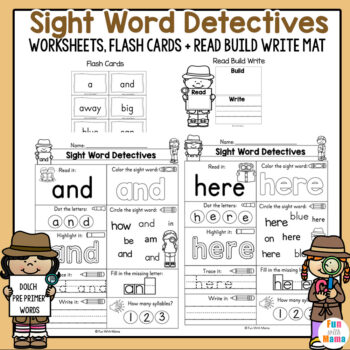 The Pre-Primer Pre K sight words worksheets include a black and white interactive page for each of the Preschool Sight Words. It includes flashcards, Sight Word Lists, and a Read Build Write Mat.
You can get the full Pre K sight word activity pack here.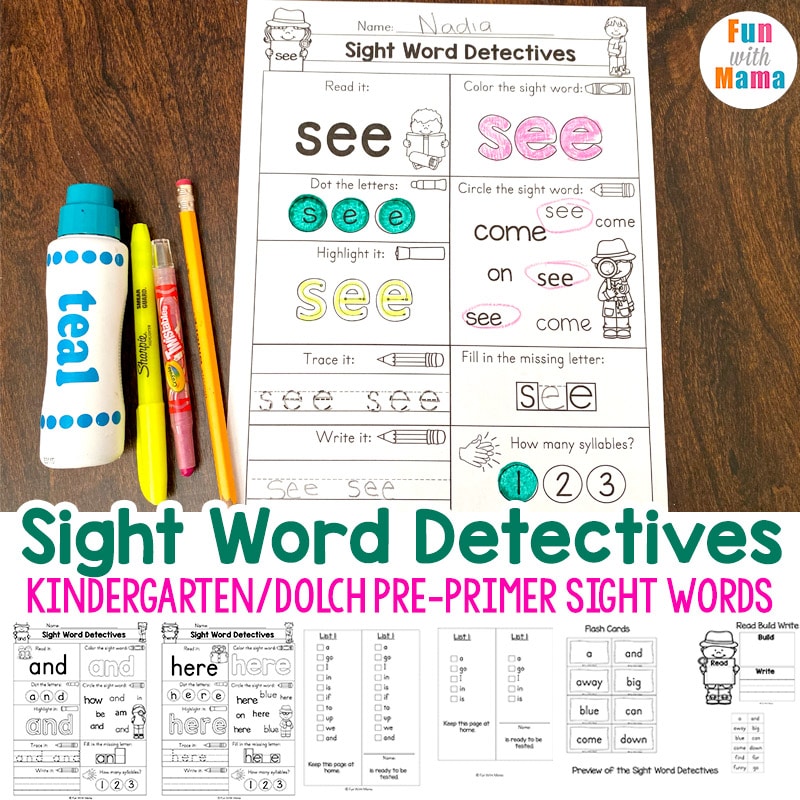 Do you have any sight word learning or teaching tips?
I also have sight word worksheets for older children too. These packs follow the same worksheet format so that children can use them each year. You can save the flashcards from each previous set to test children in the future for revision and to make sure they don't forget the words from the previous year's list.
You can find the Kindergarten Sight Word Worksheets Activity Pack here.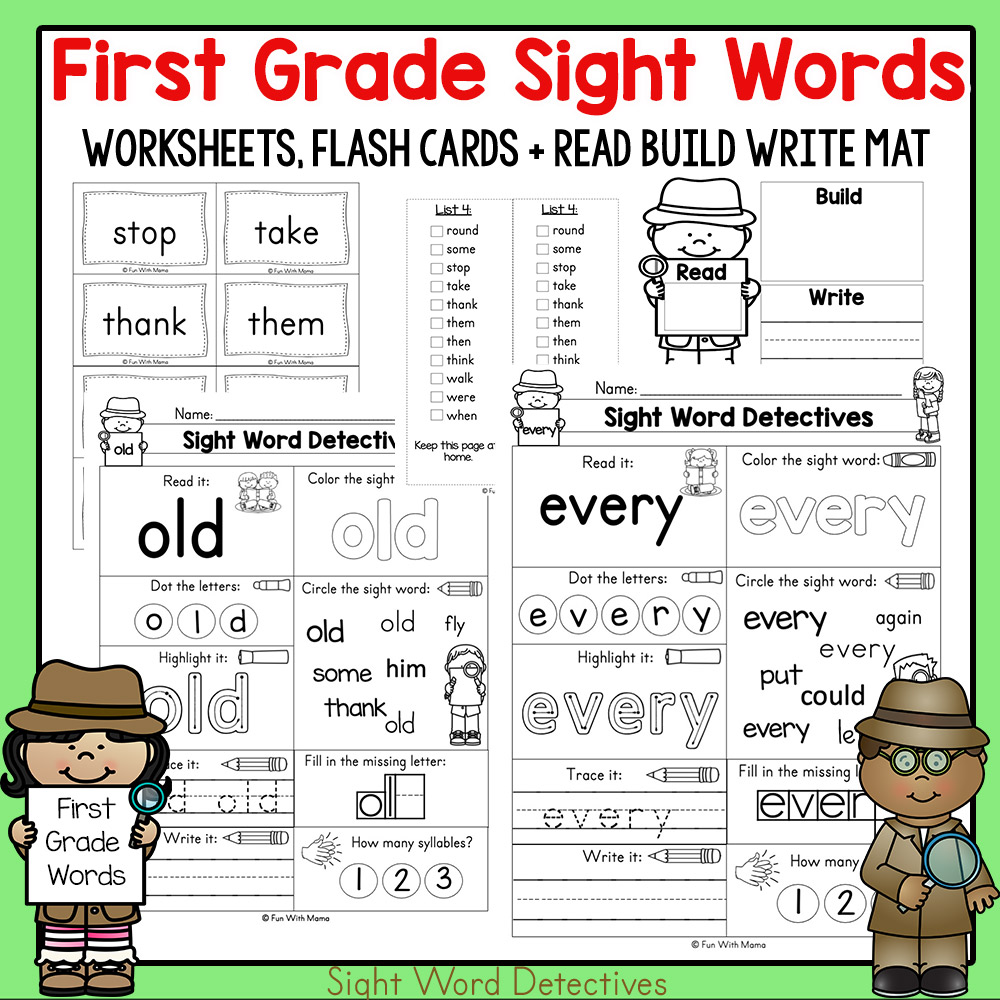 You can find the First Grade Sight Word Worksheets activity pack here.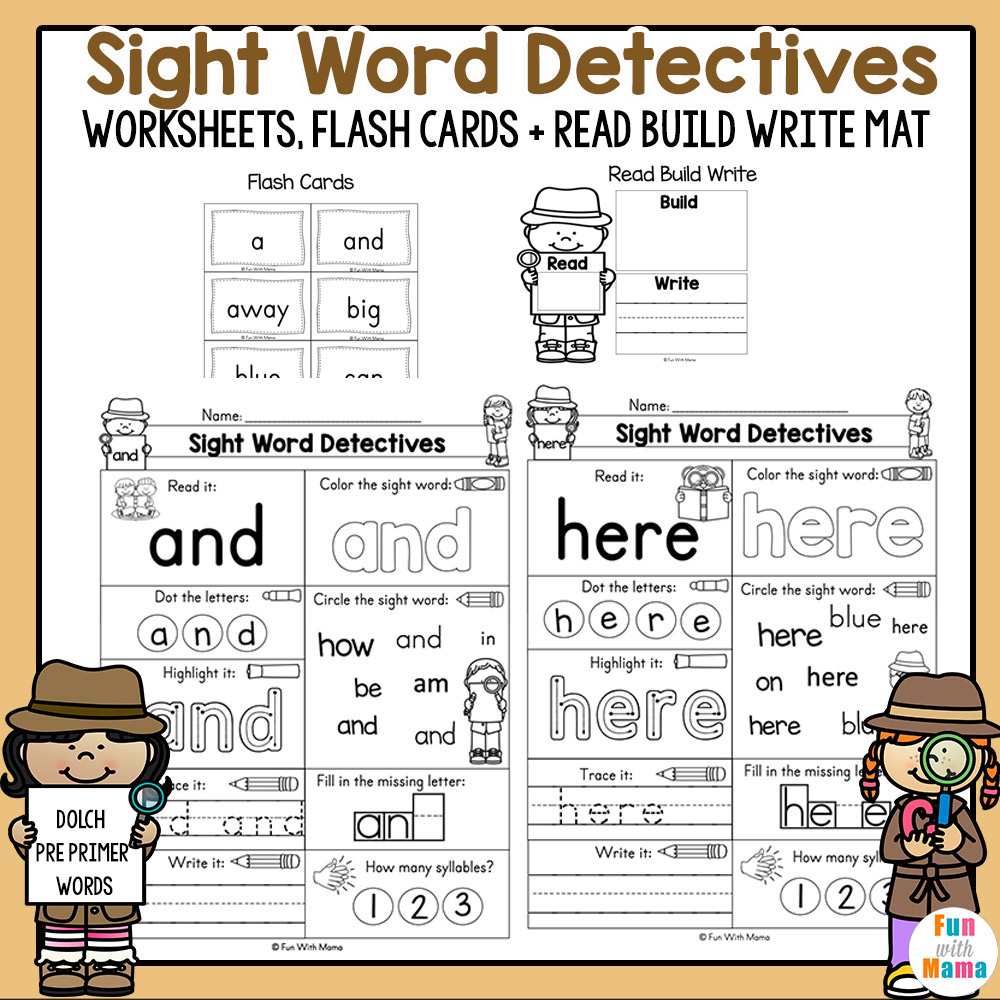 This post was originally published on November 19, 2019. Last update December 21, 2021.