These new numbers 1-10 worksheets are perfect for preschool math. Children will learn about number concepts, ten frames, counting to ten and more! The pack was inspired by my popular Alphabet Letter Worksheets pack. The response that I have received about the alphabet letter worksheets has been overwhelming. Your students LOVE it. In trying to keep with the same formatting, I have come up with a set of number worksheets for numbers 0-10 and numbers 11-20. I have also added zero in there, but if your student isn't ready for zero… just don't print it out.
Numbers 1-10
These number worksheets would be great to add to the number activities pack.
If you would like to see a full close up of what is included in the worksheets pack then click here for zero to ten and here for eleven to twenty.
I prefer creating workbooks because it is easier to see progression and understanding. Some teachers opt to use them as homework and worksheet hand outs. Choose whatever you see fit.
Here is a video of the Number Worksheets:
If you would like to make them into worksheets you can go here Homeschool Organization How to Bind A Book. You can also watch my video tutorial below:
I used my
Binding Machine
and
1/2 inch binding spines
.
Not only are these great preschool math worksheets, they are also great as special needs worksheets for older children who may need help grasping number concepts. Start simple with numbers 1-10 and then move on.
Numbers one to ten are generally easier to grasp for children than numbers eleven to twenty.
The bottom of the worksheets includes an area where children can count to ten. They can then see where the number falls within the number set.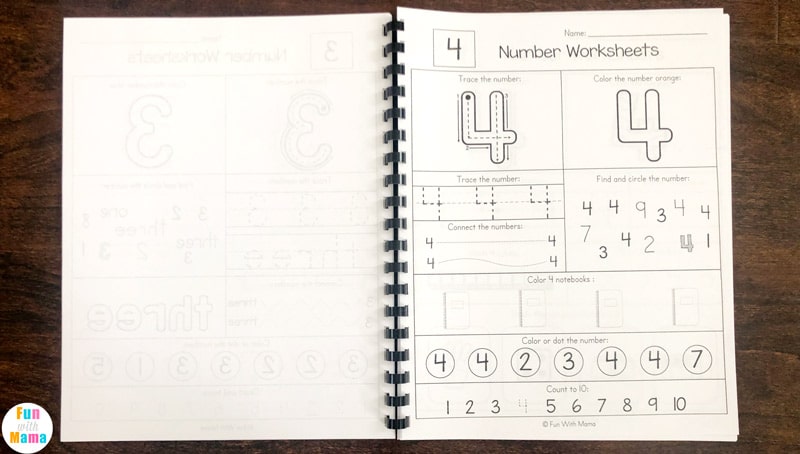 The materials that will be used are a pencil, crayon (or markers) and a dot marker is optional.
Besides having children count to ten with the numbers 1-10 worksheets, children will also learn more about number concepts. In the second page they can use a highlighter or marker and will have one or two attempts at writing the number down themselves. They will work with a base ten too.
There are a lot of math concepts being introduced within the pack. I have also included a set of number worksheets that incorporates the number sight words into the pack. This would be more appropriate for older children.
I would like to give you a sample so you can test it out and see if your child likes the activity. I have included the number two worksheet to test out.
Get the full number pack 0-10 here. Get number worksheets 11-20 here.
Get the sampler here: