Looking for printable activities to use this ominous October? Look no further! These free Halloween Coloring Pages Printables packed with wicked witches, goblins, ghosts, ghouls, pumpkins, and all things eerie, are the perfect way to get into the Halloween spirit.
Coloring itself is an excellent way to develop fine motor skills and help children to regulate their emotions. The vibrant colors associated with a Happy Halloween are a great way to stimulate your little ones. I love using these pages for 'Calm Down Time' to help the kids de-stress. It's also perfect to use as part of a Halloween Unit at school and can be a fun Halloween family activity too!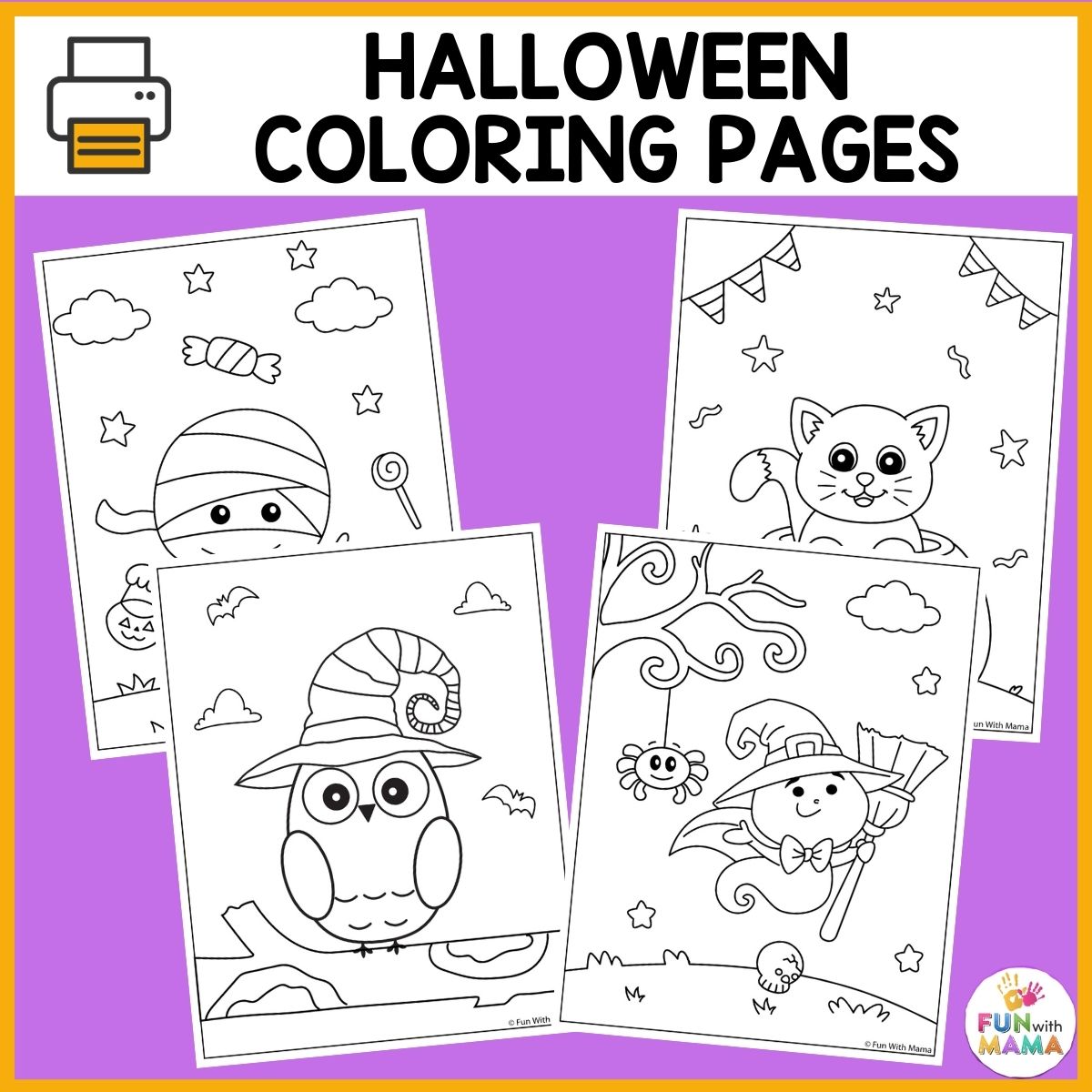 From spooky and scary to sweet and silly, explore over 15 Halloween themed coloring pages below! Unleash your spooky side, embrace the eerie vibes, and engage your little ones' creativity with these Halloween Coloring pages. These are completely FREE. This is not a trick but a treat instead!
Looking for a way to entertain all your kids? Check out these Halloween activities that will engage kids of all ages from toddlers to preschoolers, older kids, teens, and even you too!
Get ready to download these pages and unlock hours of fun with these printables! You can use any materials; I recommend setting up some crayons, markers, colored pencils, and watercolors.
My pro tip is to create your very own coloring book by printing and binding all the pages! Check out my tutorial on how to bind a book to find out how you can do this!
Halloween Coloring Pages
Cute Witchy Ghost
This easy outline features a ghost wearing a witch's hat and carrying a broomstick. There are various night time add-ons and a spider. You can also add on some tinsel to act as 'spider webs.'
Scarecrow Field
This drawing features a scarecrow that has a pumpkin or Jack-O-Lantern for a head, topped off with a witch's hat, some spooky pumpkins, and bats on a field.
Cat-O-Lantern
This adorable scene is ideal for your littlest ones and captures a cat inside a Jack-o'-lantern. I also added there are stars and streamers to create a festive atmosphere.
The Not-So-Scary Witch
This page depicts a little pet puppy dressed up as a witch on a broom with a dreary full moon and eerie bats in the background.
Harry The Halloween Owl
A detailed image of an owl perched on a branch with spooky bats and clouds in the background.
The Ghost Of Music
A ghost playing guitar with a backdrop of a chilly, starry night where bones and skulls are left behind. Perhaps it is the graveyard where the ghost of music is buried! What do you think?
Simple Friendly Ghost
A cute page for your toddlers- this ghost wears a silly hat and bears no nightmares! The dark moon and fearsome bats, however, may promise otherwise!
Puppy On A Pumpkin
A fun contrast between a cute puppy dressed up in a Halloween outfit to look like a witch and a terrifying Jack-o'-lantern that it sits on!
Mummy On The Run
A friendly mummy who is enjoying the fun activity of trick or treating! Maybe this mummy needed a break from all those haunted houses!
Easy Halloween Fun
This easy scene of a cute furry friend hugging a Jack-o'-lantern is on theme! It is perfect for younger kids, and the extra details like clouds, stars, and a bunch of sweets add to its magic!
Halloween Coloring Pages for older children + adults
The Vampire's Graveyard
This is sure to lead to a long period of coloring fun! A vampire donned in the infamous Dracula coat standing in a Graveyard filled with old souls, surrounded by dark clouds and a Jack-o'-lantern to collect bones! Just kidding- it's no monster but a little boy pictured in his Halloween costume, ready for the trick-or-treaters!
The Wonderful Witch Of The West
This animated take on a young witch is sure to be a huge hit! Donned in her traditional attire, complete with a pointy hat and a magical broomstick, she's ready for you to add colors to her Jack-o'-lantern cauldron! The starry details add to the dazzling mystery of this spooky season…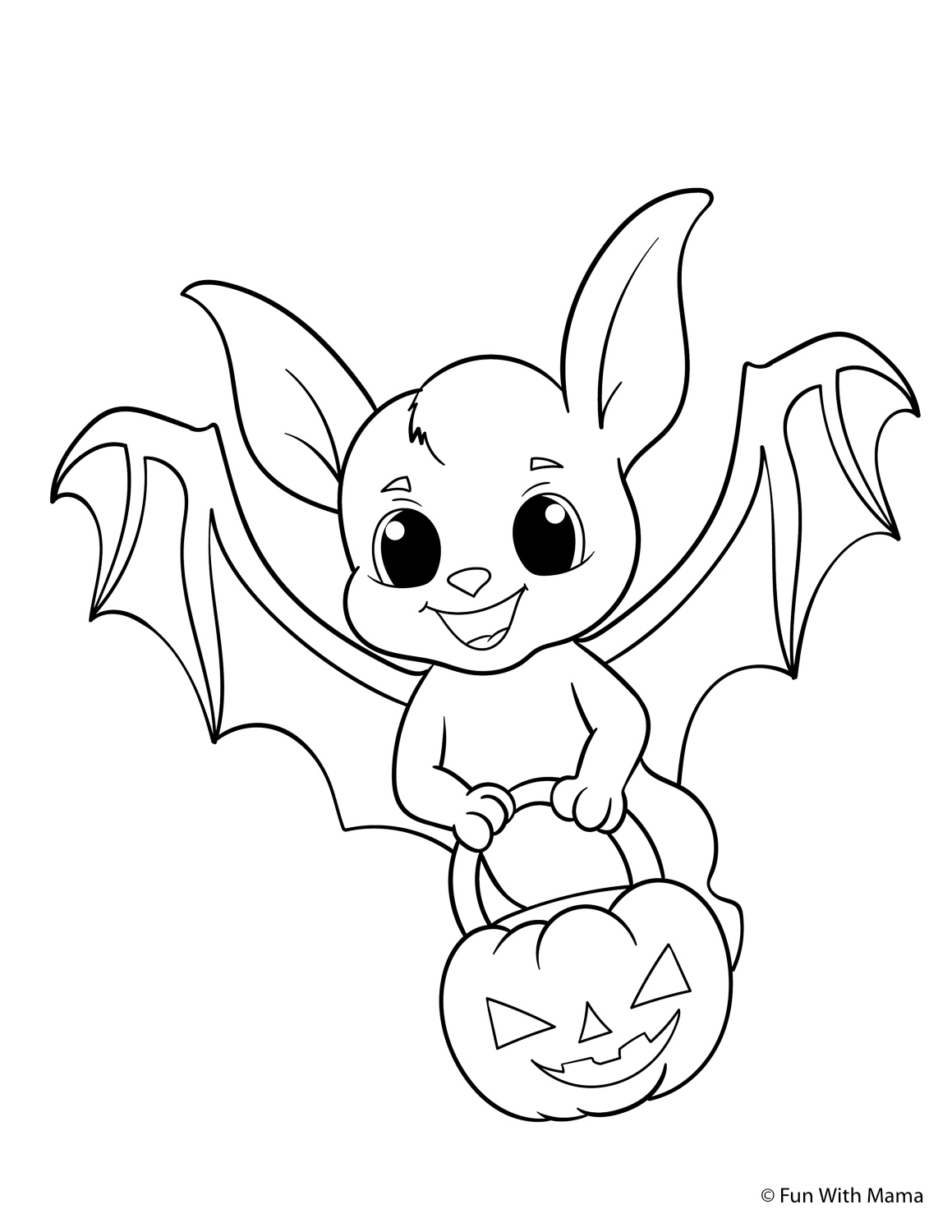 Bat To The Bone
This friendly bat is getting ready for trick or treating! Its wings are detailed beautifully, and you can see how amazing these creatures are!
Pair this page with these bat facts for kids.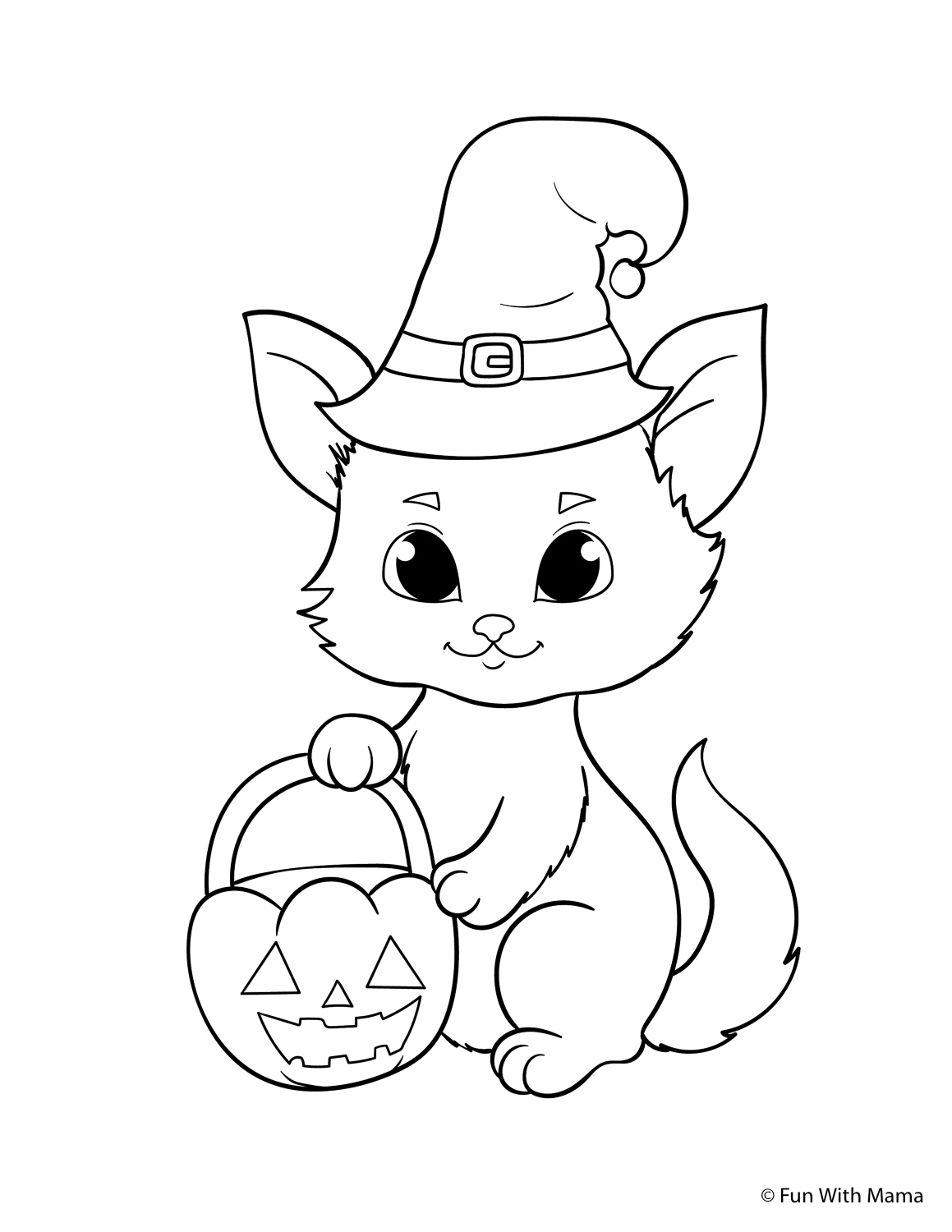 The Lucky Black Cat
Who said black cats are bad luck? This adorable cat dressed up for Halloween is sure to spread some luck around! Check out this Pinterest board for more inspiration and color palette ideas!
The Haunted Mansion
A huge, mysterious, and abandoned mansion rumored to house vampires, ghosts, and ghouls… Enter if you dare!
Halloween is a very interesting holiday, but the origins of it might surprise you! Did you know that during World War II, the sugar rationing had paused trick or treating? Imagine telling the kids no to some good old Halloween fun- chaos would ensue! Check out the rest of these 25 Fun Halloween Facts that will give you chills!
Get The Free Halloween Coloring Pages Here