The Fruit Loops activities below are in one easy to to print printable preschool pack. These activities work on colors, counting, tracing, and more! Toddlers will love it too! You can find all of our printable packs for preschoolers here.
Fruit Loops Activities
One of the first things we do in the morning is eat breakfast. It's a great way to start the day and get everyone awake and ready for what comes next. One of our favorite breakfast meals is cereal. The kids love the variety while I enjoy the occasional convenience of not having to cook. I thought it would be fun to create an activity pack that would use cereal as a manipulative so while they eat cereal they can also use it to learn with!
For this activity we used Fruit Loops although I did include some loops that you can cut out if you don't want to use real cereal. There are several different activities included for you to use with morning breakfast or as an addition to the daily curriculum.
Some of the activities do not need cereal but here are some materials you will need for this pack:
Clothes pins
Dry erase markers and packs
scissors
Fruit Loop cereal
Key ring loop and a hole punch
You can find my favorite supplies above on our supplies list page.
Activities included:
Count and Trace cards
Strip cards
Beginner Writing Skill Builders
Puzzles
Color matching clip cards
Color Matching cereal bowls
Circle Tracing
Fruit Loop Sorting Mat
One of my daughters favorite activity was the color matching cereal bowls. There are six colored bowls included. They can sort all the different colors into their own bowl or sort them onto the matching color of cereal in the one grey bowl.
Circle Fruit Loops Tracing
This page is all about tracing the circles. Each loops has two circles to trace! I put these in dry erase pouches for reuse. I actually got these Avery corner locking document sleeves we use and they work great for our dry erase activities. They are a really inexpensive ways to create dry erase worksheets.
Play dough Fruit Loop Counting Ten Squares
We have the number count and trace puzzle cards and these play dough mats in this pack. The play dough mats each have the number large enough to build with the play dough and a ten square. The child can draw in the ten square, place cereal in the ten square, or use play dough to mark the correct amount of squares.
Fruit Loop Color Matching Puzzles
There are a few different puzzles included that are centered on practicing color matching. There are these puzzles where the loops are cut in half as well as image to image puzzles.
Fruit Loop Math
(The five year old took the above picture. I was kinda impressed so I used it.)
There are three different kinds of strip cards included.
Count the cereal.
Fill in the missing numbers
Count out the correct amount of cereal.
Cut each set of cards apart and punch a hole in the end. Thread each pack onto a key ring.
Also included is a set of color matching clip cards where they will clip the correct color. For more Fruit Loop fun check out this post.
Download this activity pack here
You can download this activity pack by clicking the download button below.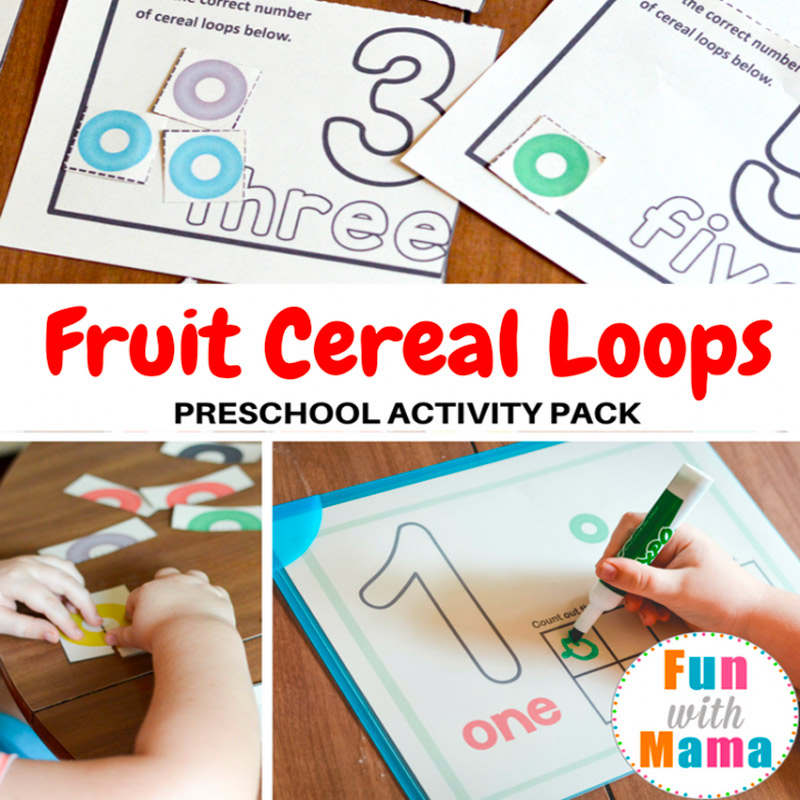 You can find more
shapes and color activities here.