This Popsicle Stick Numbers Printable is a great way for early learners to learn their numbers 0-20!
Learn how to recognize the numbers from 0 through 20 with these cool Popsicle Numbers Printable Pack. Involving fine motor skills with number learning is a fun and exciting activity for young children.
This is a great learning activity for the summer months because we all know when it's hot outside, there's nothing better than a nice cool popsicle to cool you down!
Your early learners will have so much fun with this number printable pack!
Popsicle Stick Numbers Printable
These popsicle number mats are a great way to introduce young children to the numbers from 0 through 20. They will enjoy building the numbers, reading, and then writing the numbers with these mats.
Each sheet gives them the chance to build the number that they're working on with popsicle sticks and then also trace out the number, too. The number is also printed multiple times on the pages which is great for visual learning, too.
Materials Required for this Numbers Printable:
Please note that affiliate links are used in this post.
Here are some items that pair well with these activities. You will use each of these items over and over during all my printable preschool activity packs.
Card stock(to print everything out on.)
Laminator
Scissors
Popsicle Sticks
This Popsicle Numbers printable pack contains 21 pages of printables.
In this pack, you will find a mat for each number from 0 through 20. Once printed out, these pages could be laminated and children use a dry-erase marker to complete them. Once they have finished, the pages can be stapled together to make a book or they can be laminated and held together with a binder ring.
Using these mats is easy and fun. The number they will be working on is on the top left-hand side of the mat. The number shown is built with popsicle sticks. Children can follow this to build their own number before completing the activities on the mat.
The activities on the numbers printable mat include:
Counting the number of popsicle sticks they used to build the number, then writing this number on the line provided.
Tracing the number that is not in lines.
Tracing the number that is in lines, which shows them how to correctly write the number.
This numbers printable pack comes in both color and black and white versions.
If you're wanting to try out a sample of this Numbers Printable pack, you can a sample of our build-the-number-sampler-popsicle.
Just click the link below to be taken to my shop to get your numbers printable!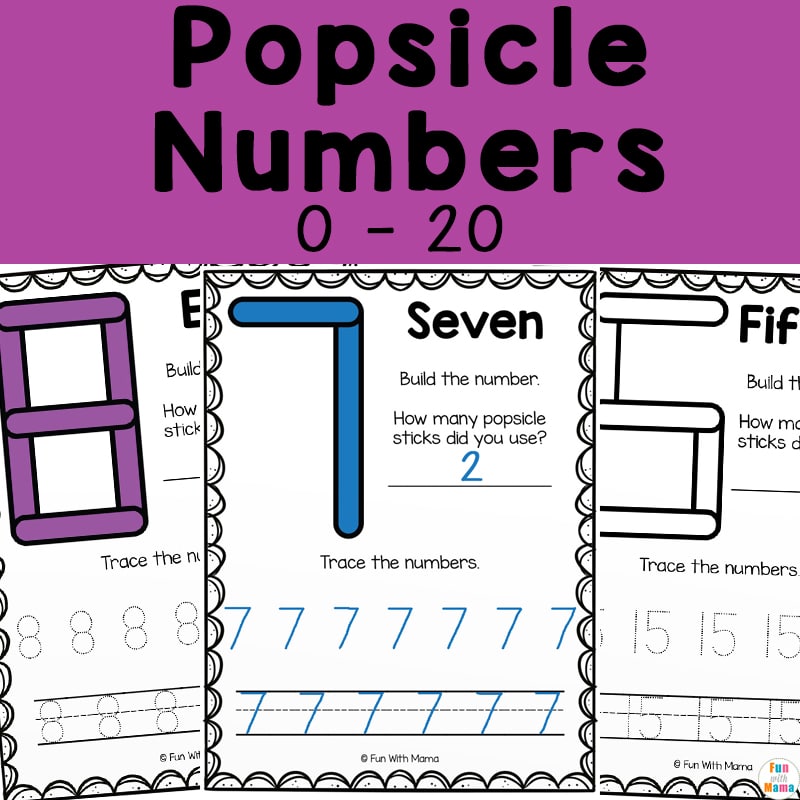 What are fun ways to use these Number Printables worksheets?
We like to use them in our everyday learning, but that is totally up to you. You can easily have the children sit at the table and work through them or figure out a way that you can pack up the supplies listed above and take them out with you on a fun picnic or a walk.
Like this fun popsicle activity? We have so many more great summer activities, too!
More Numbers Printable Activities for Kids: