This huge back to school activities Printable Pack is a great introduction to young children on the supplies they will be using as they start school. The activity pack is aimed at children that are toddlers, preschoolers and kindergarteners. They also work great in special education classes.
At a preschool age, children love hands on activities including art. You also want to work on their fine motor skills at this age so we have incorporated some fingerprint activity pages and clip cards too.
Back to school
Back to school is such a fun time… children are eager to see their new classes and teachers. This pack is a good way to familiarize children with basic vocabulary words of items they will be seeing in class. For example a glue bottle, pencil, backpacks, sharpeners, etc.
Going to school for the first time can be fun and exciting! Though, for some children, it could be a sensory overload. To make their time at school enjoyable, let your kids learn about different school supplies with this fun back to school activities pack.
Materials Required:
Please note that affiliate links are used in this post.
Here are some items that pair well with these back to schoool activities. These items are all used often in my printable preschool activities abc printable ABC activities packs.
This School Printable pack contains over 80 pages and includes many activities.
As you will see in the example images below there are skip counting puzzles for children who are working on their counting skills. There are size sequencing cards, which are great for early math learning. For a toddler you can use 3 of the sizes and have them size it.. or for an older child you can use all 4.
I always include Q-tip and fingerprint painting activities because these are great for visual perception and hand eye coordination.
There is also some 3 part cards, uppercase and lowercase tracing letters. I have also included some color by letter activities using the earlier alphabet letters (a,b,c). This is perfect for back to school activities to give your child a little boost.
Download the back to school activities
Download the back to school activities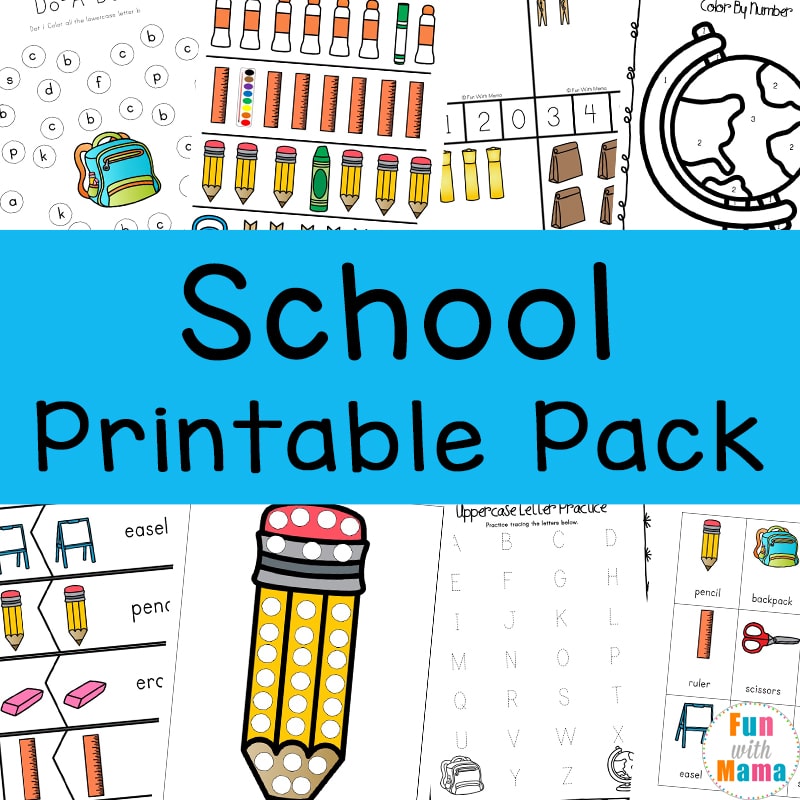 Are you all ready for back to school? Do you have any special back to school activities planned for your child or class?
Check out these back to school blog posts:
– Back to school Lunch Tips
– School Lunch box choices and favorites
– Back to school kids clothing shopping tips
– 25 after school activities
– Back to school themed lunch