Fun kite activities for kids to accompany the book Kite Day: A Bear and Mole Story by Will Hillenbrand. Your children will enjoy all these kite themed arts, crafts snacks, songs, and learning activities. Enjoy some kite fun with your preschooler today.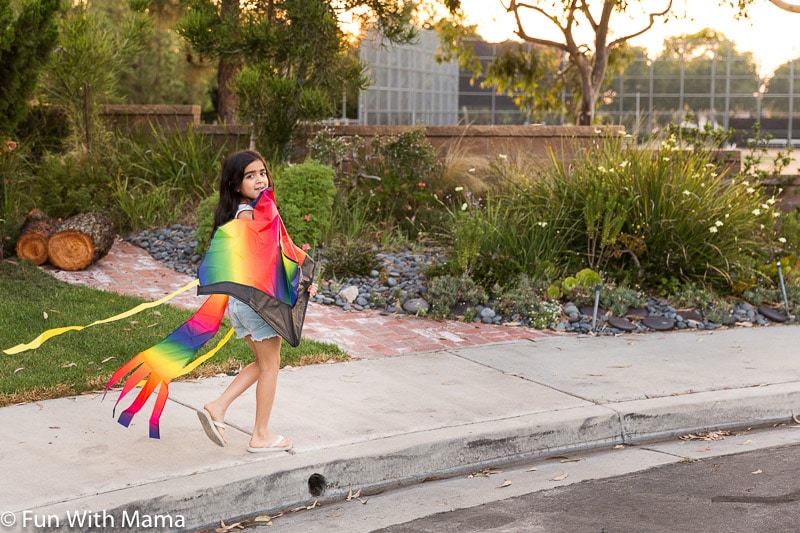 What is spring like in your part of the world? We get many windy days in springtime , so it is the perfect time to fly a kite. My boys loved flying kites. There is something magical about holding your string and watching your kite soar. The song in Mary Poppins sums it up beautifully
"With tuppence for paper and strings
You can have your own set of wings
With your feet on the ground
You're a bird in a flight
With your fist holding tight
To the string of your kite."
KITE DAY
This month we have a wonderful story about two friends and their kite. Introducing Kite Day by Will Hillenbrand.
Spring has arrived and it is the perfect day to fly a kite. So Bear and Mole work together to build the best kite ever. They take it out to the meadow to fly and watch it soar into the sky. Suddenly a storm blows in and snaps the string. To their dismay, the kite disappears in the wind. Bear and Mole go on a search and discover their kite in a tree. It is sheltering a nest of baby birds from the storm.
This story is a delight to read. Simple sentences help keep the attention of the liveliest children. I particularly enjoy the fun sound words sprinkled throughout the text. They make for a fun read aloud. The book is beautifully illustrated and children seem to enjoy the gentle story line. I love the way the story models things like cooperation, friendship and sharing. It is a fantastic way of conveying these qualities without being preachy.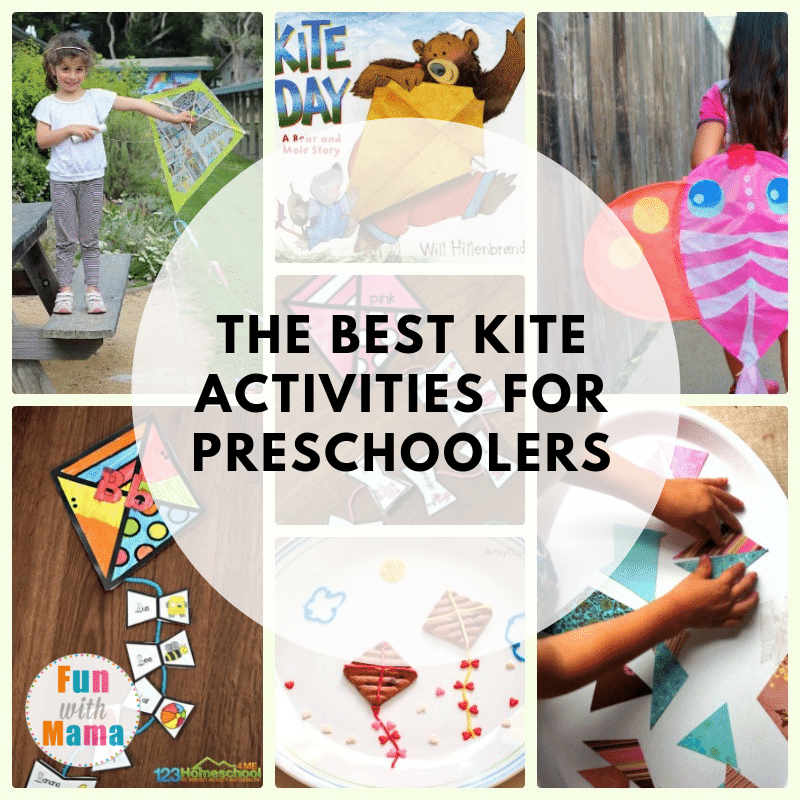 Kite Activities
AS YOU READ THE STORY
Extend the kite activities: Look at the cover together and ask the children to describe what they see. Ask
What animals do you think will be in this book?
What do you think they are going to do today?
If you have time, pause at each page to take a moment to talk about what is happening in the pictures. This book features some lovely artwork that invites storytelling.
Emphasize the sound words and invite children to join in with actions. They can
Tilt their heads up and whiff, whiff, whiff
Puff. Huff. Puff
Collect and saw sticks
Rumble, rumble, rumble with the storm clouds
Move your hands as the kites zooms up, up, up.
Kite activities can be so much fun.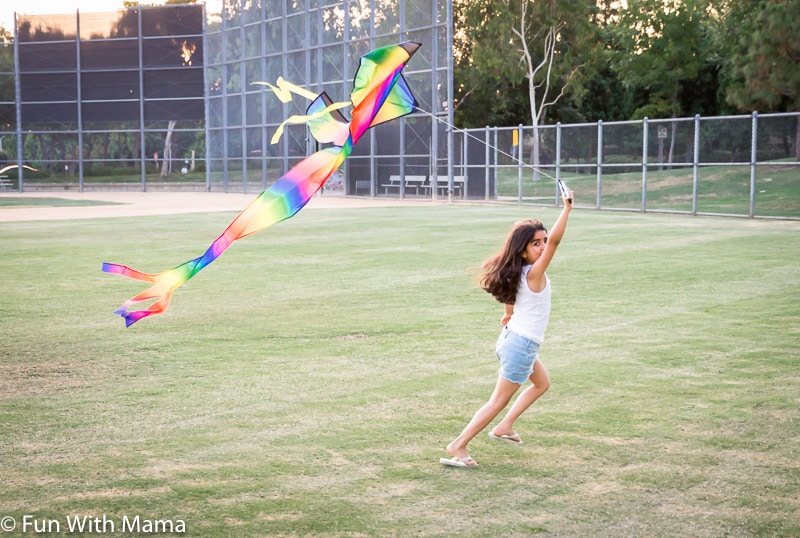 AFTER THE STORY
Add on some finger play to your Kite Day Kite activities. Enjoy some finger plays and songs
Preschool Education has a collection of kite themed finger plays and songs . Here is my favorite
See the kite fly way up high (use one hand as kite sailing, twisting)
Sailing, swooping in the sky. (Move your hand)
Twisting, turning, dipping round,
Flying high above the ground. (Move your hand)
'Til the wind goes away
Then the kite comes down to stay. (Hand comes slowly down)
HAVE A KITE SNACK
Artsy Craftsy Mom has instructions to make adorable Edible Kite Cookies. They are easy to make and kids love that kind of thing. If you are trying to avoid sugar, try these kite shaped sandwiches.
ENJOY SOME MORE KITE BOOKS
TRY SOME KITE ACTIVITIES
MAKE YOUR OWN KITE
Of course we couldn't miss out on the fun of making and flying a kite.
If you don't feel up to making a kite, you can easily buy one.
GO OUTSIDE ON A WINDY DAY
Children love windy days. Even if you don't fly a kite encourage your kids to
Run, skip, jump with the wind
Twirl and whirl like the wind
Watch and talk about what the wind does
Learning Activity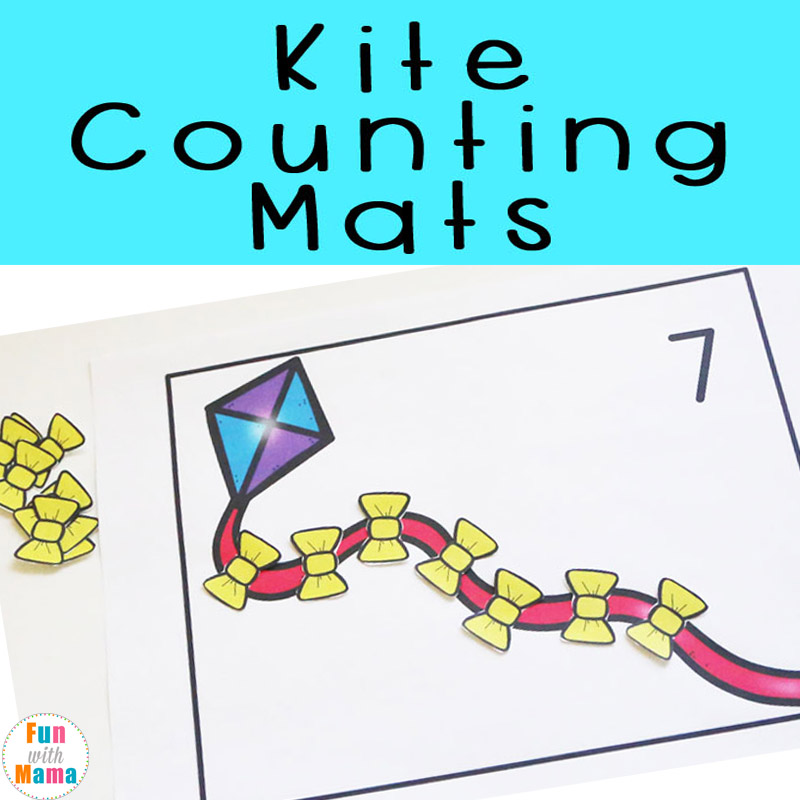 Check out these Kite counting mats for some number learning fun.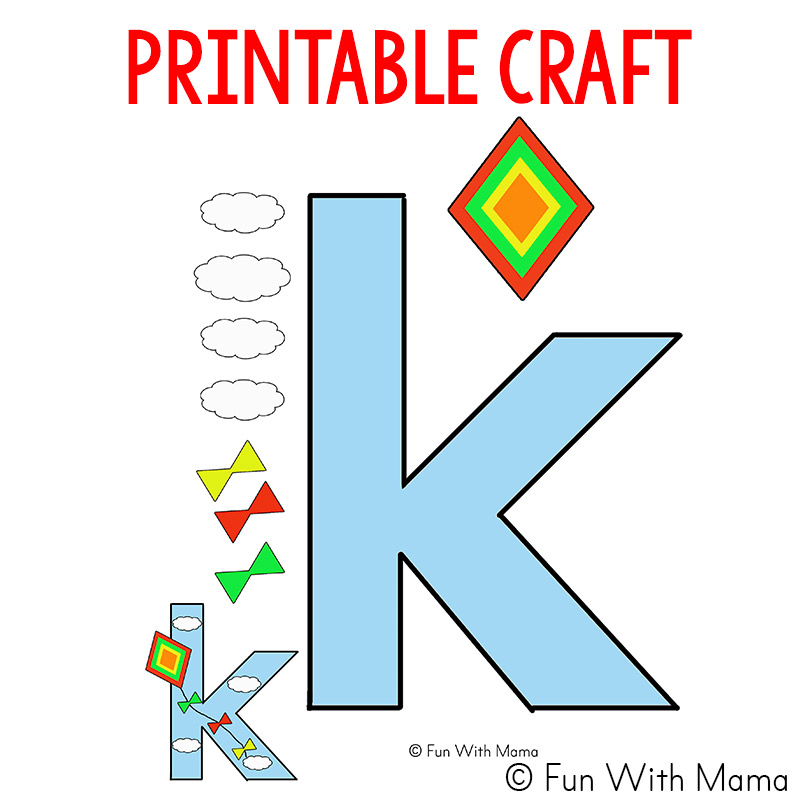 Grab the Letter K is for kite craft in our Alphabet Letter Pack Bundle
YOUR TURN
Have you ever made a kite with your preschooler? Which of these kite activities do you think you might try?