This adorable sticker preschool shapes matching activity is a wonderful toddler and preschool math activity that teaches young kids some important early math skills. We love colors and shapes activities for preschoolers because they work on basic preschool shape recognition, preschool color recognition, sorting skills and visual perception. I love that not only is this a read on to learn more about this homeschool preschool freebie!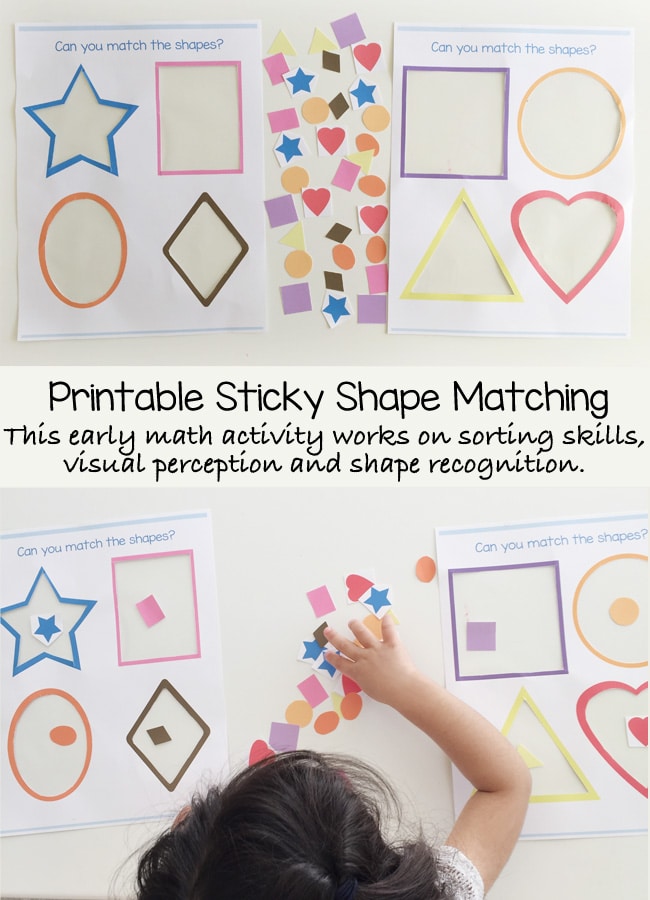 Sticker Preschool Shapes Matching Activity: Materials Required:
Please note that affiliate links are used in this post.
– Cardstock
– The Printable Preschool Math Shapes Activity.
– Contact Paper
– Craft Knife (optional!) and foam shapes (optional)
…and thats it! This activity requires very few materials and I'm pretty sure most of you already have these materials at home.
I am always impressed by how much my toddler loves preschool activities. (This is also a perfect toddler activity.)
Setting up the Preschool Shapes Matching Activity
First you cut out the white part within the 2 shape matching pages. If you have a craft knife this is very quick and simple. If you don't (I didn't) then use scissors. It will take a little longer but it works fine too.


Then cut your contact paper to the size of the paper. You could use contact paper which is perfectly sized to each shape but I didn't want to spend any more time cutting. I preferred to cut it to the size of my paper and just lay it all on there at once. You could use your scrap pieces of contact paper for this!
You can't see the contact paper, but it is there in between the shapes. I love how inviting and colorful this preschool shapes matching activity is. The contact paper is what turns each shape into a sticker.
For the next step you can cut the rows out for your child. Then give them a pair of scissors that are safe for their age and allow them to make the cuts in between. My daughter is a little young for that so I cut the shapes out. You can choose to leave the shapes square (much faster) but I chose to cut around the shapes (I apparently had way too much time on my hands…)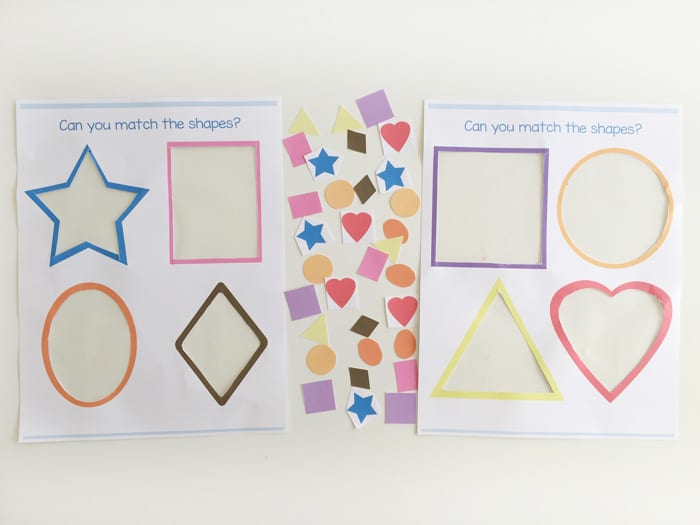 Now its all ready to go!
The Sticker Preschool Shapes Matching Activity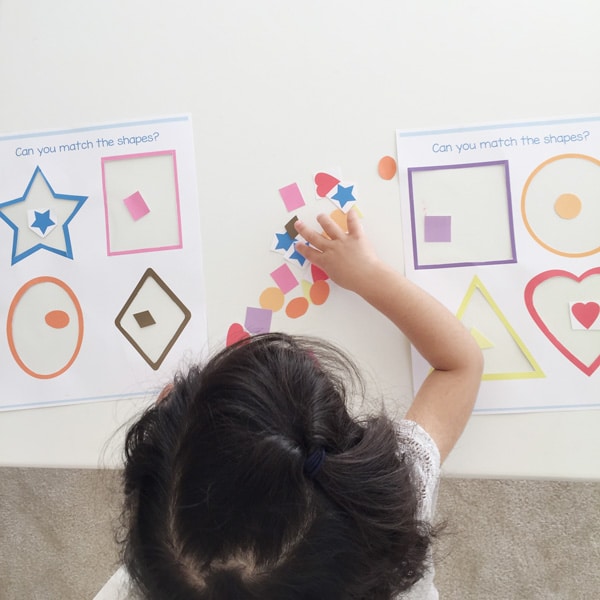 Lay it there on your child's work area and have your child place them in the correct places. The stickiness of the contact paper makes it super simple to place the shapes down. My two year old daughter said the name of the shapes out loud as she placed them.
Instead of cutting out the shapes you could also use foam shapes. This would be a wonderful variation and a different tactile experience.
Preschool Shape Matching Activity #preschool #kids http://bit.ly/2gPNNhR
Download this Printable Preschool Shape Matching Activity

Looking for more shapes activities? Try out our Shapes Hunt, or Shapes Fishing or the Shapes Resist painting activity.


More Colors and Shapes Activities For Preschoolers
Don't forget to check out our arts and crafts activities and these awesome preschool printable letter crafts too.