It is preschool shapes activities week here at Fun With Mama and all of our toddler, preschool and kids activities are focused on our theme. If you joined me on Fun With Mama's instagram page you must have seen us working on the process of this project and let me tell you, this was one activity that was not only fun but it also worked on so many of my children's own skills. We used push pins to promote fine motor skills and this also worked on my kids pincer grip.
I saw this wonderful activity at Happy Hooligans and pinned it to my Shapes Pinterest board. I knew that it would be perfect for our theme!
My kids love to paint and do art so having one of the steps as a painting activity was a great invitation to create!
To find out how you can create this activity check out the post on Happy Hooligans, which includes a step by step tutorial as well as links for the materials that are required.
How to minimize the mess
I always place my smaller art projects (and almost every activity) on a tray. This is Montessori inspired and allows my children to keep their focus in their designated work area. This also keeps the mess to a minimum. I love when clean up is quick and goes smoothly. These trays shown here are from Ikea.
My favorite parenting tip is all about planning. Plan in advance and consider ways to minimize mess BEFORE you call your kids to their art area.
Ways I adapted the activity to suit our family.
Since this activity was geared towards my older children who love to craft I needed to find a way to keep my two year old feeling involved and work around her too. Art time (and activity time) is bonding time for us as a family and this is essential to keeping her happy and me guilt free!
She chose to paint the whole paper plate instead of just around the edges. If she was a month or two older I'm sure she would have been able to do the edges accurately. My 6 and 9 year old prepped their plates by painting the edges and then we left them to dry overnight.
If you are like me and can't freehand draw you can use these printable plate shapes.
<<< Click here to download my printable template for plate shapes. >>>
This part of the activity was the highlight for my toddler. I made dots all around the circle, placed a little towel under the area to be pinned and gave her a push pin. I couldn't believe my eyes when she accurately placed holes in all the right places. She was EXACT on this part. These two year old kids are so much smarter than we give them credit for!

Our end result was pretty amazing if I do say so myself.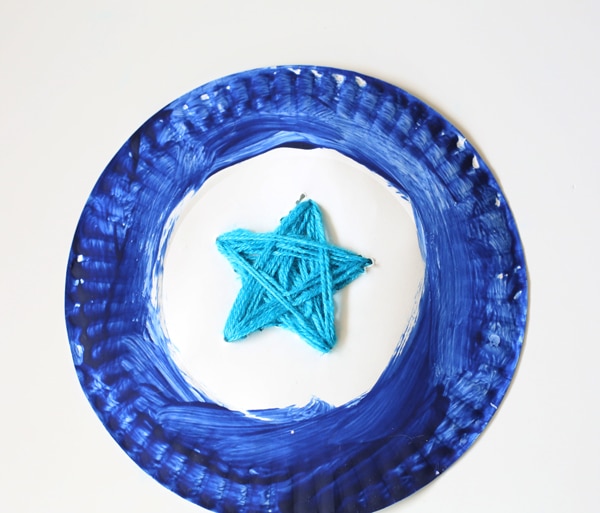 My kids were very proud of themselves and I am glad that I allowed them to work with something (a needle) that they hadn't tried before.
Thank you to Happy Hooligans!! My kids got to weave for the first time!