Here is a fun ice cream sundae number matching activity for your pre-schoolers and kindergarteners to enjoy this summer. They will love practicing number recognition and counting while building an ice cream sundae. Number sorting was never this delicious before!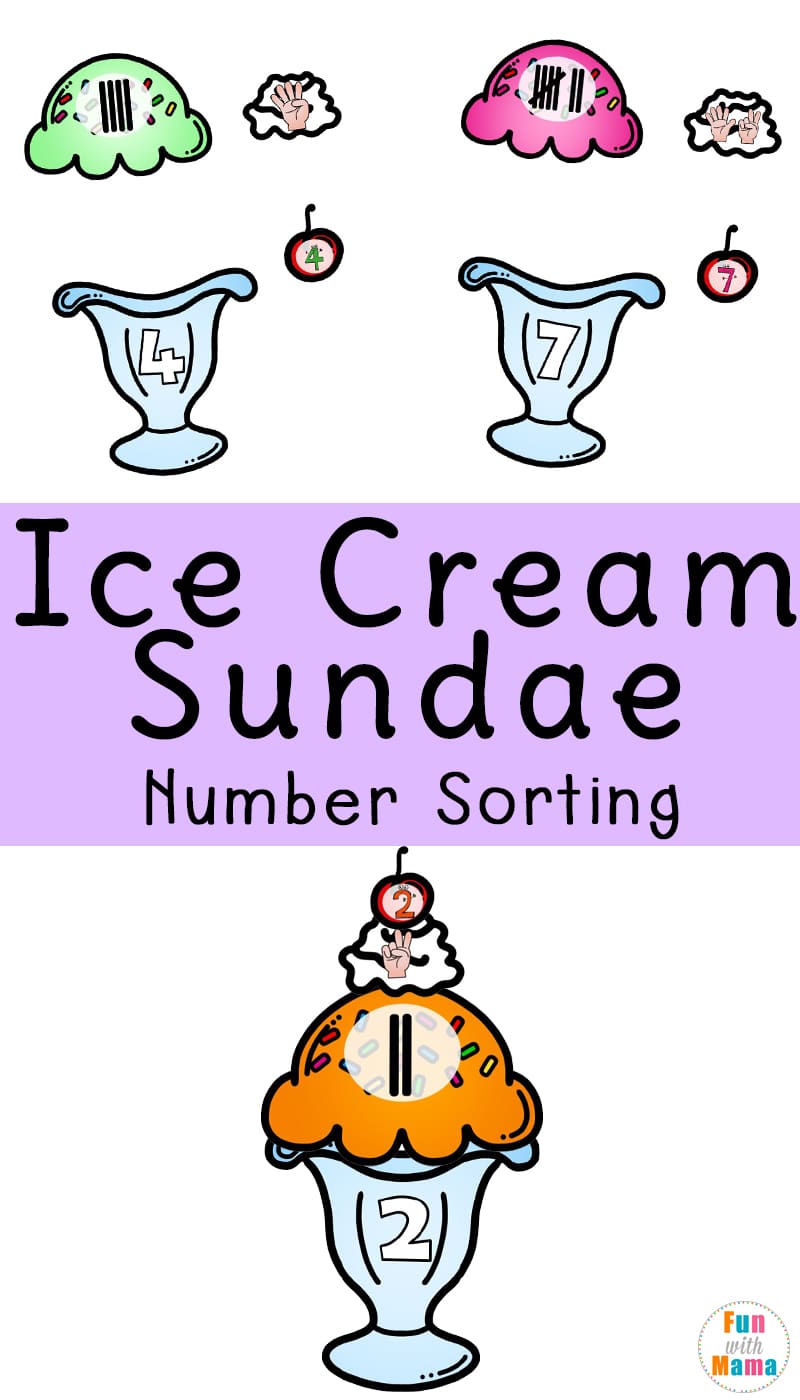 NUMBER Matching
This activity is perfect to use in your homeschool preschool this summer. It is a great way for them to practice their number sense and sorting.
We finished working through the learning learning numbers worksheets and created the numbers using the number play dough mats and matched Number Rainbow Matching Puzzles. This ice cream sundae number matching activity is perfect for summer.
Materials Required:
Please note that affiliate links are used in this post.
Here are some items that pair well with these activities. You will use each of these items over and over during all my printable preschool activity packs.
This Ice Cream Sundae Number Sorting Activity contains the numbers from one to ten.
Preparation of this Ice Cream Sundae activity is relatively simple. Just print out the pages on white cardstock and cut out the pictures. I prefer to laminate each piece for durability, but that is totally optional.
To complete this number matching activity, lay out all the pieces in front of your child. Then, have them choose a sundae cup. After identifying the number on this cup, they can then look for the ice cream scoop, cream and cherry that contains the same number.
Each of the parts of the ice cream sundae feature the same number in a different form. The number is on the sundae cup; the same number is written in tally mark form on the ice cream scoop. On the cream, the number is represented by holding up the number of fingers and on the cherry, the number is shown as a fun number, that has arms, and eyes.
If you have laminated the cards, you could write the numbers on the back with a marker to make this activity self-checking as well.
DOWNLOAD THIS FREE ACTIVITY PACK HERE
You can get the number sorting activity below: