This Dolch Second Grade Sight Words worksheets is filled worksheets and activities to encourage learning those 2nd grade sight words. You can find flashcards, Read Build Write Sight Words mats for a total of 46 sight words throughout this 110-page printable pack. It is always good to revise the previous set of sight words before starting these ones.
Especially for children who may not be keen on doing word work, these activities make learning fun. There are multiple formats for encouraging children to learn and practice Dolch sight words. There are elements of reading, recognizing and writing each words. There are cards to help read, build and write. Each of these elements will help children to eventually know the words quickly by sight and know how to spell and write them.

Dolch Second Grade Sight Words
Don't forget to check out all of our Dolch Sight Words worksheets.
These set of sight words are worked on once children have mastered the pre-primer, primer and first grade ones. It includes words such as because, always, found, before and sleep.
Materials Required:
Please note that affiliate links are used in this post.
Here are some items that pair well with these activities. You will use each of these items over and over during all my printable preschool activity packs.
This Second Grade Sight Words Printable pack contains over 110 pages of fun and learning.
First, in the pack is a sight words checklist that contains all the words that are being learnt in this pack. I recommend laminating this list and using a dry-erase marker to tick off the sight words as your child learns them.
This is then followed by a Read, Build and Write the word page that goes great with the sight word flashcards. There is a flashcard for each word that I recommend laminating for durability. I also printed out two copies of these pages, so that these cards could be used in memory and matching games.
The Dolch Sight Words Second Grade worksheets can also be printed out in a little book. You can bind it according to these directions.
Free Dolch Sight Words Second Grade PDF http://bit.ly/2zSRxJZ
Following the sightwords flashcards is the 'Sight Word of the Day' pages. There are two pages for each word. Practice learning the sight word by:
Coloring the word
Finding the word
Tracing the word
Highlighting the word
Cut and paste the word
Write the word
Fill in the Missing Letter
Find the word in a sentence
Use the word in a sentence
Box the word
Clap the word
These Dolch Sight Words Flash Cards can be used on our Read Build Write Mats. You can find more Read Build Write Mats here.
Included in this pack are both color and black and white copies of a number of pages. The colourful pages are bright and cheery, though to save on printing and copying costs, a black and white version has been added. Children can add color to these if they desire.
Another fun way to practice sight words is with this Beach Sight Word Printable Pack.
DOWNLOAD THIS FREE ACTIVITY PACK HERE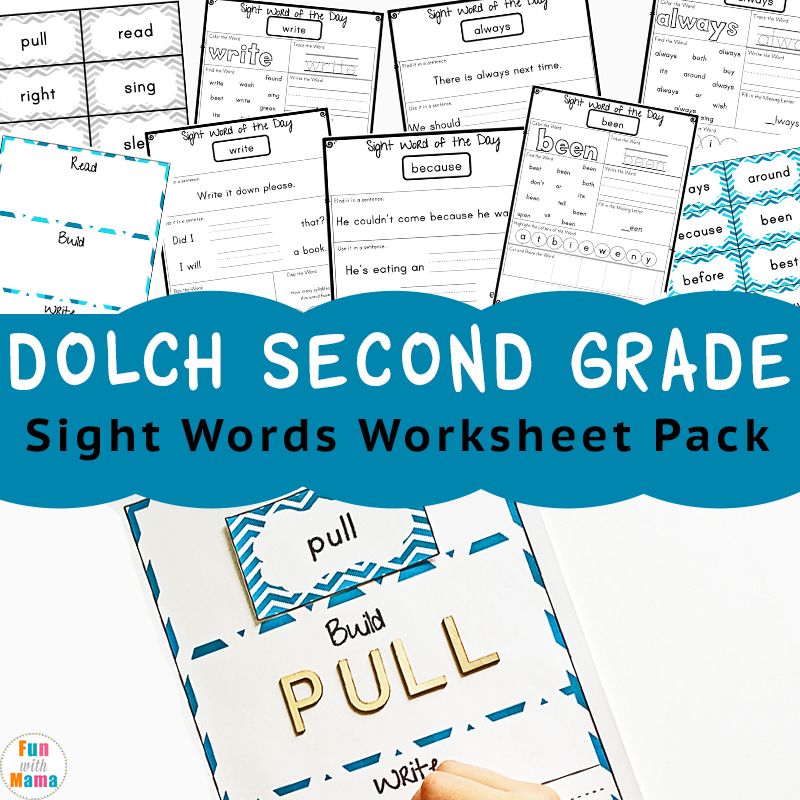 I hope that these Dolch second grade sight words make it easier for your child.