Are you looking for a few great farm stories and books for kids? You're in luck! Here are some of our favorite farm stories that we're so excited to share with you!
Farms are so interesting for kids because they are full of animals, bright colors, animal noises, and mud! This list of farm stories for kids includes board books and picture books that celebrate all the fun of farm life. From adorable animals to friendly tractors, there are lots of cute characters in these books to get them excited about the farm.
Make certain to pair your reading fun of these farm stories up with fun farming learning, too. These Farm Animal Activities For Preschoolers will go perfectly with these books! We're also a HUGE fan of this Farm Animals Printable Packet as well.
20 Farm Stories and Books for Kids
Board Books
Tractor Mac Farm Days
was written by Billy Steers. This adorable board book follows Tractor Mac, a big friendly tractor as he goes about his chores around the farm. The simple text highlights the different tools used on the farm while the illustrations of the cute tractor will draw in young readers.

Little Blue Truck
was written by Alice Schertle and illustrated by Jil McElmurry. This popular story introduces readers to Blue, the little blue truck who makes friends with all kinds of farm animals. The fun rhyming text includes lots of truck and animal noises that little ones will love making too.

Big Red Barn
was written by Margaret Wise Brown and illustrated by Felicia Bond. This story, written by the author of Goodnight Moon, follows a group of farm animals as they play throughout the day and settle in for the night. The soothing text and gentle illustrations make this a great one to read to little ones at night.

First Farm Words
was written by Roger Priddy. This board book uses large, clear photographs and simple text to identify farm words for young kids. Much like his other first word books, Priddy uses bright colors and large words to introduce little ones to farm vocabulary words.

Barnyard Dance!
was written and illustrated by Sandra Boynton. This rollicking board book uses Boynton's classic animal illustrations to create a fun dance party on the farm. The text includes lots of action words that will inspire kids to get up and dance along.

Farmyard Beat
was written by Lindsey Craig and illustrated by Marc Brown. This peppy rhyming story will surely get kids on their feet as they dance along with all the farm animals. The collage-style illustrations are full of interesting colors and textures to engage little ones as well.

Spot Goes to the Farm
was written by Eric Hill. Join Spot, the popular little dog, as he visits a farm and learns about all kinds of baby animals. Kids will love lifting the flaps to find the hidden animals beneath.

Night Night Farm
was written by Roger Priddy. This soothing board book invites the reader to visit the farm and say goodnight to all of the animals. The soothing illustrations are a great way to lull kids to sleep at night.

Sheep in a Jeep
was written by Nancy E. Shaw and illustrated by Margot Apple. This fun rhyming board book follows a group of sheep as they take a Jeep out into the country and run into some unexpected trouble.

Peek-a Moo!
was written by Nina Laden. This interactive board book uses cutouts in the pages to create an engaging guessing game for young readers. The text uses rhyming wordplay to complete the text "peek-a-" on every other page. Kids will love guessing what is coming next.
Farm Stories in Picture Books

Mrs. Wishy-Washy's Farm
was written by Joy Cowley and illustrated by Elizabeth Fuller. Follow along as Mrs. Wishy-Washy tries to give a bath to all of the animals on her farm. The cheery text will engage young readers, who will also enjoy the funny animals.

Charlie the Ranch Dog
was written by Ree Drummond and illustrated by Diane deGroat. This adorable story, written by The Pioneer Woman, follows along as Charlie works all day at the farm alongside his family. The text explores what life is like on the farm, and the illustrations highlight the adorable dog and his animal friends.

Down by the Barn
was written and illustrated by Will Hillenbrand. Follow along as a farmer drives his tractor around the farm gathering his animals. The rhyming text includes repeated truck and animal noises for kids to make, and the illustrations use bright colors and smiling animal characters to entertain little ones.

Old MacDonald Had a Truck
was written by Steve Goetz and illustrated by Eda Kaban. This spin on the classic song introduces readers to all of the trucks and machines that Old MacDonald has on his farm. The text includes actions and noises for each truck, and the illustrations have a vintage feel, with hilarious animal characters spread throughout.

Pete the Cat: Old MacDonald Had a Farm
was written and illustrated by James Dean. This illustrated version of the classic song takes kids on a trip to the farm with the popular blue cat. Kids can sing along with Pete the Cat and his guitar, making the different animal noises along the way.

Click, Clack, Moo Cows That Type
was written by Doreen Cronin and illustrated by Betsy Lewin. In this hilarious story, Farmer Brown discovers a big problem when his cows start leaving him typed notes. The repeated sound effects are fun to read aloud, and kids will love the hilarious barnyard characters and the demands they make of Farmer Brown.

Hogwash! (Wilson, Karma)
was written by Karma Wilson and illustrated by Jim McMullan. This funny story, by the author of Bear Snores On, follows a determined farmer as he attempts to wash the animals on his farm. However, the hogs have other plans, and they keep outsmarting the farmer. Kids will love the creative ways that the pigs try to avoid a bath.

Little Red Rolls Away
was written by Linda Whalen and illustrated by Jennifer E. Morris. This sweet story follows a little red barn as he wakes up one morning and discovers that his animal friends are gone. Soon, he is placed on a truck and transported away from his home. But when Little Red reaches his new destination, he is happy to see his animal friends again. The fun twist at the end of the story will delight little kids, while also exploring the topic of moving to a new home.

The Cow Said Neigh! (picture book): A Farm Story
was written by Rory Feek and illustrated by Bruno Robert. In this funny story, the animals on the farm dream of acting like some of their animal's friends. The hilarious text includes animal noises for kids to say out loud, and the vibrant illustrations highlight each of the animals and the friends they long to live like.

Color Farm
was written and illustrated by Lois Ehlert. This interactive book uses boldly colored shapes and page cutouts to create animal shapes on the page. Kids will love turning the pages and seeing how the shapes become different animals.
See how many fun farm stories and books there are? Don't forget to pair these fun farm stories up with this Farm Sensory Bin activity as well!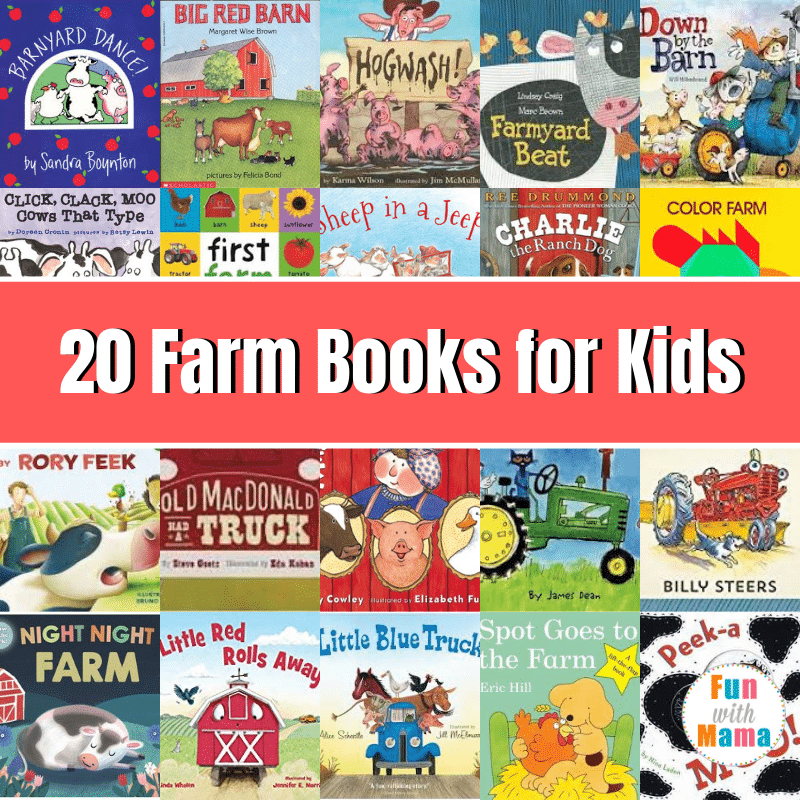 Like these farm stories and book ideas? Here are some others!