This Dr. Seuss Books List is a great way to familiarize yourself with all the great Dr. Seuss books that are available and fun to read. Depending on what your family loves, there is literally a great Dr. Seuss book out there that everyone in your family can enjoy.
His hilarious rhymes and joyful words continue to put smiles on faces all throughout the world and it just makes sense that during the week of March 2nd, he's celebrated and his books are literally read by thousands of kids all over the globe.
His words and books are loved because they're relatable for kids and they're just downright fun. Every page is filled with fun and an adventure that even as adults, we all still want to partake in and go on.
If you're ready to load up your bookshelves with amazing Dr. Seuss books, you're going to love this Dr. Suess Book List to help you do just that.
Please note that affiliate links are used in this post. Please see my disclosure policy for more information.
Dr. Seuss Books List
Today is National Reading day, also known as Dr. Seuss Day. It is a great time to encourage reading and reading aloud. I've previously discussed Why it's important to read to your child and what I learned by reading the book The Read Aloud Family By Sarah Mackenzie. You can also encourage reading time using my Printable Reading Logs.
Dr. Seuss books have interesting pictures and words that flow, rhyme and that are often hilarious too!
One of my favorite things about the Dr. Seuss books list are that every single book on the list is always a hit with kids and adults alike!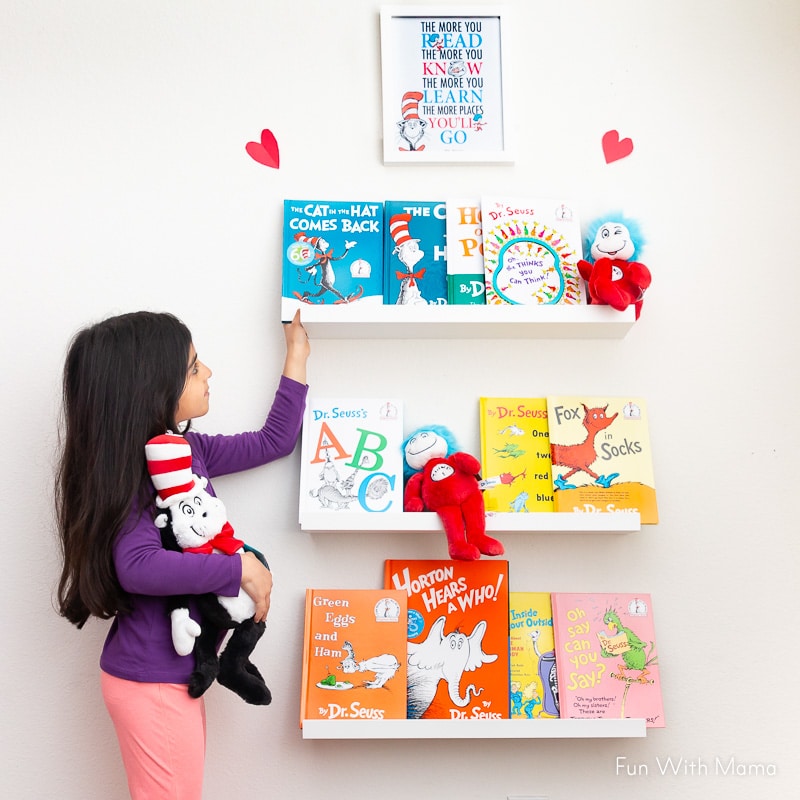 How many books are in the Dr. Seuss collection?
He wrote many books throughout the course of his life and you'll find that there are over 40 books that are in his collection. Some of his books were actually geared towards adults in the beginning years but his later books were written for children.
What is Dr. Seuss's most popular book?
It's hard to narrow it down but my guess would be that The Cat in the Hat was probably his most popular book. It's since had a successful TV show launched based on it as well.
How many copies of Cat in the Hat were sold?
While it would be hard to get the exact number, there have been over 10 million copies of The Cat in the Hat that have been sold worldwide.
Why did he call himself Dr. Seuss?
Fun fact but he wasn't really a doctor at all. He gave himself the title of "Dr." based upon the fact that it was what his father wanted him to be.
How many times did Dr. Seuss fail?
I think that this is such an important lesson for kids! Dr. Seuss was actually turned down by 27 different publishers before he was finally accepted and started to create his books. This not only teaches kids to stay motivated and positive but it also teaches them to never give up as well!
When is Dr. Seuss's Birthday?
Dr. Seuss's birthday is on March 2nd. It is called Dr. Seuss Day and it is also known as National Reading Day.
Dr. Seuss Book List
Here is the top 3 most popular Dr. Seuss Books to binge read this week.
The Cat in the Hat
Everyone knows that The Cat in the Hat "knows a lot about that' and the reason that children all over the world love him and his ideas are because he's genuine and fun as well. No matter what is going on, The Cat in the Hat really does know a lot about that and he's always there to join in, or lead, the fun. The Cat in the Hat tells the story of Dick and Sally. They are bored because it's raining outside and they are stuck in the house with nothing to do. Suddenly a giant cat in the hat shows up!
The Lorax
The Lorax is a book all about saving the Earth and bringing nature back to where it needs to be. This book showcases that want and need with bright colors and fun words.
Green Eggs and Ham
Not only is this one of the most popular Dr. Seuss books but it also happens to be a delicious recipe as well. Everyone loves green eggs and ham, right? It's fun to make up a simple breakfast of green eggs and ham and read along with the words of this delightful book.
I have childhood memories of learning to read with Dr. Seuss's Green Eggs and Ham. "Sam I am. I do not like green eggs and ham!"
How many books from this Dr. Seuss Books list do you have? Reading to your children is a great way to engage with them and work on their reading skills as well.
List Of Dr Seuss Books
The books here are listed in order of date published.
I have a book nook at home for my children. I am also constantly changing around the books that are there to keep it exciting.
I printed out a Dr. Seuss quote that I found on Etsy and I placed it into my frame. You can check out the best Dr. Seuss quotes here. He had such a wonderful way with words!
I like to include a themed plush in the book nooks too. I looked for Dr. Seuss characters and there were so many. Plush dolls and stuffed animals brings a bit of warmth to the reading experience. They can also bring the characters to life with a child's imagination. I purchased this set of characters and LOVE them so much.
I also needed to make a purchase of some Dr. Seuss books to add to our collection. I tried to find a Dr. Seuss book set collection that included all the books in hardcover, but found that pretty difficult to find. I purchased this set and this other set and I think they are the perfect starter kits. You can then add on whichever books you are missing individually. I also added on the following books (although some of them are not pictured) Inside Your Outside, Wocket In My Pocket, Go Dog Go and Mr Brown Can Moo Can you? from the above Dr. Seuss Books list.
Do you have a favorite Dr. Seuss book from the Dr. Seuss book list above?
More Dr. Seuss activities and crafts to check out: