Check out this fun game that showcases rhyming words for kids! It's a fun way to learn new words and have the visual pictures to go along with it.
Have fun with this FREE printable Dr. Seuss inspired book activity inspired by One Fish Two Fish. Our rhyming game for kids is a fun way to work on phonological awareness. Just right for preschool and Kindergarten kids but fun for the entire family!
Did your parents read Dr. Seuss books to you when you were a kid? These books are perfect for reading aloud. Children enjoy the silly stories, fun illustrations, and playful language. Today I'm going to share my favorite Dr. Seuss book One Fish Two Fish Red Fish Blue Fish.
This fun rhyming book is perfect to share with your preschooler. In classic Dr. Seuss style, this zany book wanders all over the place.
We start with a motley assortment of fish and then travel with two youngsters to see all kinds of unique creatures. There is also a side plot involving a rather grumpy character named Ned who doesn't like his bed. Sometimes the two children narrate the story and occasionally we listen in as the odd assortment of imaginary creatures talk to each other.
This book celebrates opposites; fast and slow, thin and fat, old and new, and low. I love the many descriptive words packed into this book. Not only does it make for an engaging read, but also helps build vocabulary and excites the children's imagination.
Not only is this educational but it's really just a fun way to interact together with your child. There's certain to be laughs, giggles, and probably a lot of "made-up" new rhyming words as well!
Fun Rhyming Words for Kids
The rhymes are fabulous and there are so many rhyming words thrown onto one page. Take for example the page in which look, nook, hook, book, cook all thrown together. It is fun and really helps children to grasp the sound of words ending in "ook."
Funny illustrations and the zany creatures (like the Yink who likes to wink) make this a fun read and a brilliant book for early readers. Somehow, the crazy silliness never gets old and kids just love this book.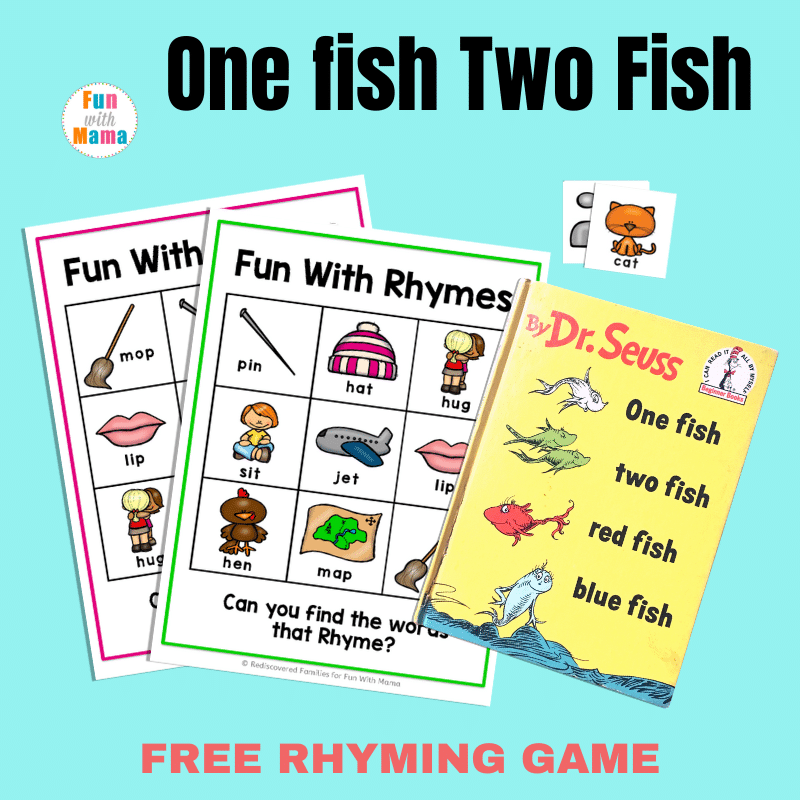 AS YOU READ THE STORY
This is a fun story and you can spend a long time enjoying the rhymes and pictures. Try some of these ideas
Counting the fish, the sheep, or the humps on the wump.
Marvel at all the animals and the different number of feet they have. Invite your child to point to their favorite and give it a name.
Count your fingers and thumbs to see if you have eleven!
Ask would you rather questions like, "Would you rather box with a Gox or Sing with a Ying?" or "Would you rather fly a kite in bed or walk with ten cats on your head?"
Call out one of the rhyming words and invite your child to say a rhyming word back.
Look for all the opposites in the book.
AFTER THE STORY
One of my favorite parts of One Fish Two Fish is the bedtime rhyme:
Today is gone. Today was fun
Tomorrow is another one.
Every day
from here to there,
funny things are everywhere.
You could use this as a bedtime ritual. Whisper the rhyme as your child closes their eyes to go to sleep.
Of course, goldfish crackers would be a perfect snack, but I loved these One fish Two Fish Jello cups.
Enjoy some more Dr. Seuss Books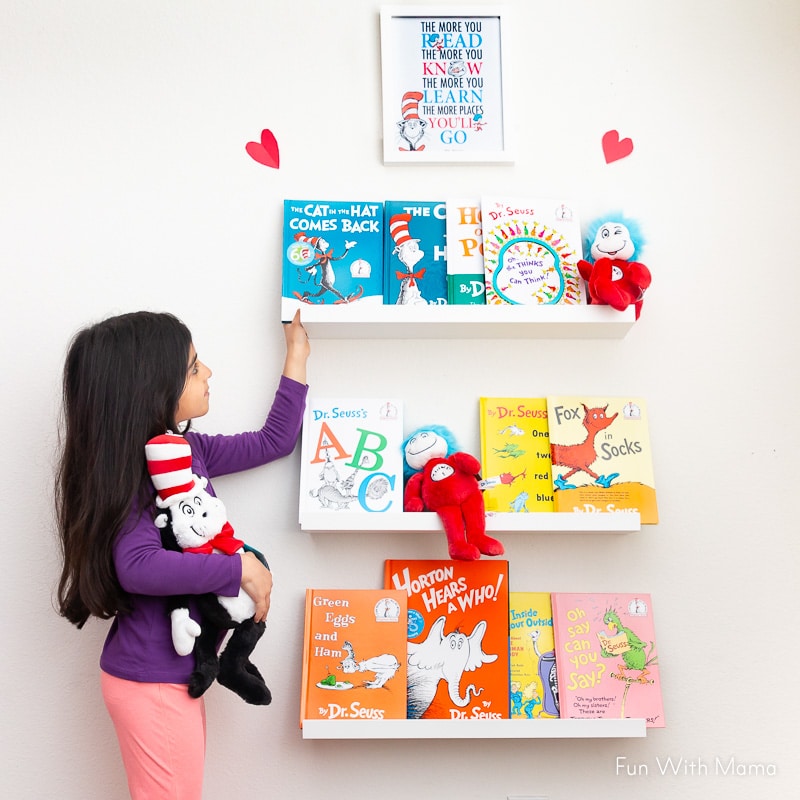 Check out our favorite Dr. Seuss Books.
Related: 17 + Dr. Seuss Crafts For Kids
FREE PRINTABLE RHYMING WORDS FOR KIDS
We've created a fun rhyming game to use alongside this wonderful book. This game is a fun way to practice rhyming which is an important pre-reading skill.
This game is played like bingo. You say a word and the players place a marker on a picture that rhymes with that word. If you call the word pen, the players place a marker on the picture of the hen.
Using rhyming words for kids in everyday learning is a great way to keep it fun and interesting as well.
In this rhyming game for kids:
The set of calling words is different from any of the pictures on the boards
Each board has every rhyme represented. So your child knows there is a rhyming picture for every word you call.
For this reason, each board has the pictures in a different order.
Preschoolers are just starting to rhyme, so all the words except one are 3 letters long.
We've also included the text, so you are not left wondering if a picture is a rug or mat; a hat or cap.
MATERIALS NEEDED FOR THESE RHYMING WORDS FOR KIDS
Free printable (download below)
Card stock
Laminator (optional)
Scissors or paper cutter
Manipulatives to act as bingo chips- this can be anything small like goldfish crackers, small blocks or mini erasers.
PREPARATION
Print the rhyming cards and as many game boards as you need.
Laminate the sheets for durability
Cut apart the rhyming cards
INSTRUCTIONS
Give each child a board and some counters.
Shuffle the rhyming cards and place them face down. turn them over one at a time and call out the picture.
Invite your child to find the picture that rhymes with that word.
You can play three in a row wins. It could be three horizontally, vertically, or diagonally. Then shout Bingo
Check out these 60+ Best Dr. Seuss Quotes + Sayings
SOME HINTS FOR MAKING IT FUN
This game may seem really easy to you, but it can be quite challenging for a preschooler just learning to rhyme. Keep the activity light and fun.
Offer LOADS of help. It may take your child a while to be able to identify the rhyming pictures. That is NOT UNUSUAL. Your child will figure out this skill when they are developmentally ready for it. That happens at a different time for every child.
When you first start playing the game, you may want to practice matching the rhyming words. Turn over the cards one by one and then place them over the rhyming picture on the card. You can do that until the card is full.
GET THE RHYMING BINGO ACTIVITY HERE
Grab this activity here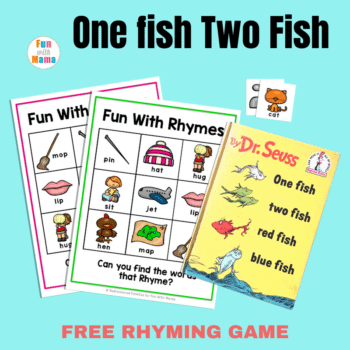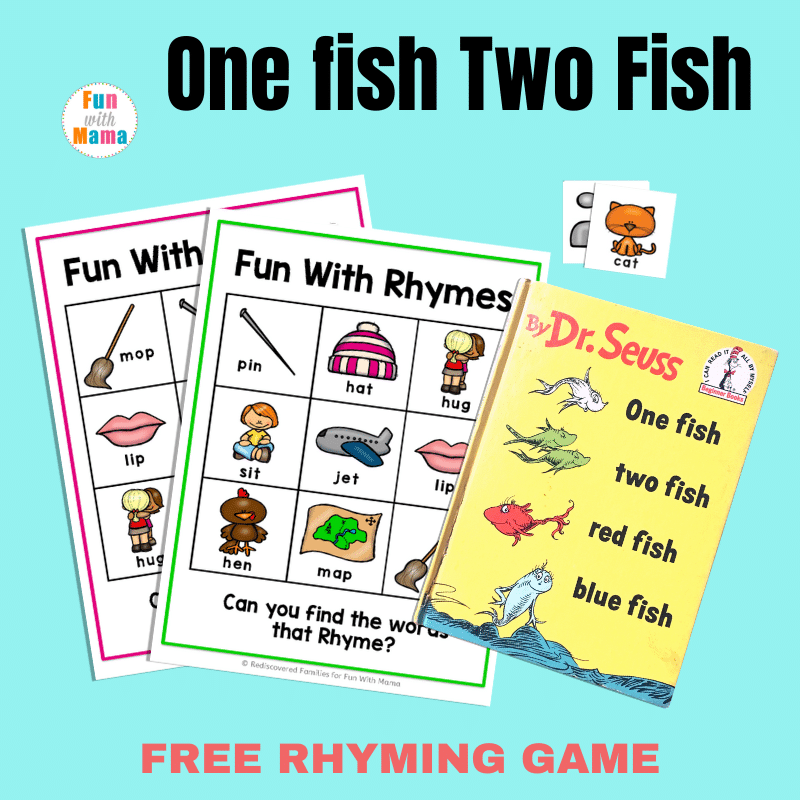 Already subscribed? No problem. Just enter your details above so we can send this activity directly to your inbox.
MORE RHYMING ACTIVITIES
Enjoy some more activities based on this book
YOUR TURN
What is your favorite Dr. Seuss book?