This free collection of 10 different Nursery Rhymes Sequencing Activities can be added to your homeschool, preschool or kindergarten nursery rhyme unit, calendar time or language center.
NURSERY RHYMEs SEQUENCING Activities
There is a total of ten different nursery rhyme sequencing worksheets of the most popular nursery rhymes. They have been designed to be used in a fun, engaging and educational way, to help students practice sequencing.
Print out one worksheet for nursery schools and try it with your students. You could also try the cards. The story sequencing pictures can be used as cards or you can use the worksheets. Whichever you prefer.
Here is a video preview of the file:
Have a child who loves to color? Then use the black and white versions of the nursery rhymes for toddlers or preschoolers.
Materials Required:
Please note that affiliate links are used in this post.
Here are some items that pair well with these activities. You will use each of these items over and over during all my printable preschool activity packs.
This 42-page printable pack contains sequencing cards as well as a one-page sequencing activity for each of the ten different nursery rhymes.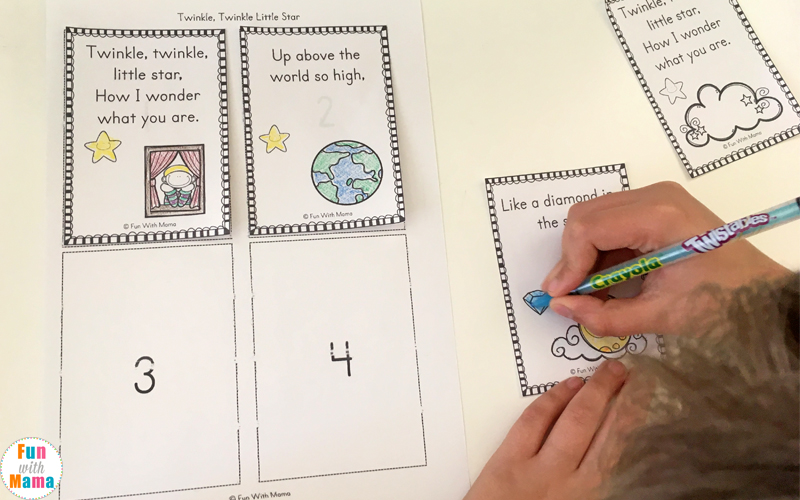 The sequencing cards are available with or without words and can be used on their own, or with the sequencing card page included in the pack. After our kids colored in the black and white version of these cards, I laminated them and now hold them together with a binder ring.
The one-page sequencing activity contains a copy of the nursery rhyme which children can read, before they cut out the pictures and paste them in the correct order.
The ten different nursery rhymes available in this printable pack are:
Hey Diddle Diddle
Humpty Dumpty
Itsy Bitsy Spider
Hickory Dickory Dock
Little Miss Muffet
Jack and Jill
Twinkle Twinkle Little Star
Baa Baa Black Sheep
Mary had a Little Lamb
Row, Row, Row Your Boat
There are two versions of this printable pack: a color version as well as a black and white version.
My Nursery Rhyme Add on picks:
If you are looking for a really special gift for a baby shower or for your own child, I highly recommend this adorable personalized Nursery Rhyme book. I just purchased one for my daughter!


WHERE TO GET THE ACTIVITY PACK
GET THE NURSERY RHYME SEQUENCING WORKSHEETS HERE
These nursery rhyme sequencing activities are a great way to make learning favorite nursery rhymes fun and engaging. This set includes sequencing cards and worksheets in both color and black and white formats.
If you are looking for some additions to the Nursery Rhymes Sequencing activities then check out the Nursery Rhymes Story Posters.
Looking for more nursery rhyme activities and fairytale stories? Then check out:
Free Printable Stick Puppets: The Three Little Pigs
3 Little Pigs Craft Sequencing Coloring Pages
Read Build Write Mats + Three Little Pigs Vocabulary Cards
Printable 3 Little Pigs Houses Template Activity Play Set