Are you looking for good art supply storage for your toddler art supplies then this art storage solution is perfect! You will learn how to organize kids art supplies, specifically on how to organize crayons and markers.
Art Supply Storage
If you are looking to organize art supplies in small spaces then this storage solution is perfect for you. It takes up a minimal amount of space and is easily moveable too!
Here are a few art supply storage materials you will need. This works for your preschool art supplies as well as toddler art supplies.
Looking for good art supplies? Then check out my favorite art supplies for kids.
Please note that affiliate links may be used in this post.
If you want to create an art cart for your kids then you can add the container box to the top of this cart organizer.
Step One: Fill in all of your containers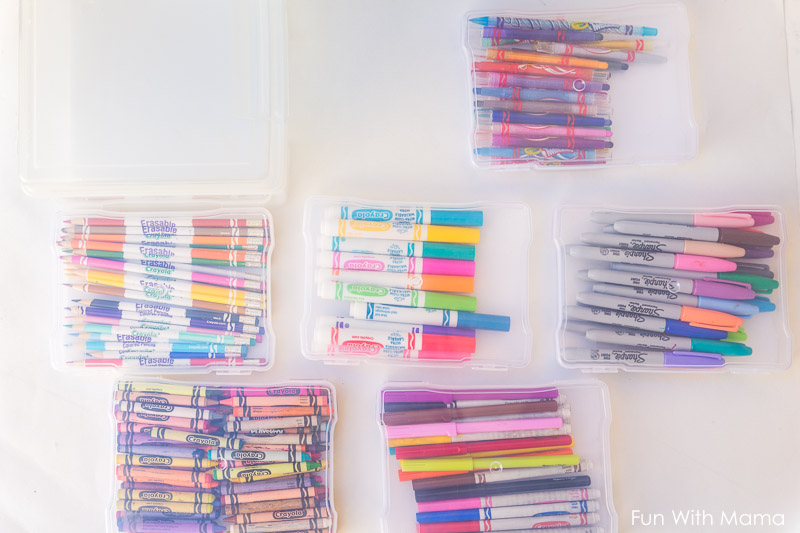 Step 2: Label your art supply storage containers – I LOVE labeled containers… it is a part of the organizing junkie in me. I also believe that it is a lot easier to clean up if you know what should go in what place. I labeled the containers using this label maker and tape.
I love this simple art supply storage organizer tub. It's easy for my kids to use and it looks really clean. Sometimes kids art supplies can be so bright and overwhelming that it's easy for it to look out of hand. It is perfectly sized and makes it super convenient to move around. Going to granny's house? Take the whole art supply storage tub with you.
Place it in an easily accessible place. Either on your child's craft table or on your kids art cart.
Want to make a homework supply storage container? Just place a scissor, eraser, pencils, ruler or whatever else your child may need for homework. Now you have a homework supply case all ready for your child's nightly homework.
If you are looking for books that validate the fact that it is okay for your children to make mistakes when doing art and that making mistakes could actually turn your drawing or project into something magnificent then check out the books below. My favorite of these is, Beautiful Oops!
I hope this was helpful for you. How do you organize your kids markers and crayons? Do you have a different art supply storage?
Check out my Kids Art Cart using the Ikea Raskog cart.