If you are looking for free winter activities for preschoolers then these winter pattern cards are perfect! I have included a set for toddlers and preschoolers that includes images. The blank set would be great for using those adorable Target Mini erasers in the dollar section.
Winter Pattern Cards
We love the Target dollar section and every time I see new mini erasers I purchase them. I love that they can be used as a math manipulative. My daughter loved our winter clip cards and she often works through our Winter Ten Frame activity using these erasers too. I am always looking for ways to work on important math skills in a way that is fun for my four year old.
Materials Required:
I store my mini erasers in this container here.
To use the winter pattern cards just print out on to card stock paper and cut out according to the rectangles.
I included two types of printable. One includes winter pattern images. The other is blank so that you can use materials like mini erasers that you have at home.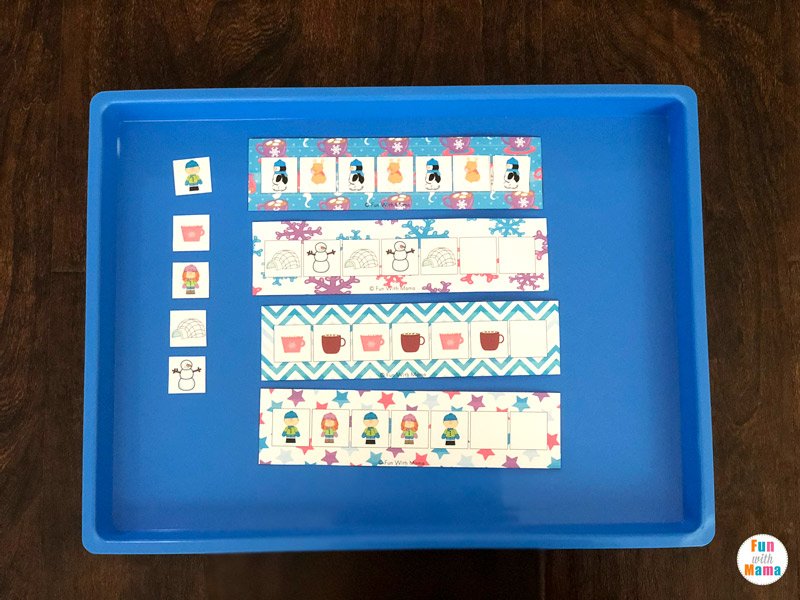 I put the activity on to a tray so that when my daughter was looking for an activity idea, she could come to the table and learn. I never put pressure on my daughter to do the activities I set out for her at home. She naturally goes towards it because she has a real love for learning.
I like to place our activities on trays because it is easy clean up and gives my daughter a set work space.
Download this activity here
For more toddler and preschool activity ideas check out my
winter activities for preschoolers
.