Check out these fun and free stick puppets! If you're looking for some simple and fun DIY puppets at home, these Three Little Pigs Puppets are a great and simple idea!
Use our FREE printable to make stick puppets to accompany the classic folk tale The Three Little Pigs. It makes for a hands-on storytelling activity that preschoolers will love!
The kids have so much fun with these and I love seeing how it grows their curiosity and imagination.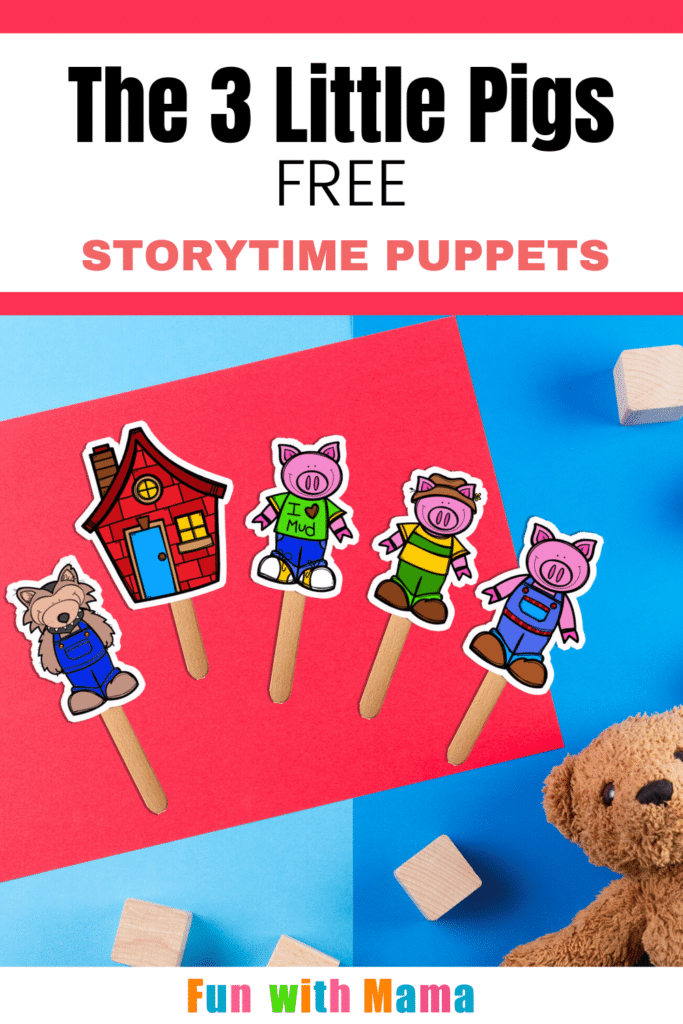 Free Printable Stick Puppets: The Three Little Pigs Puppets
Most young children love stories. One of my boy's favorite activities was reading a book together. It was something we did often. I'm sure that you have also noticed how much preschoolers love telling stories. Their eyes light up when they find a story that they love and that just adds to the excitement and fun.
Given a little encouragement, preschoolers will tell you about their favorite book, what they did with grandma, and the time Dad dropped something heavy on his foot and said a bad word!
I loved hearing the preschooler's story when I did storytime at the library. It was the highlight of my week.
Stories have a way of bonding families, don't they? But did you know that telling stories also have all kinds of educational benefits? Storytelling helps:
Stimulates imagination and creative thinking.
Encourages language development.
Builds confidence and self-esteem.
Encourages a love of words, language, and reading.
That is not all. Telling stories helps children get a good sense of story and story sequence. In short telling stories improves and reinforces all kinds of language skills such as vocabulary, story recall, and organizing a story with a beginning, middle, and end.
Check out our Three Little Pigs Activity Pack Video
You can find more details about the Three Little Pigs activity pack here.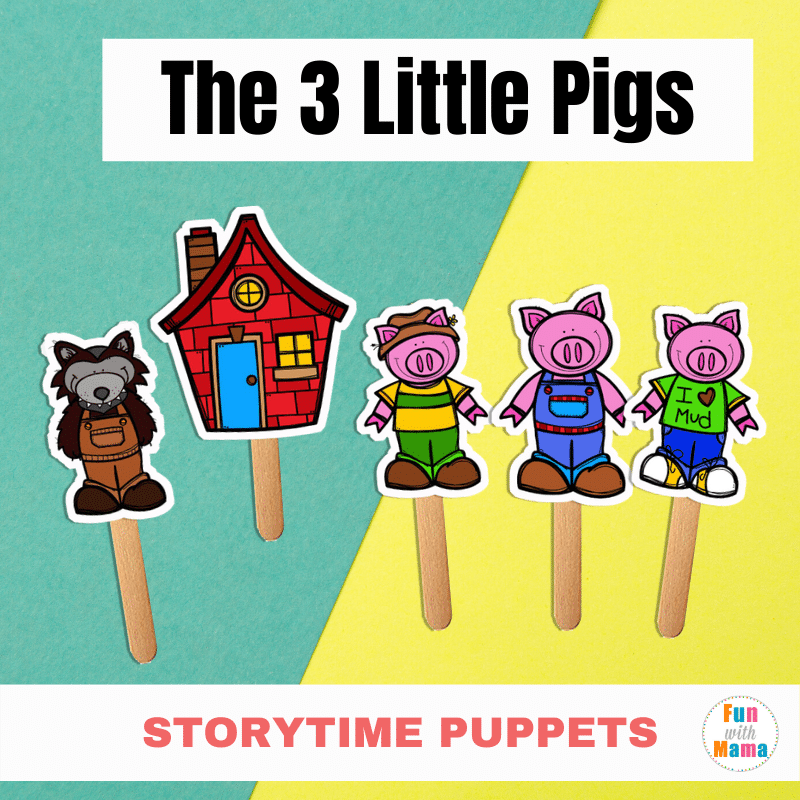 One of the simplest ways to encourage storytelling is to provide some props for your children to play with. So, we've created some simple stick puppets based on the classic folk tale The Three Little Pigs
Stick Puppets: The Three Little Pigs Puppets
This simple story is an easy one for children to learn. There is a pattern to the story that makes it easy to retell.  Don't forget that most folk tales were passed on from one storyteller to another, so they are perfect for retelling.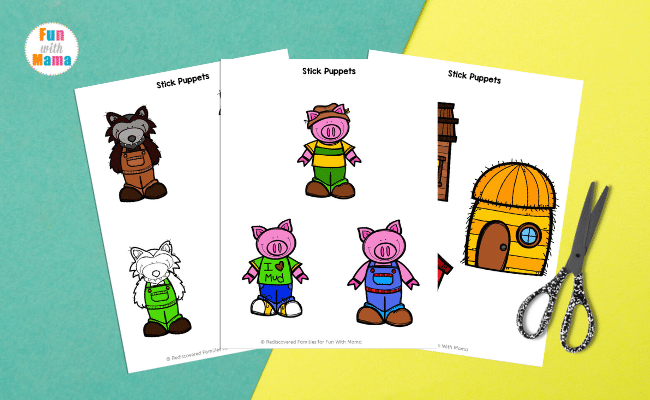 PREPARING THE STICK PUPPETS
Preparing the Three Little Pigs puppets is really easy and we would encourage you to make them with your child.
Download and print the pages of story props onto cardstock. (found below)
Laminate (optional)
Cut out the story props and tape onto a craft stick.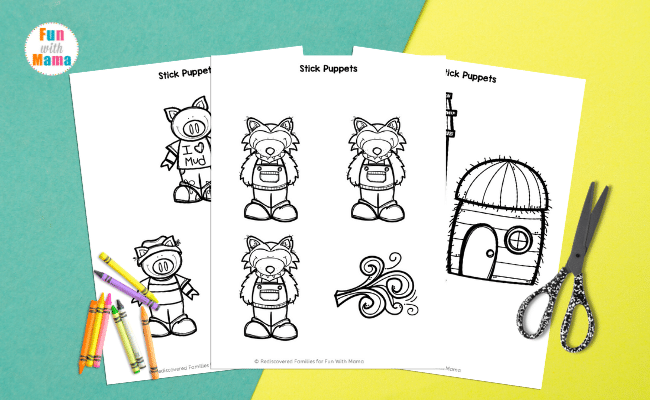 WHAT YOU WILL GET IN THE FREE STICK PUPPETS PRINTABLE
You will get the main characters that will allow children to retell the story. The stick puppets are available in full color and black and white. You will get:
The Three Pigs
Three Wolves
Those three houses
The huff and the puff
Why three wolves you ask?
You can tell the traditional story of the three little pigs and the big bad wolf. But you can just as easily turn it around to make the pig the villain. The book The Three Little Wolves and the Big Bad Pig by Eugene Trivizas tells the story this way and it is fabulous!
Children love this book and for good reason. The story is beautifully told, and the illustrations are amazing. The book is also very funny and really appeals to children's love of the absurd. The pig is BIG and so very BAD. The little wolves are very trembly indeed, but they are determined to find a house that will withstand the pig. The story ends beautifully with the pig and wolves becoming friends.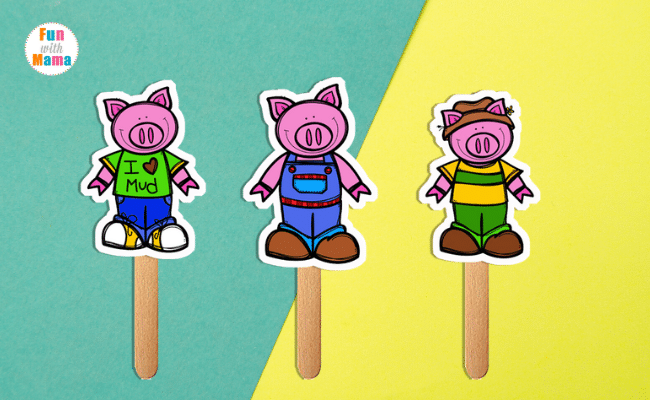 MAKING THE STICK PUPPETS
Materials
Instructions
Print out the set of stick puppets you wish to use.
I would laminate them, but this step is optional.
Cut out the puppets and tape each one to a craft stick.
Find a container that will hold the book and props.
USING THE STICK PUPPETS
For Parents
You can simply leave the puppets out and let your child play with them. It might be interesting to see what stories your child tells.
If you want to make a connection to the story, you may need to read the book with your child a few times.
Read it through, as usual, a few times.
Read it again, encouraging your child to join in with any repetitive phrases. You could also ask, "What happens next?" at regular intervals.
Make the puppets with your child and ask them to help you retell the story.
Store the puppets in the container with the book.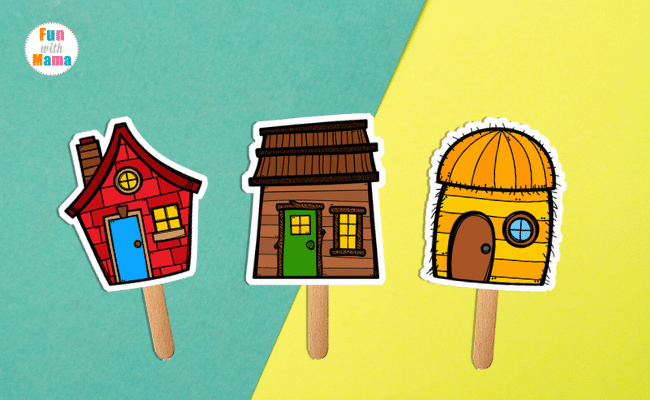 For Teachers
These puppets would be perfect for a retelling center. These literacy centers help foster a love of books through play. Children will develop comprehension and language skills as they listen to and retell stories. You will probably find that this center becomes a class favorite.
Where to get this activity:
GET THE THREE LITTLE PIGS PUPPETS ACTIVITY HERE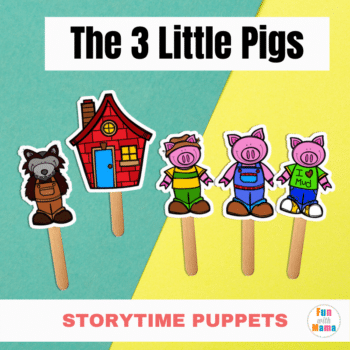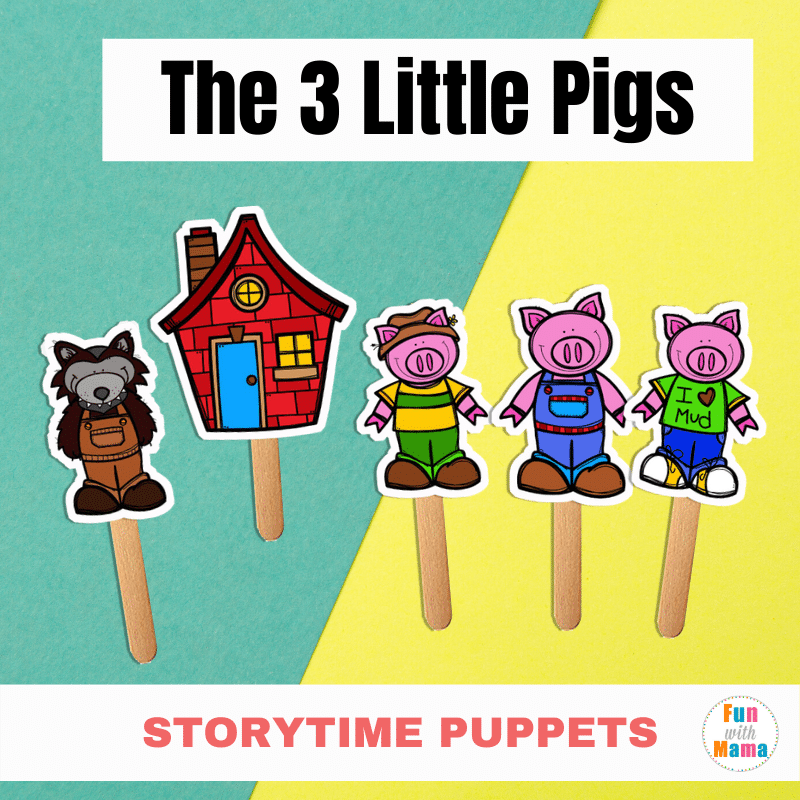 Already a subscriber? No problem. Just enter your details above so we can send this printable directly to your inbox.
Extend the learning with this fun activity pack:
GET THE THREE LITTLE PIGS ACTIVITY PACK HERE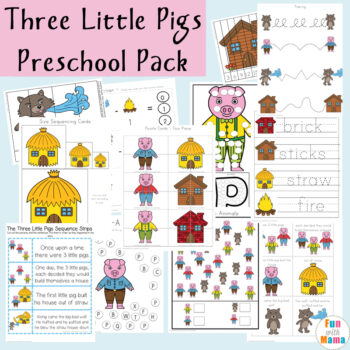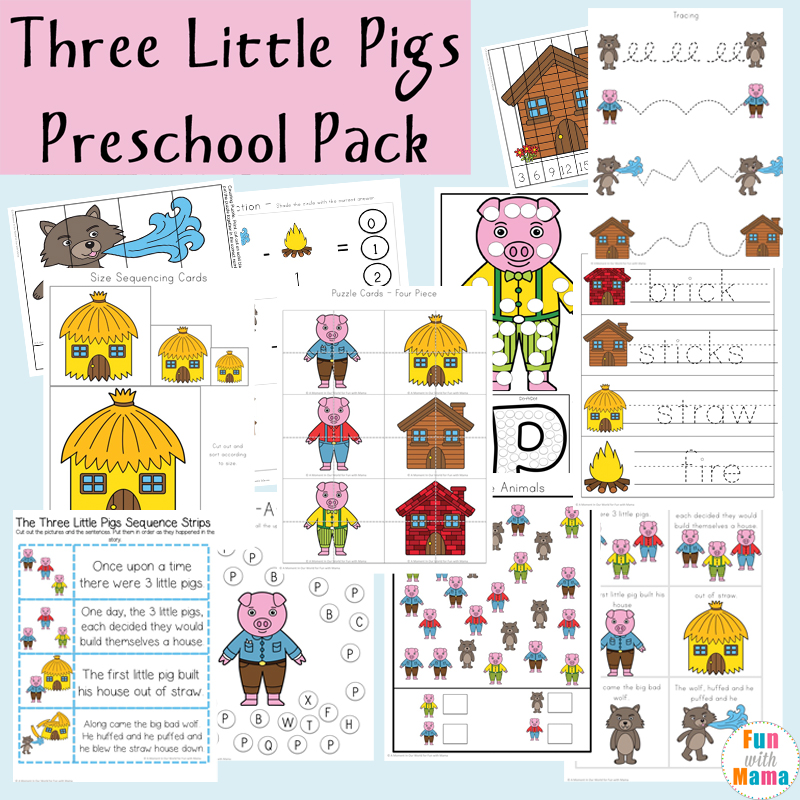 Bring the story of the three little pigs to life with these printable activities. Not only are they great for storytelling and sequencing, but children will also work on vocabulary words, counting, tracing, and more!
More Three Little Pigs Activities
NEED MORE STORYTELLING ACTIVITIES?
YOUR TURN
Do your children enjoy telling stories? How do you encourage storytelling?