Watercolor salt painting is a great activity to do with kids of all ages. Not only does the mix of glue, salt, and watercolor look amazing, but you will also be working on those fine motor skills too!
If you're looking for a simple salt and watercolor activity for the kids, this fun messy play art activity is the best. Great for kids of all ages and perfect for creativity.
Be certain to check out our Colored Salt Butterfly as well for another simple and fun art creation.
Watercolor Salt Painting
There are so many salt painting benefits. It's a great way to help kids focus, be creative, and use their imaginations at the same time as well. This salt and watercolor activity is one that we've done over and over again.
Materials Required:
(affiliate products are used in this post at no extra cost to you)
Check out this video to see how easy it is to do this activity:
How to Make Colored Salt Art
First create your design with glue.
Then drizzle salt over it
Then tilt the paper onto a tray to make sure you get salt all over the glue, as well as to get rid of the extra salt.
When it's dry use a pipette to add in watercolors. Paint with those watercolors to create your own unique design.
We did this rainbow raised salt painting to match a book we were reading it was a great way to extend the book. We often do crafts and activities about the books we are reading. You can find more in our books and storytelling section.
We then created a flower using the same process.
Why does salt react with watercolors?
It's really all about the pigments in the salt. This is how it soaks up the colors of the paint and creates that really cool effect that makes this unique art project so special.
Can you do salt painting with food coloring?
You actually can but using paint is going to have a much brighter effect. If you have food coloring at home, it can be a unique way to let the kids see the colors and salt combine in a different way.
Can you use sugar for salt painting?
Actually, you can. It's pretty cool and has the same outcome as well. This could be a simple way to have a fun experiment with the kids to show them what it's like to try out different ideas.
You can even compare the salt painting activity to the sugar painting and talk about any differences that you might see between the two.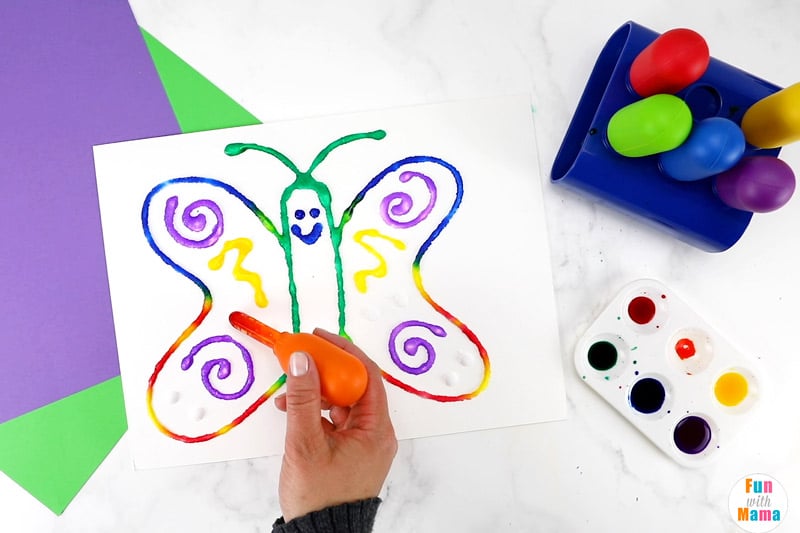 This simple Watercolor Salt Painting activity is so much fun for the kids. Have them try this raised salt painting and see what they think! It's a fast way to get some really great artwork for your fridge. (and a great activity that they can do independently on their own, too!)
More Fun Art Activities for Kids