This Colored Salt Tutorial shows you exactly how to make colored salt. If you knew how easy it is to create your own art materials at home with the kids you would be amazed. It also proves to be a fun kids activity perfect for toddlers, preschoolers and older kids too. This DIY Art Material is a toddler, preschool and elementary kids art project in itself. Kids will love learning how to make colored salt through this tutorial. This fun and easy craft material is great to use to develop fine motor skills.
Colored salt looks a bit like glitter and it looks pretty cool once sprinkled on some paper.


Making colored salt is both useful(to use in projects) as well as educational since it involves mixing, pouring, and hands on experience with color.
How To Make Colored Salt Materials Required:
Affiliate links are used in this post. As an Amazon Associate, I earn from qualifying purchases.
– Salt (buy cheap salt from the Dollar Store.
– Food coloring
– Containers or Bowls to mix items together (ziplock bags or the above type plastic bowls) I prefer Containers to ziplock bags. To me it makes the salt more evenly colored and gives me the perfect storage solution to store the colored salt.
– Some spoons.
Colored Salt Tutorial

D poured some salt into each bowl… We didn't need an even amount so I allowed him to use his own discretion here in terms of how much salt he poured into each bowl.

Then he mixed the food color in… This could be made easier with liquid food coloring instead of gel but I generally always have gel food coloring at home because I love how vibrant they come out for baking, desserts and for homemade play dough.


Shake shake shake! Try your best to make sure that the color goes everywhere evenly. You definitely do not want there to be any blobs of food coloring.
When the color looks like its mixed in properly and is your desired color spread it out on waxed paper for it to dry…
I left it out overnight so it should be dry by the next day. I didn't even need to use vinegar like you would normally have to when you dye rice.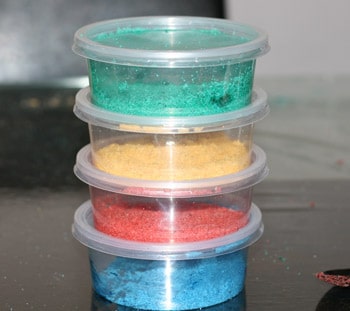 It seriously cannot get any easier than this plus you've just done a really fun kids activity that was pretty, colorful and absolutely fun!
Not sure what to do with colored salt? Add it to your collages, paintings or make a colored salt butterfly!