Combining the love and reading and crafting is the perfect reason to start creating these simple and creative Dr. Seuss Crafts for kids. The Dr Seuss activities for toddlers, preschoolers and kindergarteners are filled with color and book inspiration. Please note that these are Dr Seuss INSPIRED crafts. There is a lot of inspiration to be found within the pages of books. With 60 different kid-friendly Dr. Seuss books to choose from, you can literally find a craft or creative idea to make centered around each and every book. Books truly do open up so many amazing doors for educational opportunities for kids and families!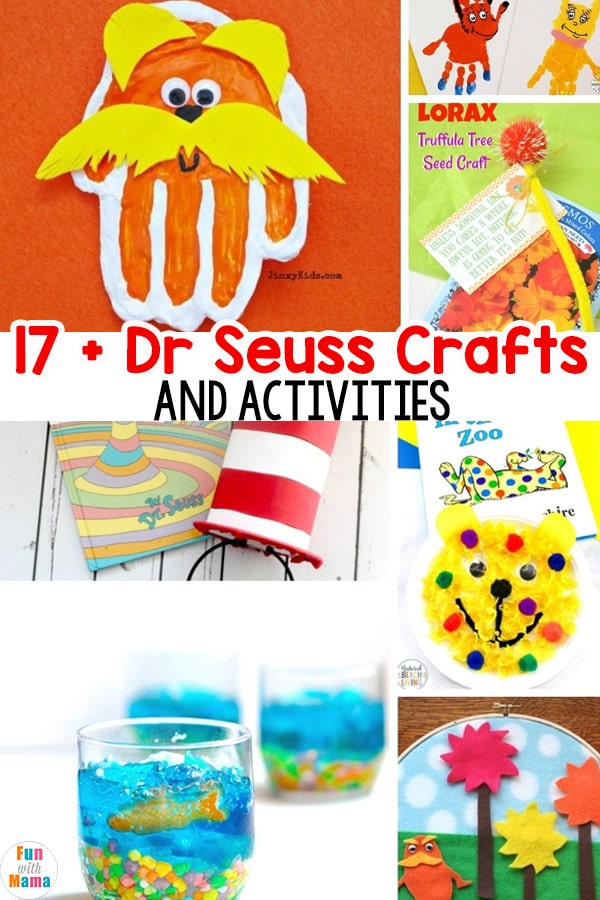 DR. SEUSS CRAFTS
When it comes to Dr. Seuss books, it's hard to narrow it down to just one favorite…There's the hilarious "Wacky Wednesday" or the classic "1 Fish, 2 Fish, Red Fish, Blue Fish" book…and that's just two that suddenly jump into my mind.
The great part about reading the words of Dr. Seuss is that your child will fall in love with them, too. There's just something so fun about the rhyming of the words, the silly storylines and the epic illustrations that will have you and your little one turning the pages again and again.
In fact, Dr. Seuss books are a great way to introduce your child to the love of reading. Some books are easier to read than others, but that's where reading together comes into play. Take turns reading words on the pages and laughing together at all the fun shenanigans.
Then, once you've read through one or two (or more!) Dr. Seuss books, you can transition and start creating one of these amazing Dr. Seuss Crafts!
Here are 17 great Dr. Seuss crafts that are perfect for kids to make!
1 Fish, 2 Fish, Red Fish, Blue Fish Craft
Thing 1 and Thing 2 Handprint Craft
Quick and Easy Dr. Seuss Costume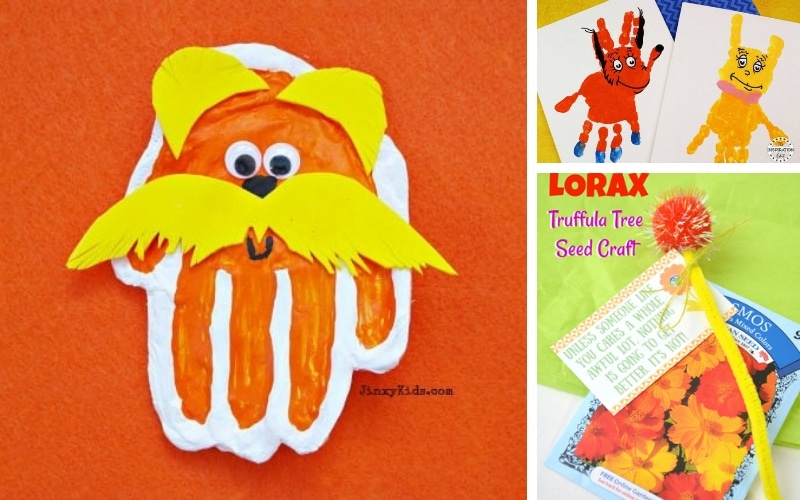 Lorax Truffula Tree Seed Craft
These crafts are not only perfect to make any time of the year, but they are especially fun to create during the month of March which just happens to be Dr. Seuss's birthday month!
With these 17 Dr. Seuss crafts above, it's possible for you to make the entire month all about Dr. Seuss! You can even add in some fun baking or creating as well and create some fun cupcakes or a birthday cake as well.
Teaching your child all about Dr. Seuss is a great educational and creative activity!