One of the most famous books by Dr. Seuss is Bartholomew and the Oobleck. This is the basis for the creation of this simple Oobleck recipe. Have fun reading it aloud to the kids – it's such a fun read!
In this story, Bartholomew must rescue his kingdom from a sticky green substance called "oobleck."
Over time, people started referring to the sticky cornstarch and water mixture as oobleck. It's more of a messy play item but it's so much fun to create!
Today, when you type in oobleck you are more likely to pull up recipes for cornstarch and water than the book itself. (This just proves how much popularity it is truly gaining!)
Naturally, making a cornstarch oobleck recipe is the perfect activity to go along with the book! We love being able to combine reading and fun together and this simple recipe for Oobleck is an easy way to have it happen.
I was also able to find these Thing 1 and Thing 2 Mega Blocks to use as toys for my kids to play with along with the oobleck. Aren't they just the cutest?! They just make it have a fun texture and add a bit of sensory to it as well.
Unfortunately, there isn't an official Bartholomew and the Oobleck playset! Maybe there will be one day…but not yet.
Follow along with this oobleck recipe to learn how to make your own! You can also check out my recipe on how to make oobleck here too.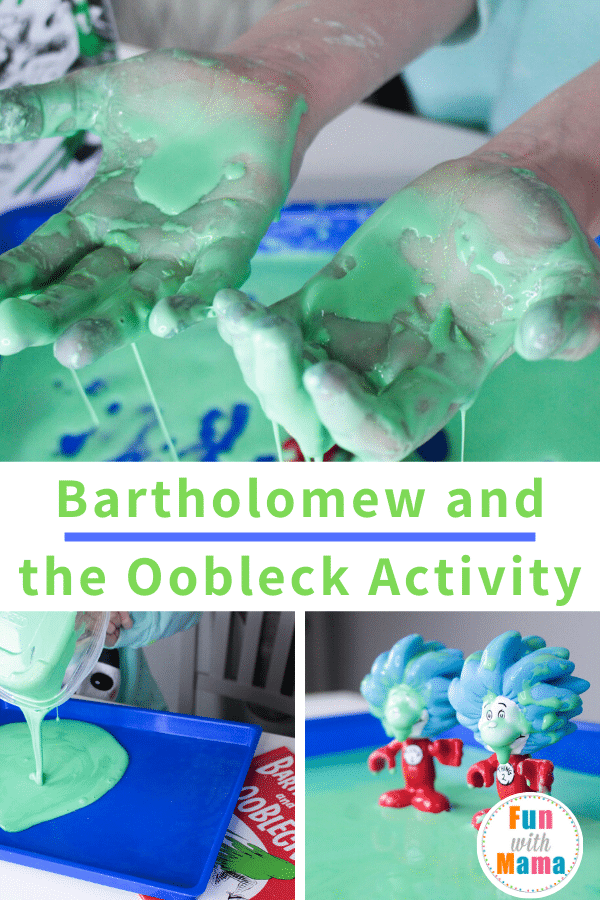 Bartholomew and the Oobleck
The great part about this simple recipe for Oobleck is that it's not really very hard to make. Perfect for a weekend in or a fun craft at night, the kids are going to love this easy craft.
What you'll need to make this oobleck recipe:
Please note that affiliate links are used in this post. Please see my disclosure policy for more information.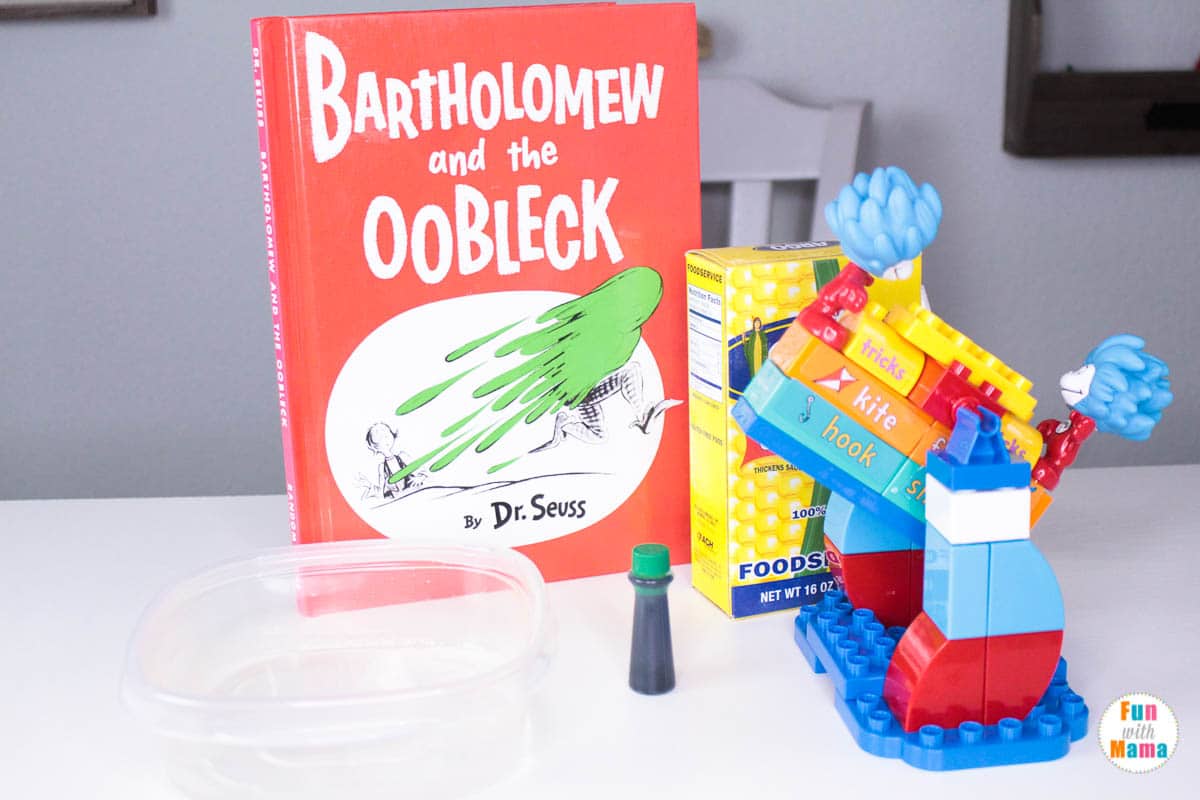 Bartholomew and the Oobleck recipe
One of my favorite things about oobleck is that it is an activity that is taste safe. You can see here when my one year old joined us in playing with oobleck : How to make goop using cornstarch and water.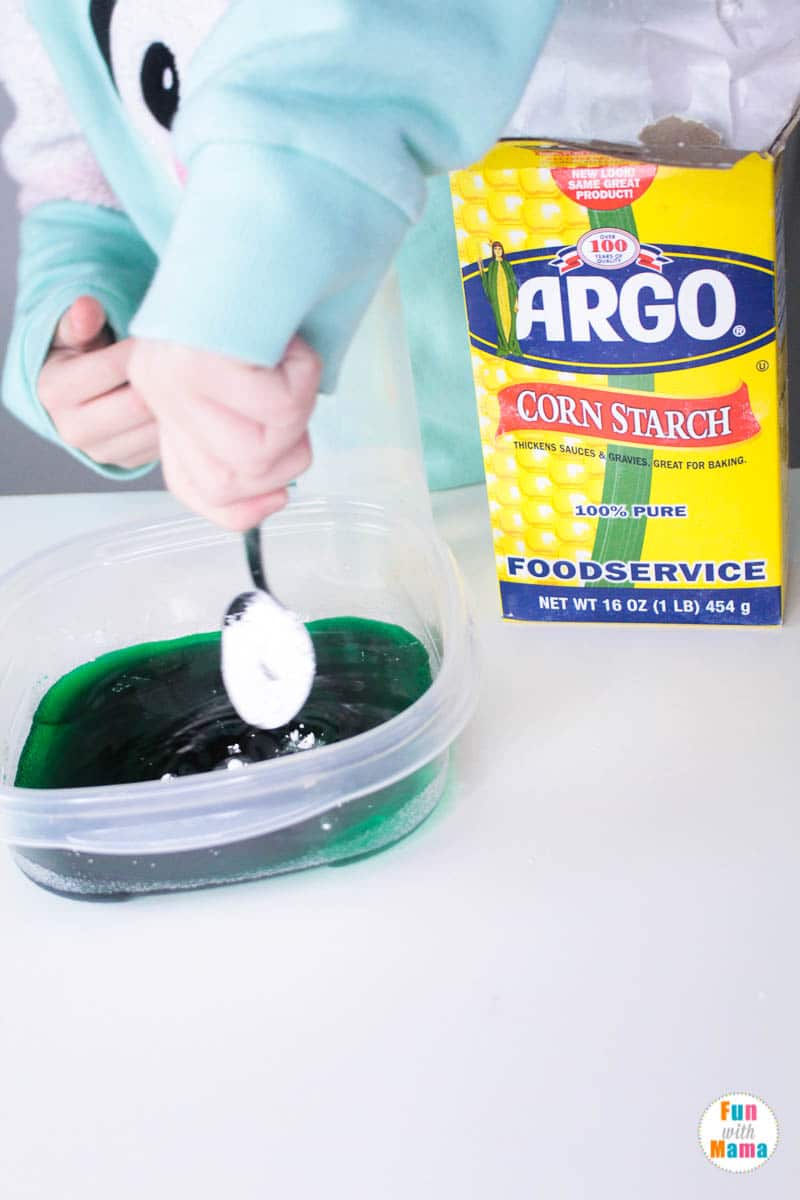 Since this recipe is messy, it's best to make it in advance before the kids are ready to play in it.
I like to start with a ratio of 2 parts of corn starch and ½ part water. The water always goes a little farther than you think it will, so start slowly and keep adding.
You want a consistency that makes a non-Newtonian fluid (which is where the mixture oozes if you relax pressure but hardens when you put a lot of pressure on it).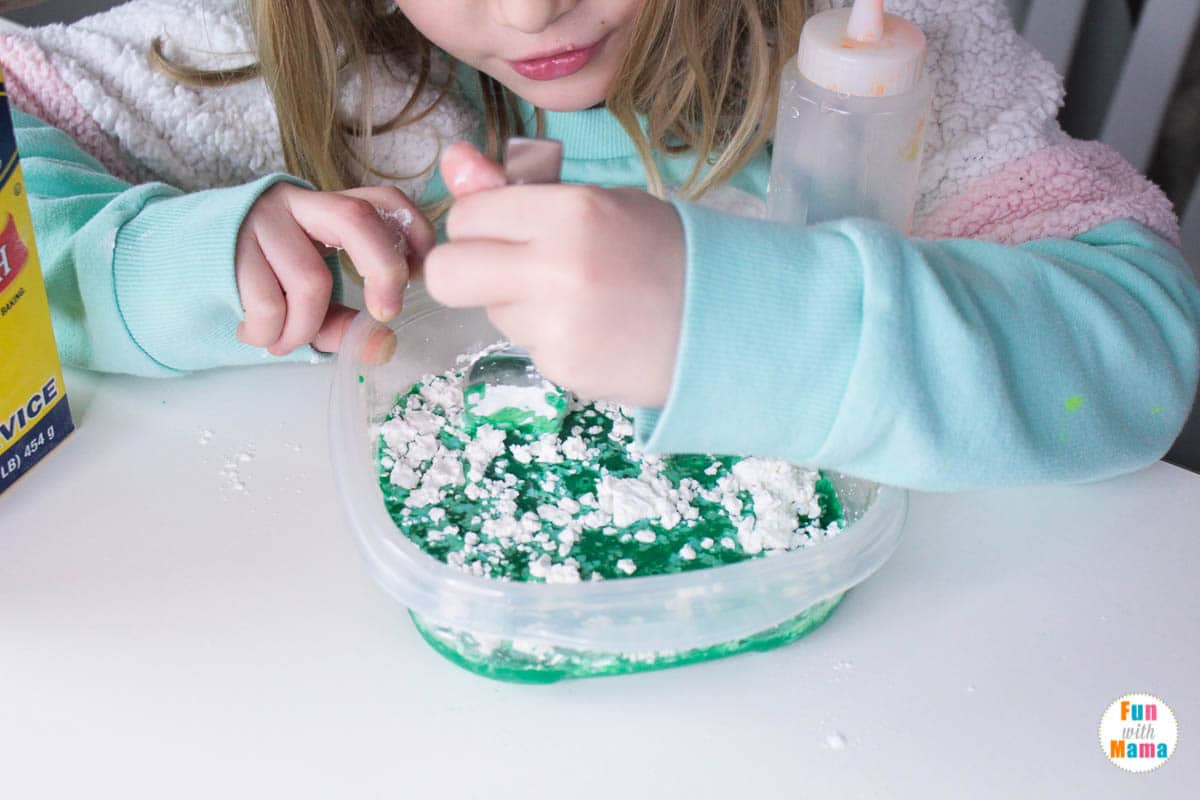 Depending on your altitude and humidity, it may take adding more cornstarch or adding more water to make this happen.
Dye your water, rather than the entire mixture, and it will turn green without a lot of struggling while you are stirring the mixture.
Put in more food coloring than you think you'll need, or else your oobleck will be mint green rather than snot green (or you can go with a paler green if you like!).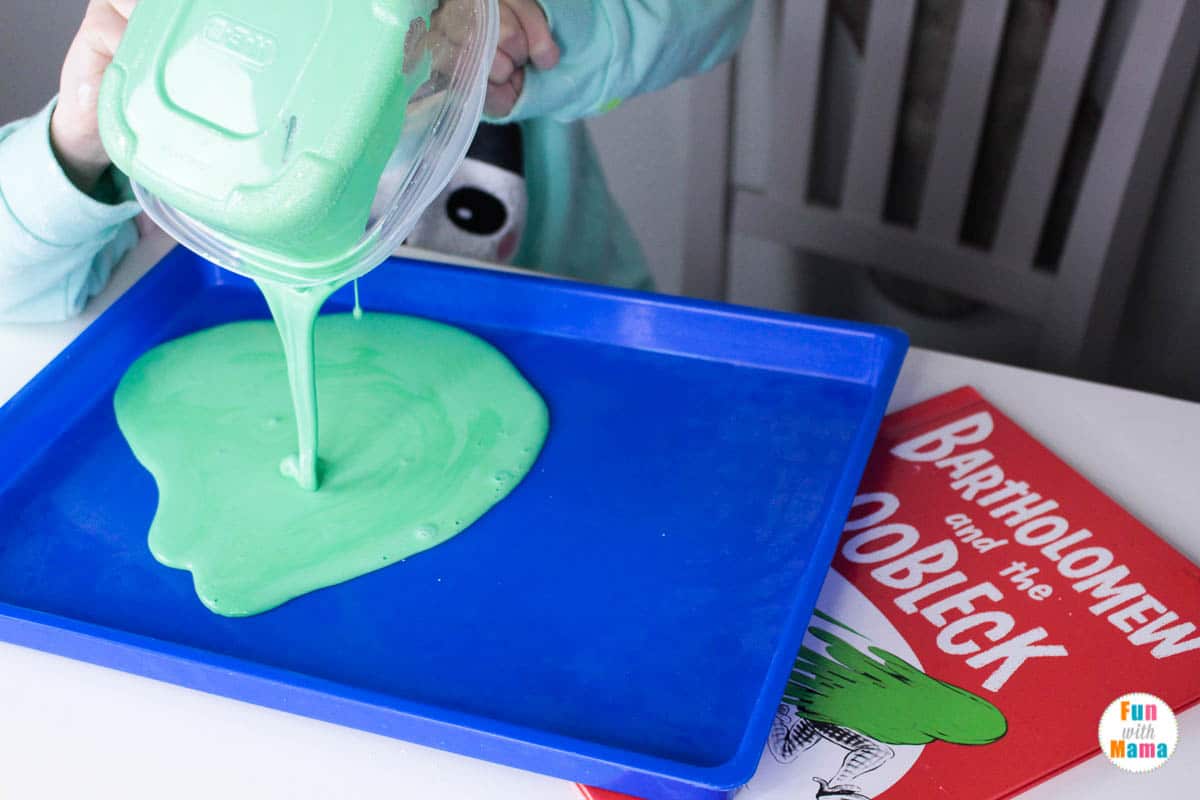 Playing with the oobleck recipe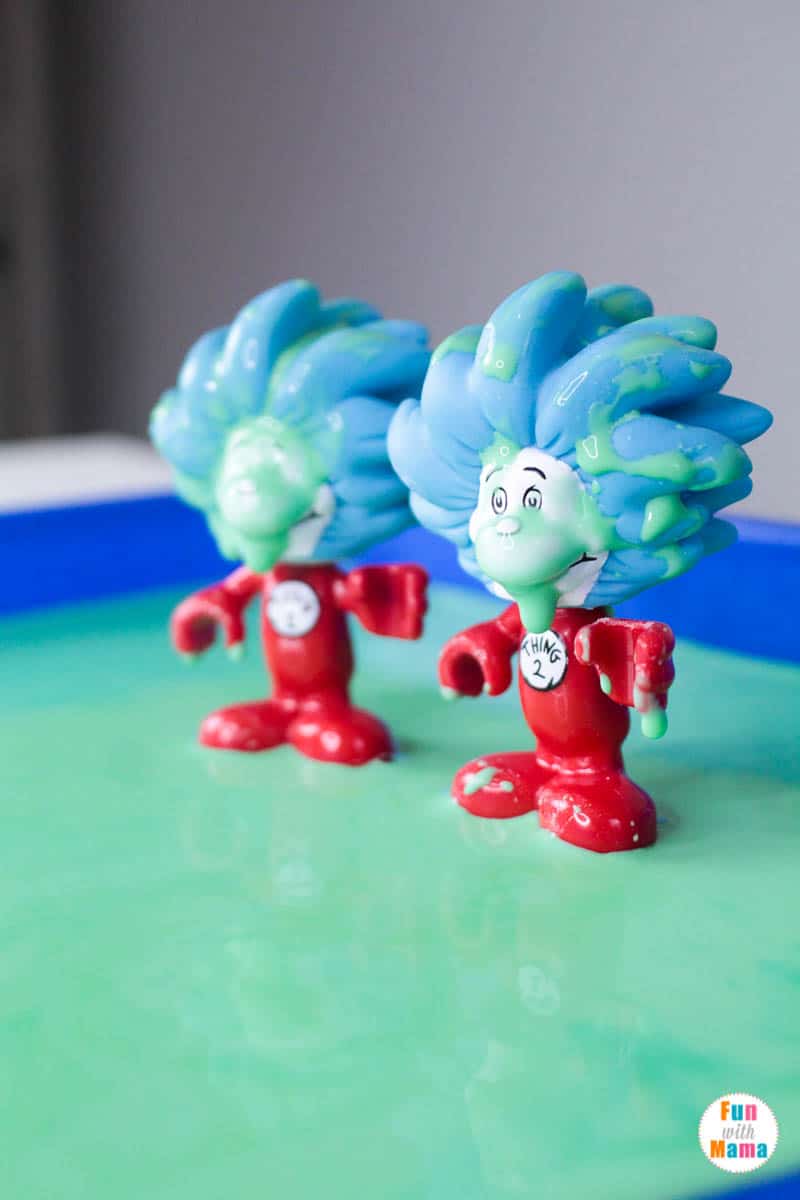 Once the oobleck is the right consistency, allow the kids to play in it with the Dr. Seuss toys.
We also like to add in different textures of things like a strainer or spatula to add to the sensory fun when playing with oobleck.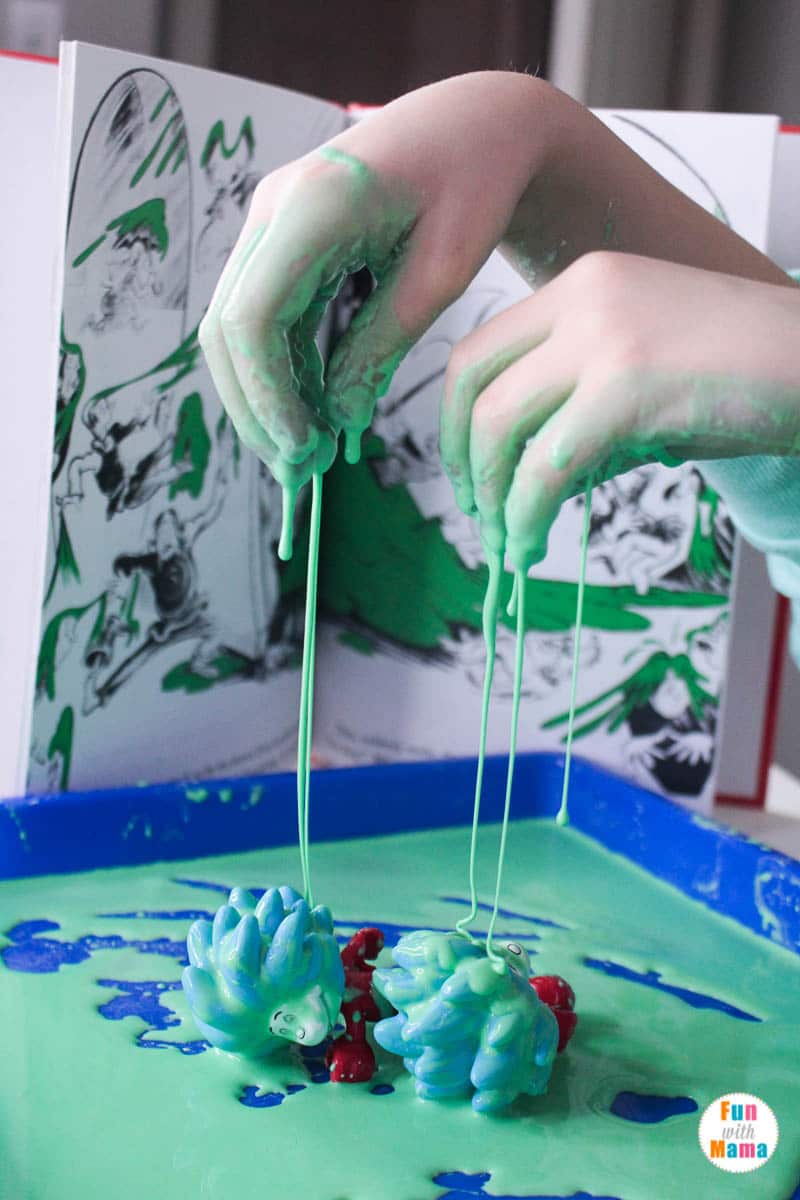 And don't forget to read the story of Bartholomew and the Oobleck to your kids while they are playing!
Oobleck can be stored in an airtight container for several days. If the mixture gets too hard, you can revive it with a small amount of water.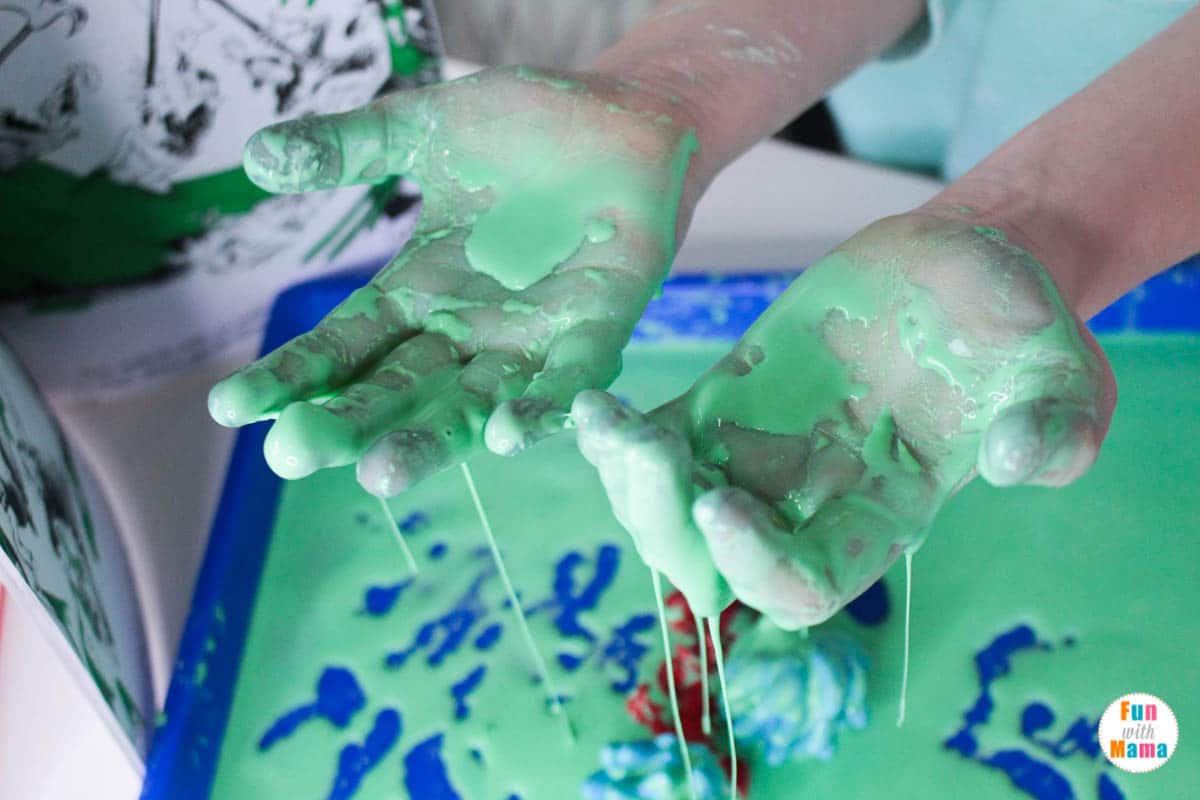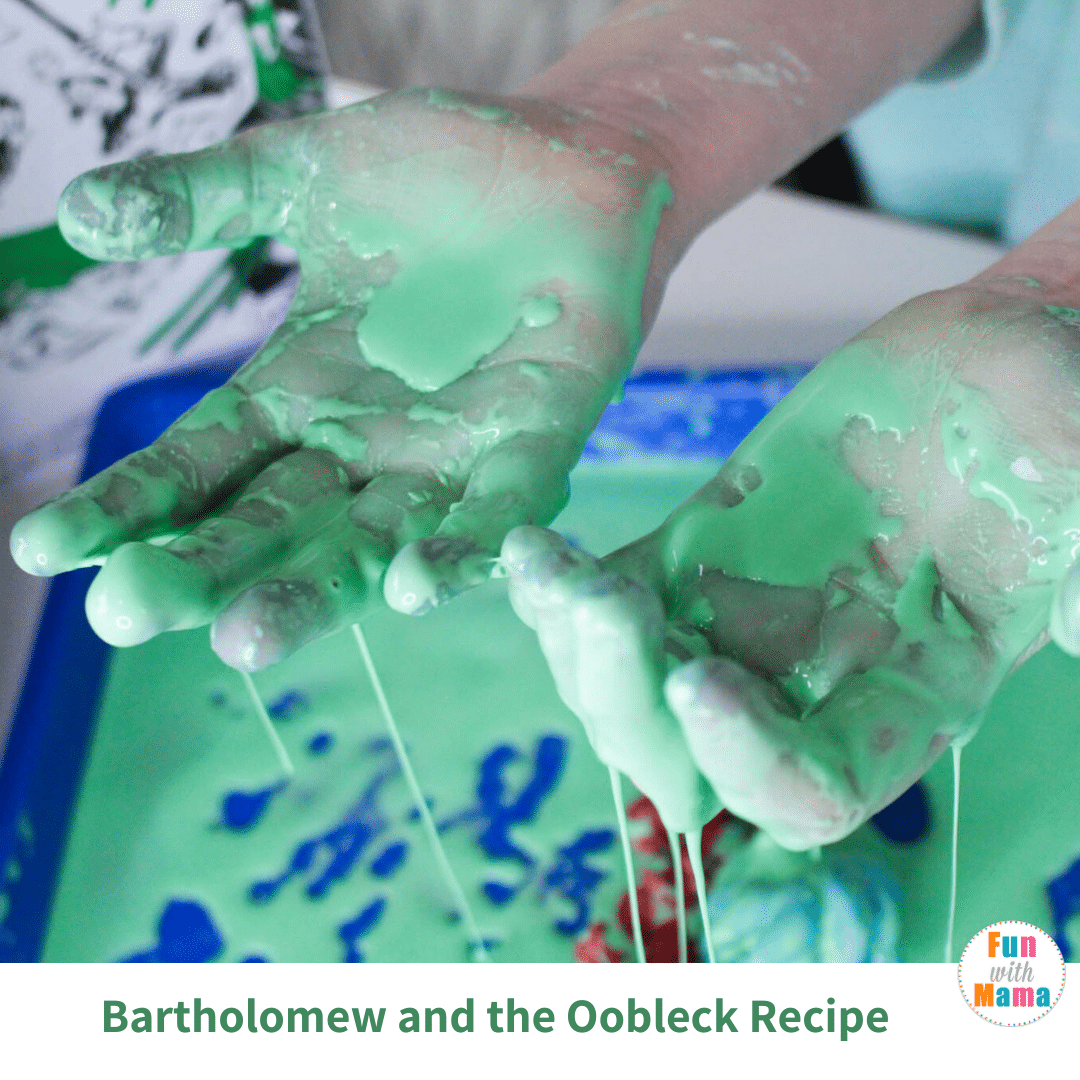 Like this fun oobleck recipe? Check out these other great sensory crafts and activities:
No Glue Slime Recipe- 2 Ingredient Slime!
Edible Slime – Candy Corn Slime Recipe
How To Make Glow In The Dark Slime