We love making slime. It's one of my kids' favorite activities. We love traditional slime, but we also really love making creative slime recipes from other ingredients, like baking soda slime, no-glue slime, and fluffy slime. It just feels so great and it's such an amazing fine motor activity as well!
When my kids want to make slime, I don't always want to let them because borax slime and glue-based slimes are so messy. Sometimes we are out of an ingredient like the slime activator, so we can't make slime. (and once you tell the kids that you're going to make slime, you have to so always make certain that you have the ingredients on hand!)
But recently, my kids wanted to make slime, and we were out of glue. So, I wanted to know if it was possible to make slime without glue. Challenge accepted.
There are several no-glue slime recipes out there, but this 2 ingredient slime recipe is the easiest that I've found so far.
2 INGREDIENT SLIME RECIPE
While slime is super fun, we're are also always looking for ways to make slime clean up easier. That is what makes this slime recipe so beautiful as there is hardly any mess at all, and, as a bonus, it smells great.
We've done our fair share of fun science fair projects. We also adore our monthly science kits for kids. But there's just something special about creating slime!
Learn how to make this 2 ingredient slime with no glue below:
This post contains affiliate links, if you click through them I will earn a commission. You can learn more here.
2 INGREDIENT SLIME MIXING INGREDIENTS:
Find all of my favorite slime ingredients here.
Soft clay (check our Daiso clay slime for the best clay to use)
See, I told you that you only needed two ingredients. It's just that simple!
2 Ingredient Slime – No Glue slime
Follow along with these instructions to learn how to make slime without glue. Seriously, it is so easy!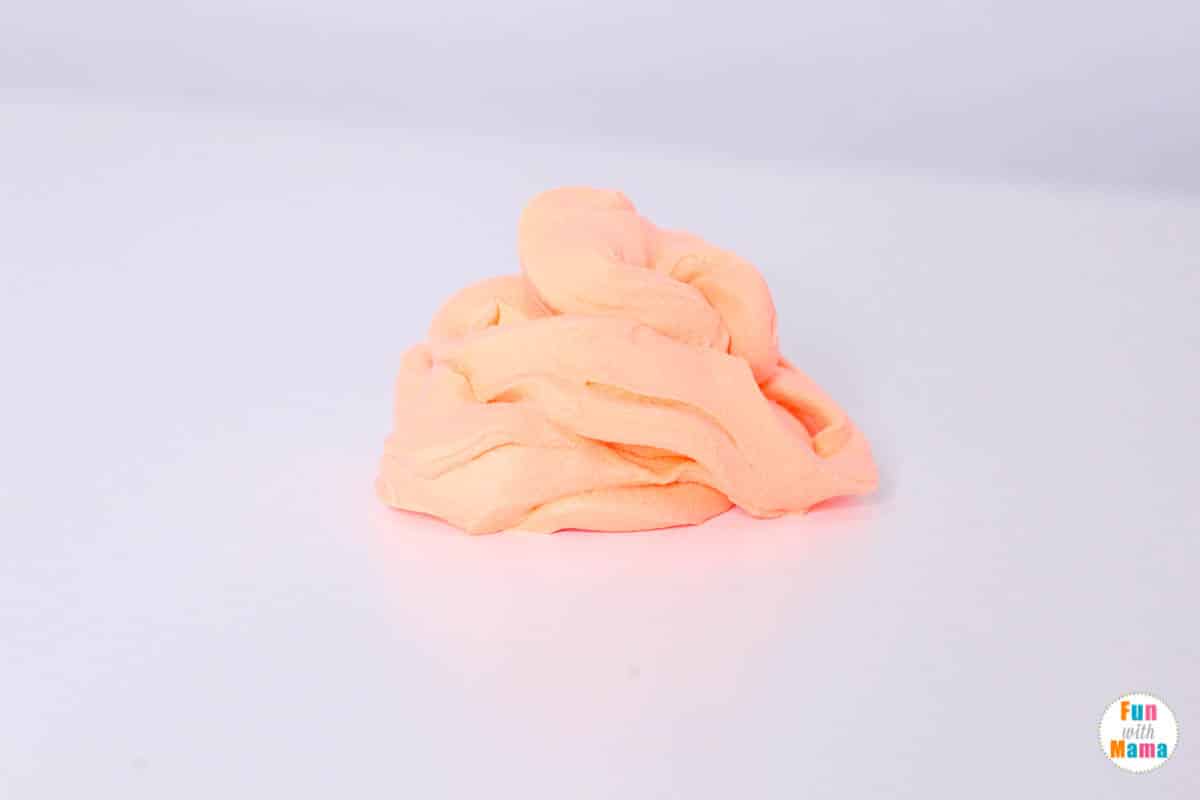 How to make Glueless slime
For the 2 ingredient slime recipe, follow these simple instructions.
You'll need about a handful of soft clay. Modeling clay or air-dry clay should work. We used official Daiso clay for this slime recipe.
Work the clay until it is soft and smooth.
Spread out the clay, then add a few pumps of hand lotion to the center of the clay.
Knead the lotion into the clay. The clay will start to get stretchy and softer and it won't break apart as easily.
Keep adding lotion until you've reached the slime consistency that you like.
We kept our slime a little thicker (think classic Silly Putty) because we wanted slime that wasn't as sticky and messy as traditional slime.
An added benefit of this no-glue slime recipe is that your hands will feel soft and smell great after playing with the slime!
If you want to save the slime to use again later, make sure to store it in an airtight container. The clay in the slime will harden if left out, so just make sure to put it away when you're done with it.
Another bonus of this no-glue slime recipe is that the slime will keep longer than many glue-based slimes. It won't get stickier over time like most glue-based slime recipes.
You can find all of our slime recipe's here.
I hope you enjoyed this tutorial on how to make no-glue slime. It has a different consistency than what you may be used to, but Daiso clay slime is a super fun, low-mess slime to make!
It was a winner with my kids and I really think it will be with yours! Use it as a fun activity to play together and then watch them explore and use their imagination as they play with it!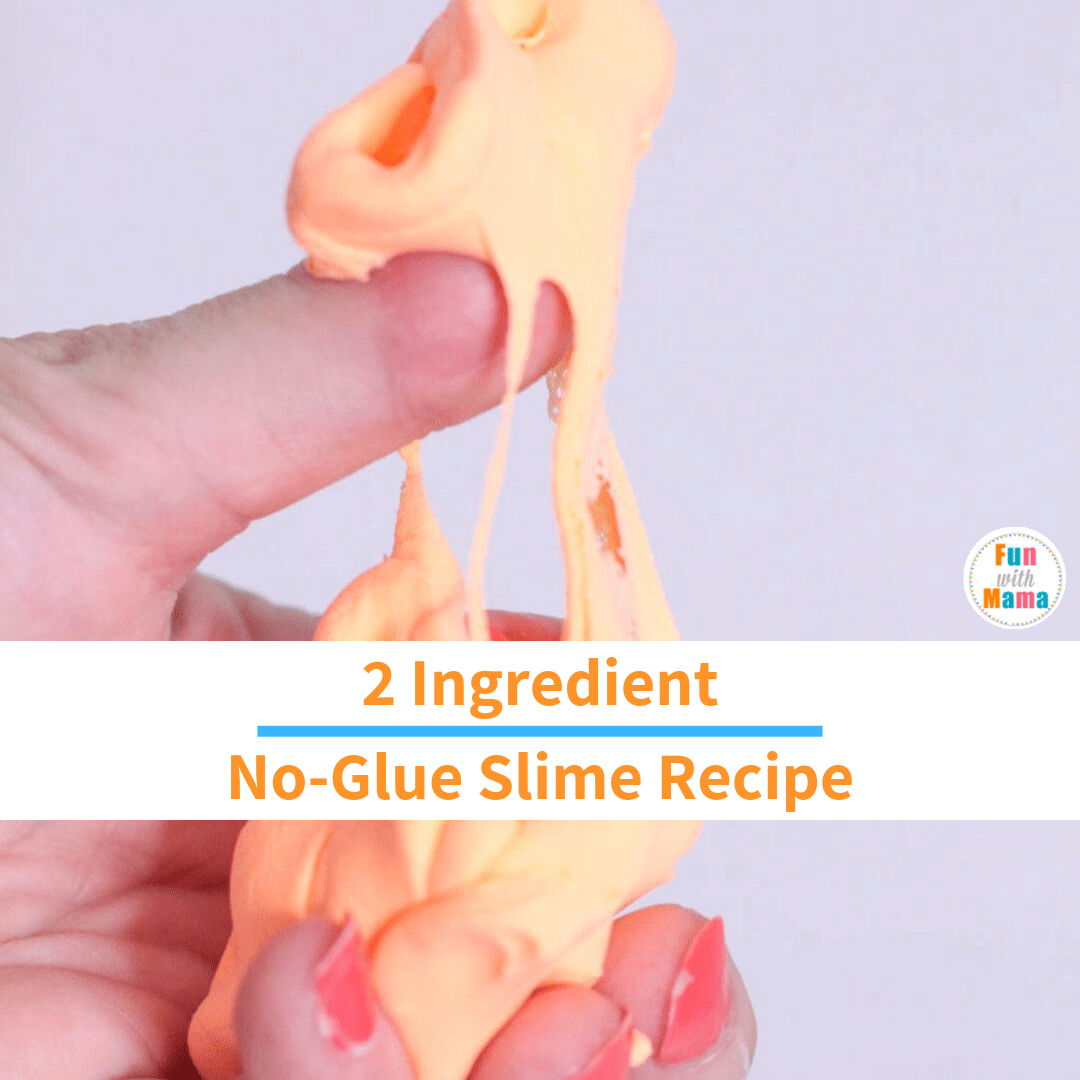 More slime recipes
No Glue Slime Recipe - 2 Ingredient
This fun clay slime recipe requires no glue!
Instructions
Work the clay until it is soft and smooth.

Spread out the clay, then add a few pumps of hand lotion to the center of the clay.

Knead the lotion into the clay. The clay will start to get stretchy and softer and it won't break apart as easily

Keep adding lotion until you've reached the slime consistency that you like.

We kept our slime a little thicker (think classic Silly Putty) because we wanted slime that wasn't as sticky and messy as traditional slime