If you're looking for fun Valentine's Day Activities for kids, you're going to have to read the adorable story "The Love Monster and the Perfect Present" with your preschooler! It's just the cutest book, ever!
Then enjoy some Valentine's learning and play activities that you'll find below. We have some cute Love Monster roll and cover playmats to help your child with number recognition. Make certain to click through to get your FREE printable as well!
The Love Monster and the Perfect Present: Valentine's Day Activities for Kids
Valentine's Day is on the horizon, so we thought it was time to focus on a very sweet book for this time of year. The Love Monster and the Perfect Present by Rachel Bright

It is Present Day in Cutesville. The Love monster wants to give his special friend the perfect present. But can that be and where do you find it?
The stores are full of wonderful shiny things that would make lovely presents, but they are too expensive. What is a Love Monster to do? Well, you make something special of course.
This is a heart-warming story that reminds us that it isn't how much you spend on a present that makes it perfect. It is the thought and love that goes into it that counts the most.
This is just a great Valentine's Day activity for the kids. First off, this book is absolutely adorable. And secondly, it's something that you get to do together and have fun!
Like its predecessor, this picture-book features a lovable character and vibrant pictures. I appreciate the generic "Present Day", so you could just as easily use this book for other holidays. Children enjoy watching how the Love Monster goes about finding the perfect present.
Children will relate to the Love Monster's predicament. Most of them love to give gifts to the special people in their lives. Very few of them have the money to do so and most kids just love making something special.
The book is full of energy and is a joy to read. The underlying message is easily understood by young children and they enjoy the bright colorful pictures.
This book trailer will give you a feel for the book

AS YOU READ THE LOVE MONSTER AND THE PERFECT PRESENT
Show your child the cover of the book and ask them what they think the story is about.
Read the title and ask questions like:
When do we give someone a gift?
What has someone given you a gift?
What is the best gift you have ever got?
As you go and progress through the story ask your child to guess what they think might happen.
What would be a good gift for the Love monster to get?
What do you think he will find?
When you get to the part where the shiny things are too expensive, ask varying questions as well:
Finally, ask them to guess what the love monster is making. Finish the story and invite some discussion about friendship.
What did the Love monster give to their friend?
Did Love Monster's friend like the gift?
Who are your special friends?
How can we show care to them?
AFTER THE STORY: Valentine's Day Activities for Kids
Enjoy some fingerplays and songs!
Everything Preschool has some great Valentine fingerplays and songs. Here is my favorite.
Fingerplay: Heart
I put my hands together,
This is how I start
I curve my fingers right around,
And I can make a heart!
Children also enjoy this fun fingerplay about two little friends.

Read another book about giving (you can never have too much of this!)
Check out our list of books for Valentine's Day!
Make a snack you can share!
A snack that can be shared with friends would work nicely with this book. Try this easy Valentine's Day Snack Mix.
ENJOY THESE LOVE MONSTER VALENTINE'S DAY ACTIVITIES
Try this easy Love Monster roll and cover math game for a fun way to practice number recognition from 1-6. There are so many fun Valentine's Day activities that you can incorporate into your day!
Supplies Needed for these fun Valentine's Day activities
dice
Small manipulatives such as candy hearts or buttons
Caution: Small manipulatives can be a choking hazard. Supervise young children carefully.
Preparation for Valentine's Day activities
That's it! You can laminate them for durability if you wish.
It's just that simple to create and have a fun time doing so!
Playing the Love Monster roll and cover game
Invite your child to roll the dice.
Say the number that they roll.
Help them find the corresponding number on the mat.
Invite them to place the manipulative over the number
Keep rolling until all the numbers are covered. (Note that each number appears twice, so you must roll each number two times).
If you roll a number that is already covered, just take another turn.
That's it! It's a simple and effective way for students to practice number recognition.
Where to get the Love Monster Roll and Cover Mats
GET THE FREE LOVE MONSTER ROLL AND COVER MATS HERE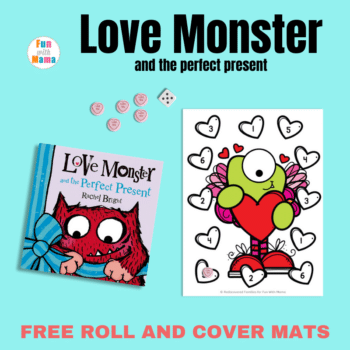 Already a subscriber? No problem. Just enter your details above so we can send this printable directly to your inbox.
NEED MORE VALENTINE FUN?
Try these Acts of Kindness For Valentine's Day
For More Valentine's Day activities check out our Valentine's Day Archive