Finger paint sessions almost always turn into hand prints and foot prints in my home Finger painting is a great sensory and tactile experience for a toddler and a preschool aged child. The fun doesn't stop there and I guarantee you that even an elementary school aged kids and adults too can have fun while stimulating their sense of touch! These hand prints fancy little monster finger activity is a cute yet simple painting for toddlers and preschoolers activity. I am always amazed at how much kids love painting their hands.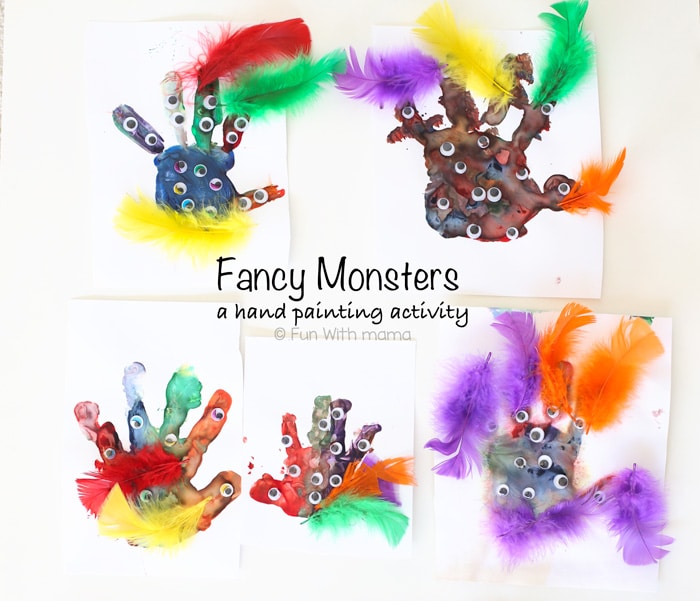 Finger Paint
My toddler often tries to paint her hand when we are doing any painting activity. I think there is something about feeling the paint across her whole hand that feels good to her. I've also noticed that my older two kids (9 and 6 year old) also try to get as much paint on their hands as possible. There are so many benefits that a child receives through finger painting. I am all for letting my children direct me in terms of their creativity so I gave them a few open ended materials and let them create these fun and fancy little hand monsters. I'm of the belief that you can throw googly eyes on anything and it becomes an 'intentional' activity.
Please note that this post uses Affiliate links. Please see my disclosure policy for more information.
Materials Required:
Hand Prints
Step 1: Paint your hand.
This is the fun part! Paint a rainbow, paint a design, paint dots or smudge your hand into a plate of color. This is where the creativity takes over. Doesn't this remind you of fun preschool activities all those years ago?


Step 2: Place your hand gently on your card stock.
Make sure to gently press with your other hand to make sure that the color transfers properly.
Step 3: Gently lift your hand off.

Hold the paper down with your other hand to make sure it does not smudge. My 8 year old daughter loved creating her hand print. It was definitely a little harder for my 3 year old, who needed a little more help from mom.


Step 4: Add feathers and googly eyes.

Repeat the process over and over as many times as your kids would like to create a family of fancy monster hand prints.
Finger paint and inevitably hand print painting is always a well loved activity. If you check out our Easter Egg painting, you will see how much my daughter loved swapping the plastic eggs for her hand prints!
Pin It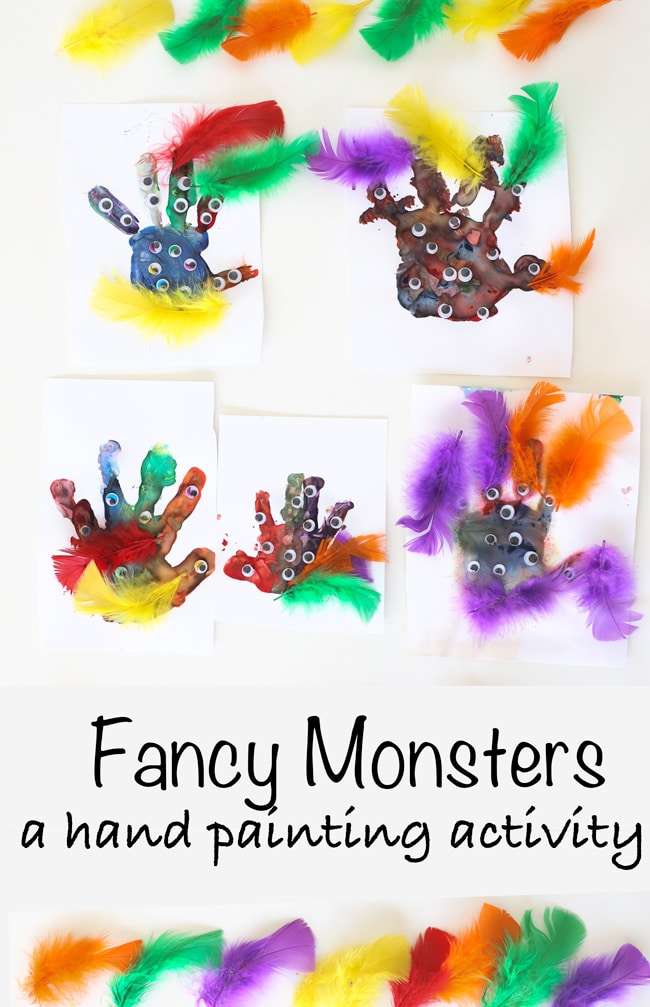 Check out my printable butterfly finger painting activity and shaving cream painting for more tactile painting activities.