Are you wondering what the benefits of finger painting for toddlers and preschool aged kids are? Or how about how finger painting helps with the child's development? There are so many wonderful benefits of finger painting for babies, toddlers and frankly any child of any age! Sure, its a messy art activity but did you know that there are so many sensory experiences going on during this time? The post also includes how to make homemade finger paint, a recipe and some fun crafts and activity ideas.
Read on to learn more about the importance of finger painting.
It was a nice warm sunny day in the middle of winter. My kids looked out of the window, they ventured on to the balcony, and then it was decided.
It was PAINTING time!
Finger Painting
It is no secret that we are an arts and crafts loving family. We look for any reason to finger paint (even if its not a finger painting activity.) Lucky for my kids we have tried butterfly fingerpainting, hand painting, finger painting and even the messier shaving cream painting (SO MUCH FUN!)
While we have found many reasons to finger paint. I was looking for a homemade finger paint that doesn't stain kids fingers.
This wonderful finger painting recipe from the Itty Bitty Bookworm curriculum is AMAZING. It doesn't stain fingers and has the perfect consistency for a child to play and explore. The colors were beautiful and vivid.
Please note that the resources on this post contain affiliate links. Please see my disclosure policy for more information.
Homemade finger paint recipe:
2 cups flour
2 tsp salt
2 1/2 cups cold water
2 cups hot water
Food coloring
Method: Mix the flour and salt. Add the cold water. Beat until smooth. Gradually add the hot water and boil until clear. Beat until smooth. Divide the mixture and add the food coloring of your choice.
Here is another recipe: I haven't tried this recipe but it looks great.
Buy Finger Paint Materials:
If you would prefer to purchase finger paint instead so that you have it on hand whenever your kids want to finger paint I recommend these Washable Finger Paints because they don't stain and I am often painting on the spur of the moment. Don't let the lack of pre-planning or having not 'scheduled' it in to make your child miss out on any opportunity to finger paint.
– Washable Finger Paints
– Finger paint sponges
– Kids painting apron (or you can use an old shirt, vest, or oversized shirt you found at a cheap price.)
– Finger paint brushes and rollers (Sometimes, I like to throw in some brushes to mix it up and add a new twist to my toddler finger painting activity.)
Please note that none of those items are necessary besides the paint. Your child will have just as much finger painting without those items as they will with them.

Benefits of Finger painting:
It is an excellent tactile experience.
It stimulates your child's senses. (Touch/feel, sight, smell, edible finger paint= taste)
It helps a child's intellectual development. The mixing of colors teaches your child about their colors and how to create new colors
It allows them to use their imagination and create
It is emotionally soothing (in most cases).
It encourages cognitive development.
It strengthens the hand and fingers which helps with fine motor skills.
Most importantly, it is FUN!
There are many more benefits to finger painting in early childhood for toddlers, preschoolers, babies and even adults! Look at the list above and try finger painting with your child. Did you feel emotionally soothed? Your senses would have definitely been stimulated!

Here's what you can do with finger paints:
Create a road full of many colors.
Feel it with your hands.


Paint it on your body.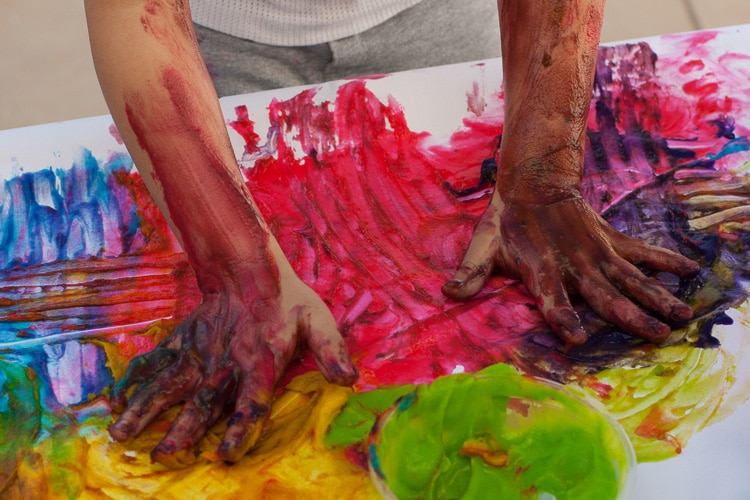 Mix, experiment, and create.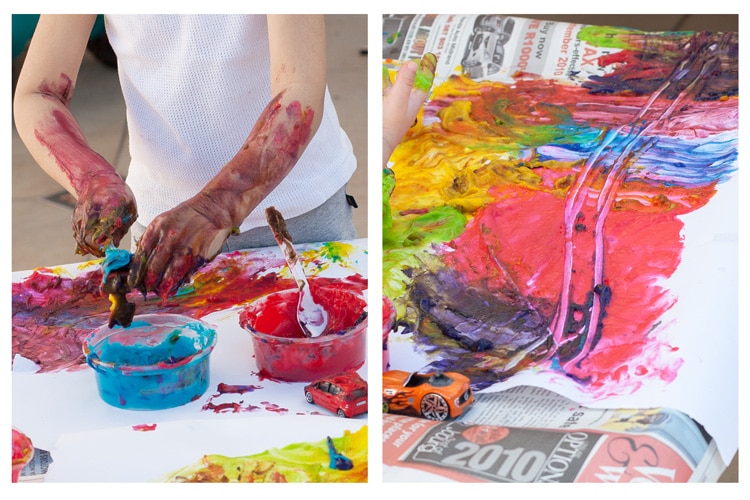 Cover your cars with paint before you wheel them through your painted road.
Try to see what all the fuss is about.
Get messy too!

Sing a bit, it helps make prettier pictures.
You can add in some sponges the next time. I purchased these finger paint brushes and rollers.
Or you can even use q tips, cars, feathers, toy dinosaurs, plastic forks and anything else that you have at home.
Here on my instagram page you can see that we did finger painting with a fork… and here is a video of my finger painting toddler.
Look with amazement at the beauty of the "mess" and pat yourself on the back on an activity done well.
Besides the above benefits, we all know that kids finger painting hands are a wonderful site to look at.
If you want to try something less messy try fingerprint art!
So the next time your child wants to finger paint, let them! Now you know that there are SO many benefits of finger painting.
How does finger painting develop cognitive development?
Children will learn more about each color and can begin to classify the names of each color. They will also learn about cause and effect. For example if you mix blue and red you get purple.
Finger painting ideas for toddlers and preschoolers
The above finger painting hand comes from my fancy monster finger paint kids activity. This activity was SO much fun and I definitely recommend that you check it out.
Don't forget to try my printable butterfly finger paint activity.
and even more full of fun texture… Shaving cream painting!

Here is an even better shaving cream painting activity!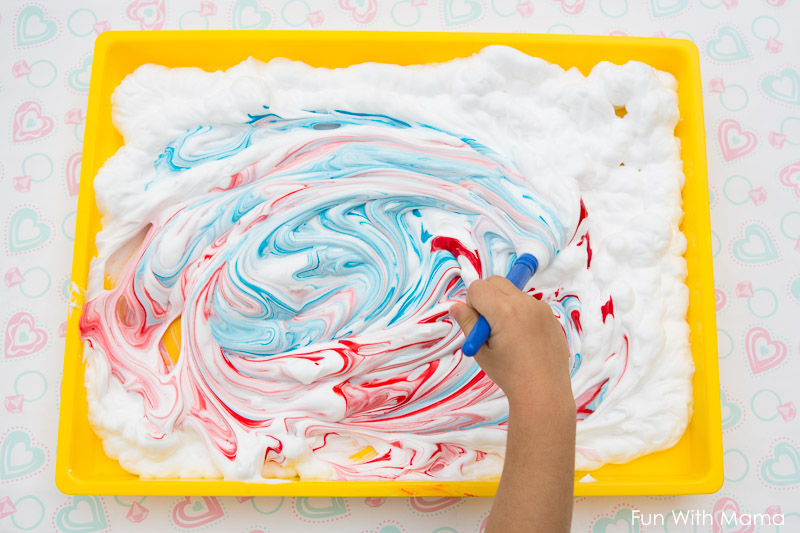 You can also have a look at the Benefits Of Toddlers Building With Blocks
Pin it below: