This family theme preschool all about me week pack is perfect for the beginning of the school year. It includes family activities for preschoolers that will encourage children to learn and discuss more about their relatives, different types of family homes, family pets, and ways they can help at home. Through the included hands-on activities and play ideas, kids will also work on counting, number recognition, color matching, shape formation, and so much more.
This activity is exactly what you need for a fun family theme preschool all about me week. Families come in all different sizes, but have one thing in common: love!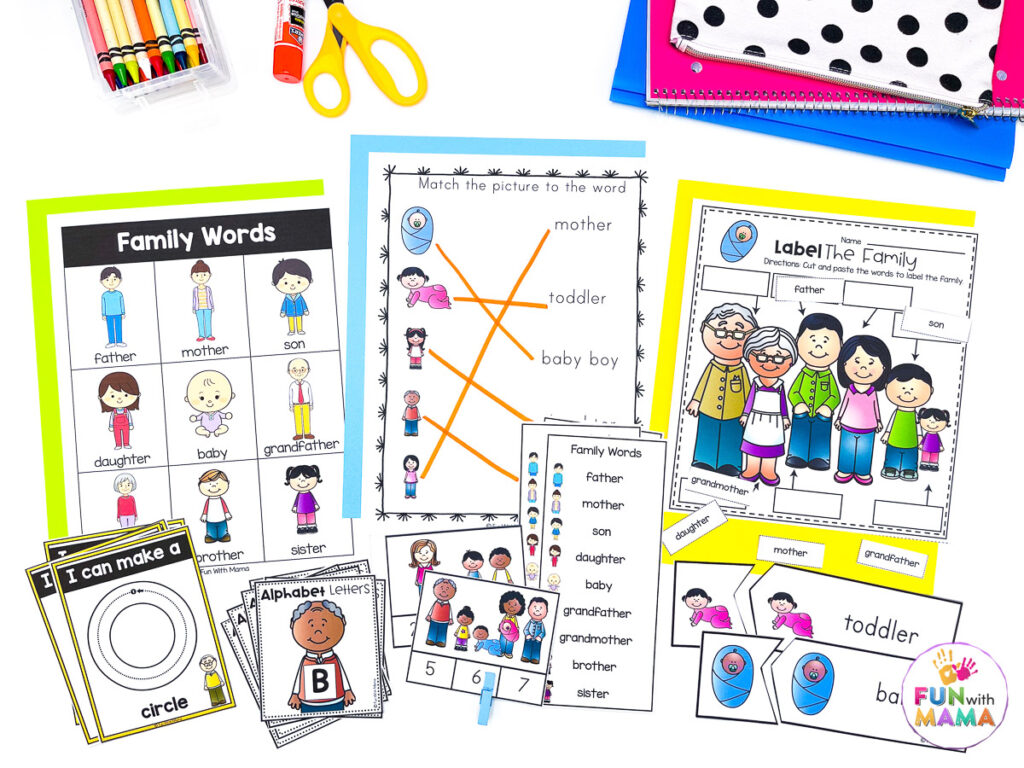 Family activities for preschoolers
This family all about me theme may just be one of my favorite preschool themes ever. The activities include worksheets for kindergarten and preschoolers and a fun all-about-me-themed printable family tree worksheet too.
This family theme lesson, encourages children at home, or in a preschool classroom, to participate in discussions by sharing about their own family relatives, while also exploring math and literacy concepts too. These printables are great for an all about me theme too!
Supplies we used
Here are some items that pair well with these activities. You will use each of these items over and over during all my printable preschool activity packs.
Family members included in this pack:
father (daddy)
mother (mommy)
son
daughter
baby
grandfather (grandparent)
grandmother (grandparent)
brother (siblings)
sister
baby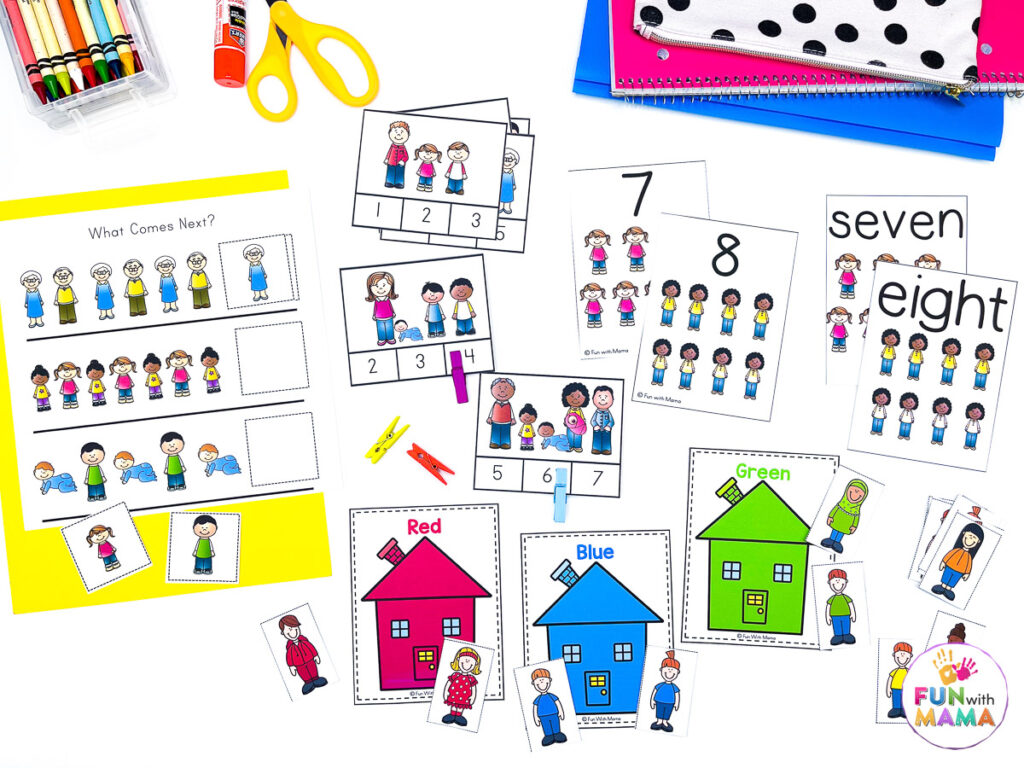 The clip cards require children to count members of the families and then use a peg/clothespin to mark the correct number of family members shown in the card.
Students will work on color matching (match the color of clothing to the colored houses.) I actually like to make this activity more hands-on by using these all about me family counters. They include different people figures in different colors.
Preschool family theme activities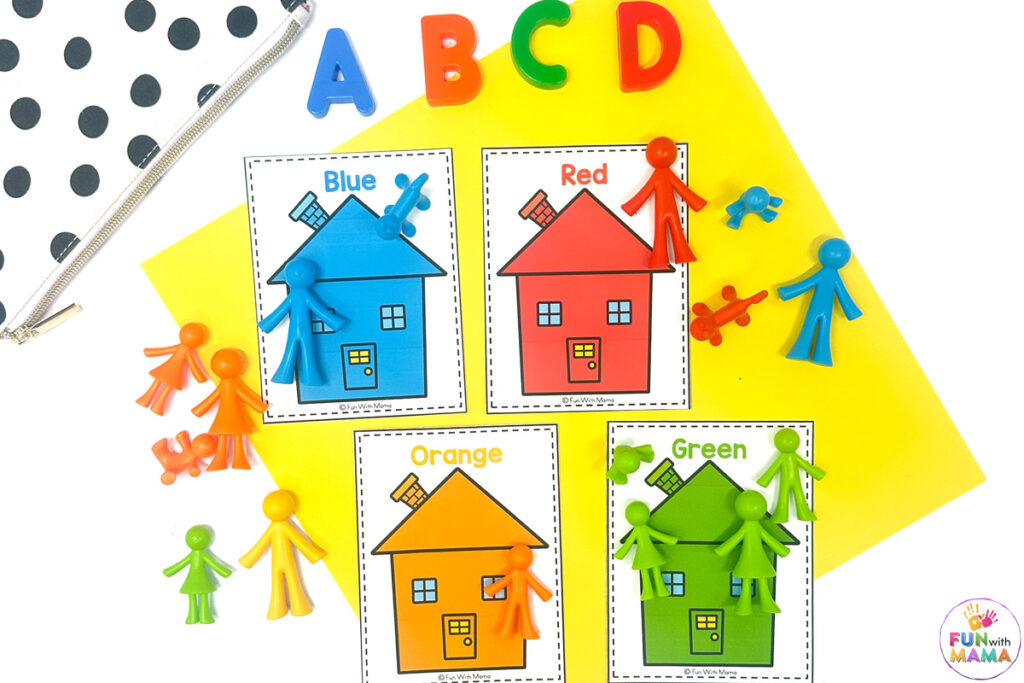 My 2-year-old LOVES to use these little people. They can discuss how many family members are in each color family, who has a sister, a brother, a baby, a pet cat, etc.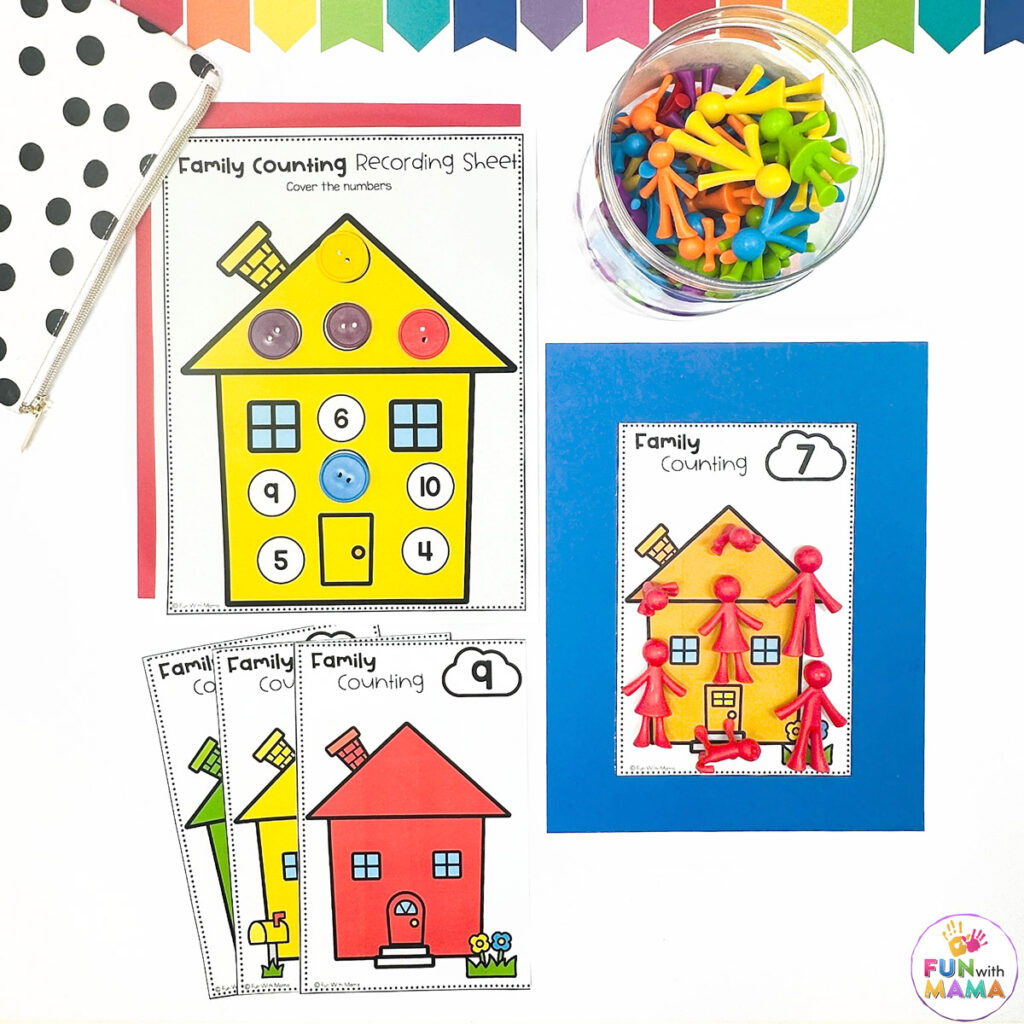 We also used the family counters with the family counting mat houses.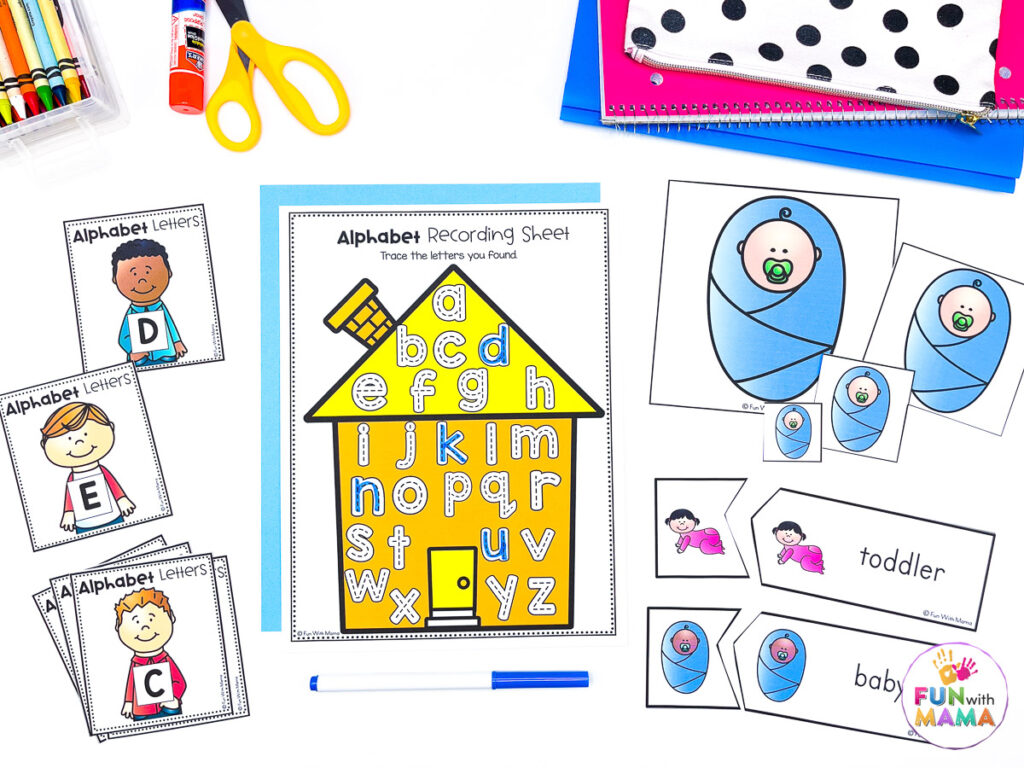 For a literacy activity, we have some ABC alphabet letter cards that children can use. They can trace the lowercase letter on the letter formation recording sheet when they find the matching uppercase letter. You can also throw these cards in a sensory bin and have students find the matching cards.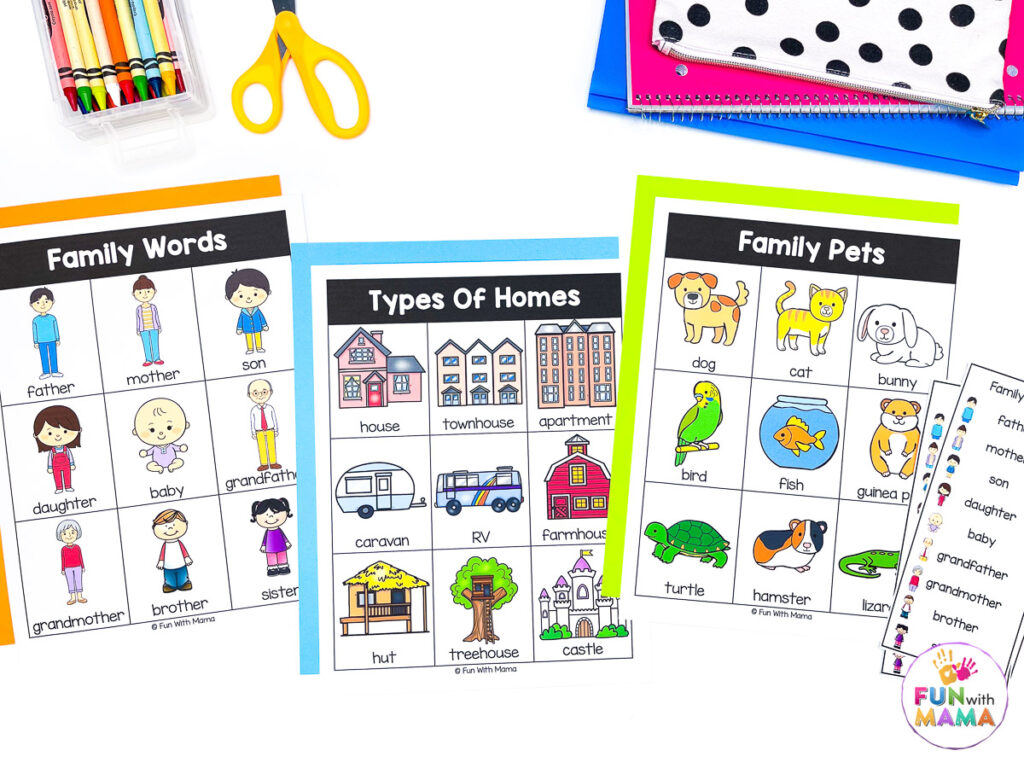 The word charts are perfect for circle time or writing centers.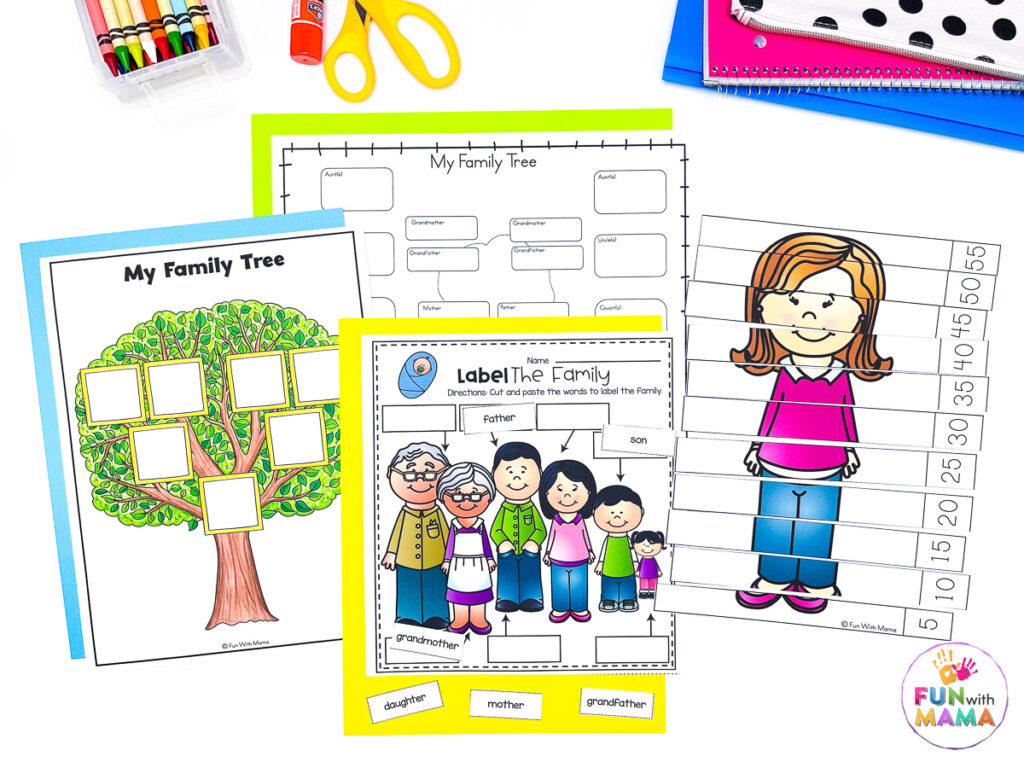 After using the my family activities for preschool, and once children learn the family vocabulary words, children can then work on labeling the family and even create their own family tree.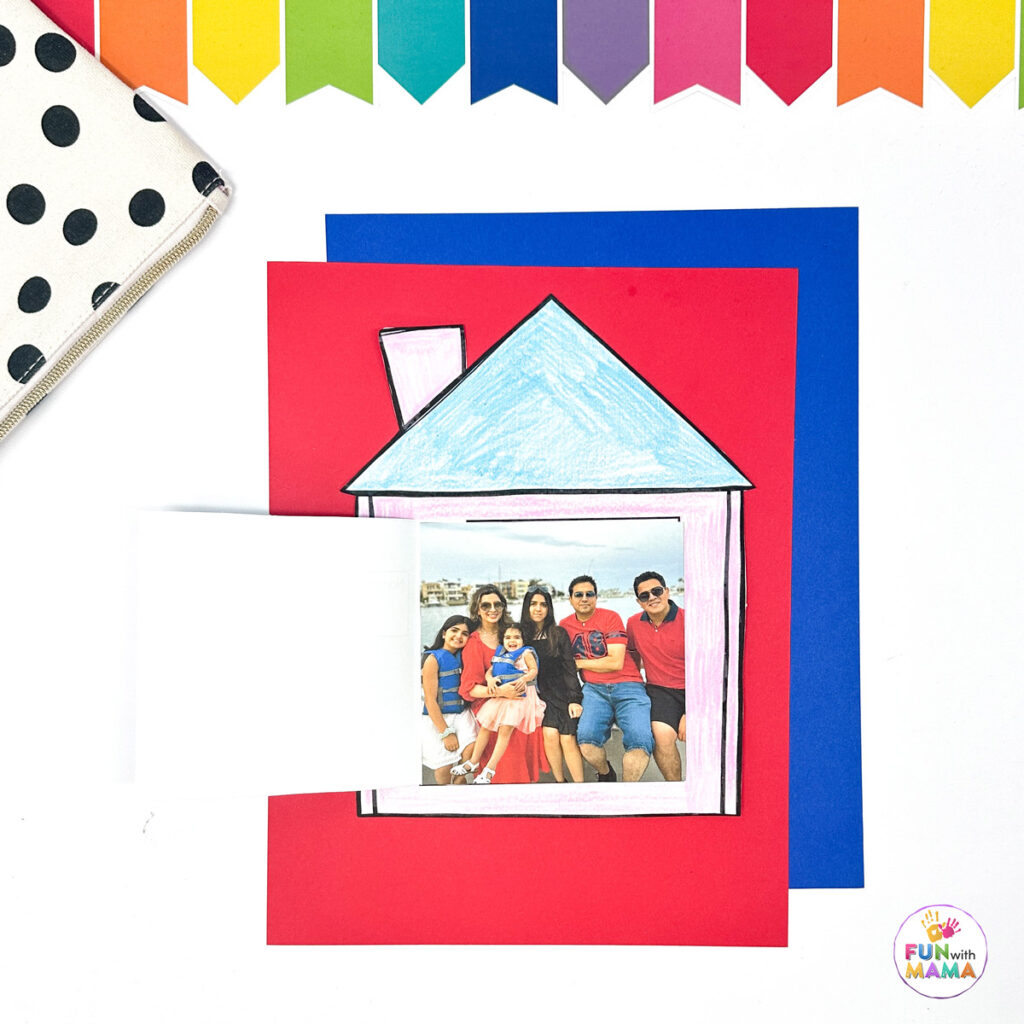 The family craft includes a house craft. Children can color it in and then add their family pictures. They can use this for show and tell to talk about the members of their families. Children will love showing everyone their family photos in the photo card craft.
There are 2 play dough mats included in the activity as well. One is a house play dough mat and the other is a baby themed playdough mat.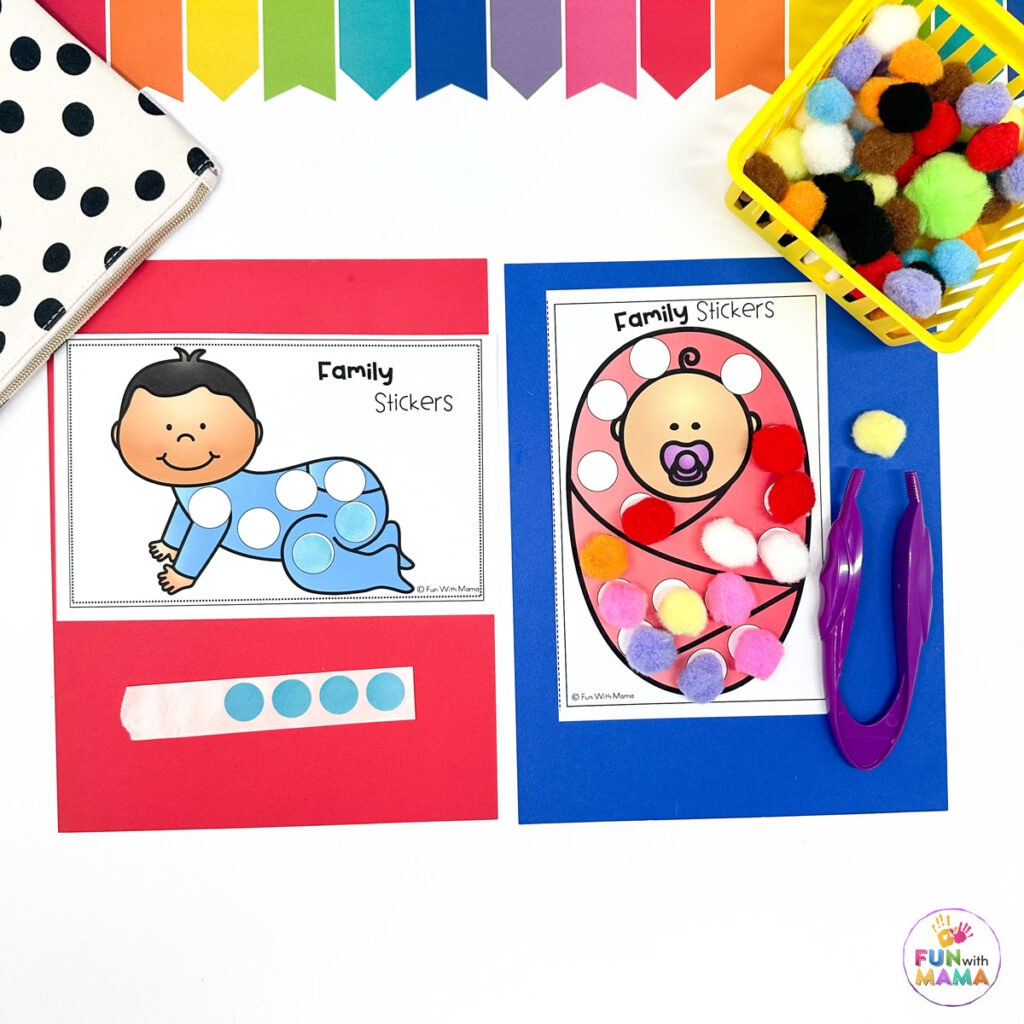 Work on those fine motor skills with the family sticker activity. You can opt to use stickers or use pom poms instead. Little hands can use the tongs to place the pom poms on the white dots.
I've also included some all about me worksheets (all about my family worksheets) that you see below. Children can fill in the details about themselves.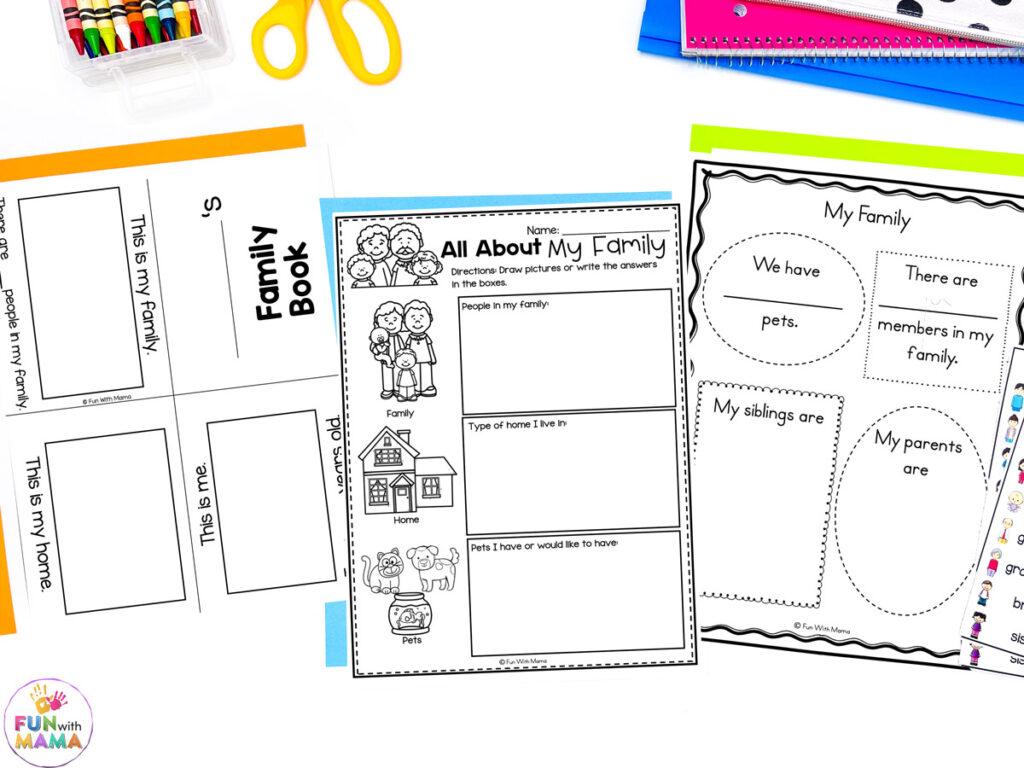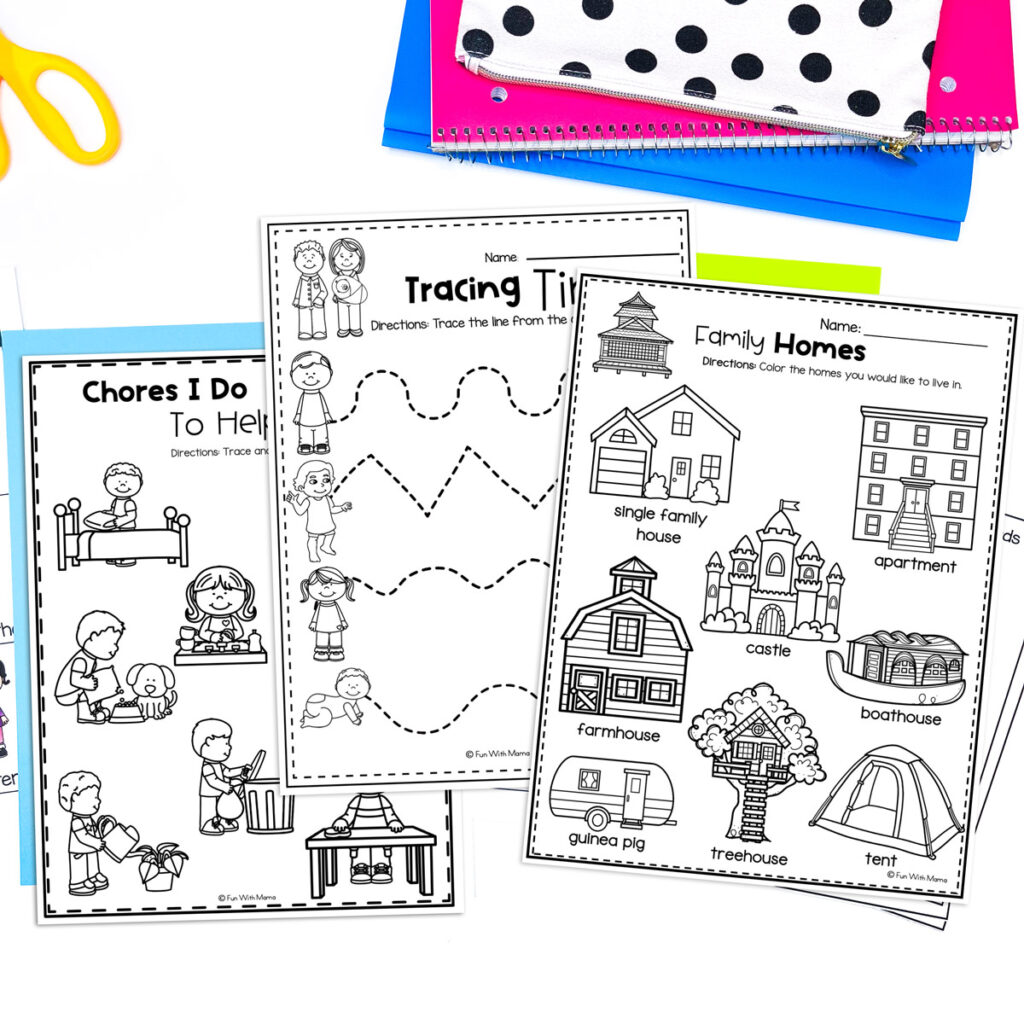 Family Worksheets
Worksheets are great for quiet time, independent time or to send home. Students will share more about themselves like chores they do at home (like clean up their toys), homes they'd like to live in, pets they'd like to have, and more.
There is a human life cycle (and family life cycle) activity in this pack. There is a worksheet in there too that children can color in, cut, and paste.
Where would you use these family-themed activities?
The activities are perfect for classrooms
Use them in your centers or during circle time
You can laminate the cards and add them to a sensory bin
Add parts of the pack to your dramatic play area
Where to get the Family Printable Pack
GET THE FAMILY ACTIVITIES PACK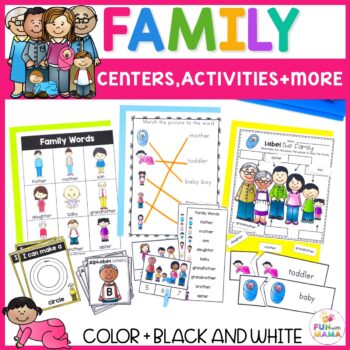 Your students will love sharing and learning about their families in this Family Activities Pack for kindergarten and pre-k. This pack features a range of family literacy and math centers that will engage students and develop letter recognition, fine motor, vocabulary, language, number recognition and counting skills. Plus, explore family trees and the different types of families with a range of graphic organizers and cut and paste worksheets.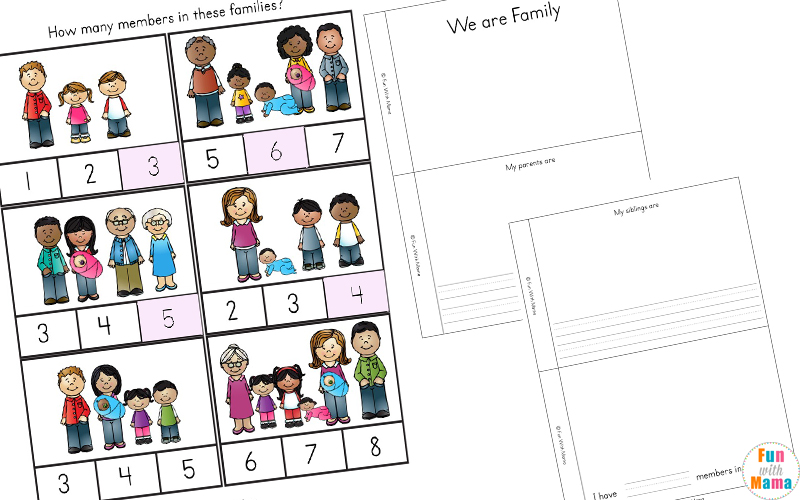 These printables are a great way for kids to learn more about and celebrate their families. The activities can be used by toddlers, preschoolers, kindergarten and first graders.
Family Worksheets For Kindergarten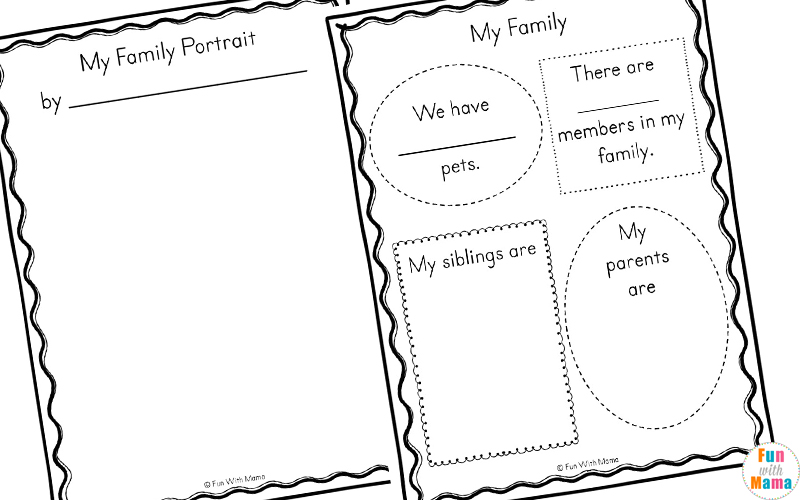 What should I print in this family theme preschool unit?
Our printable packs are always jam packed full of fun activities and worksheets. From puzzles to art and coloring pages there is so much to do. I always suggest that when working through a printable pack with a child, you should not print out every single activity. Print out the ones that you know your child will like, or print out different activities within the printable packs each time.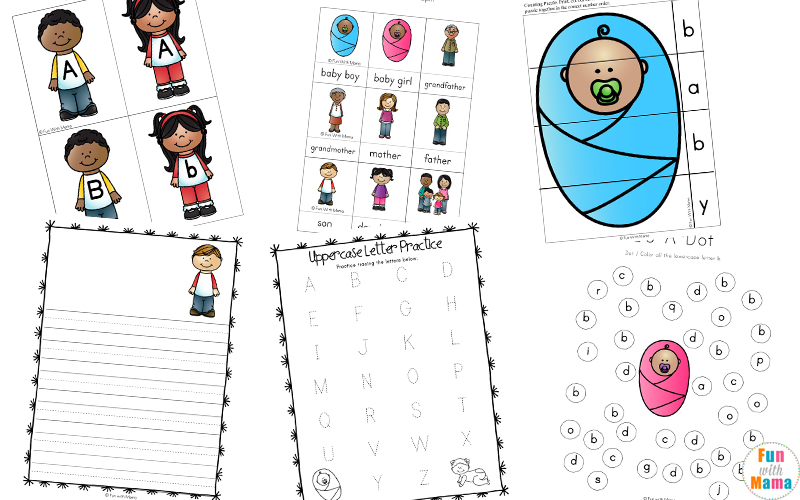 All of our printable packs have an educational aspect to each activity. Whether your child is working on alphabet letter recognition, number recognition, counting, patterning and sequencing there is a lot to see and do.
At the end of this families theme printable pack there are activities relating to their families. There is a page where the child can draw a portrait of their family, though if they prefer to glue a photo on, that is okay too. There is also a small book that children can make after they complete the sentences and illustrate their answers.
Check out The Best Family-Friendly Kid Movies On Disney+ and 26 Family Traditions To Encourage Love + Unity.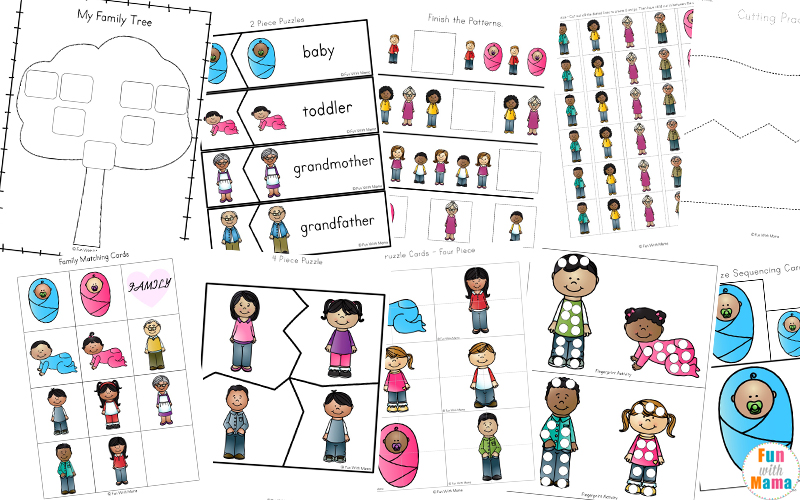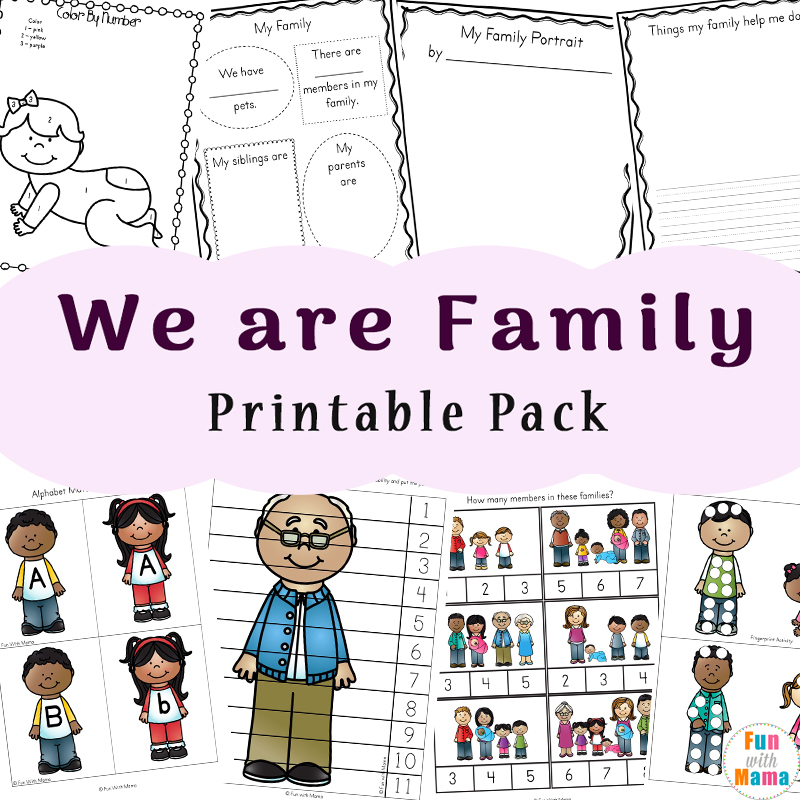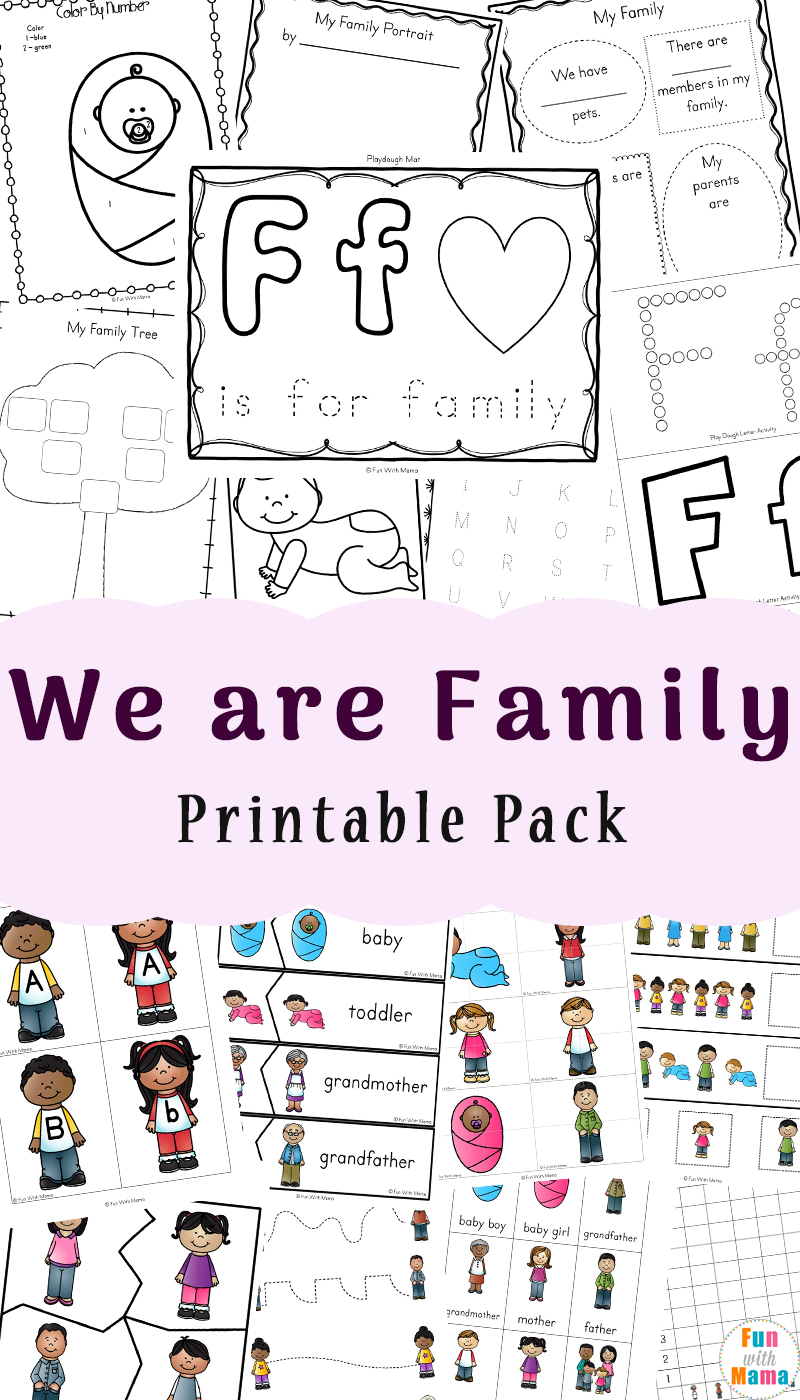 Want more family activities? Make some family puppets or a family origami house at No Time For Flashcards.