These brown bear brown bear activities for preschool printables are great for extending and exploring a much beloved book through hands-on activities, while working on storytelling skills, color recognition, vocabulary words and more.
Brown Bear Brown Bear What Do You See? is an extremely popular book, that young children love to read over and over again- And for GOOD reason. This book is fantastic! The catchy tone, anticipation and little bit of memory use is one of the reasons this book is exciting.
Brown Bear Brown Bear What Do You See
Please note that affiliate links may be used in this post. Please see my disclosure policy for more information.
The Brown Bear book by Eric Carle is a childhood staple in everyone's homes and classrooms. It is a catchy and fun children's picture book with repetitive text and bold illustrations that children (especially toddlers) adore. This is good for teaching kids color identification, color words and sequencing. It is similar to the Lady Who Swallowed A Fly book, which we also have a fun activity pack for called Old Lady Who Swallowed A Fly Activities, in that the repetition is the main reason children like it.
They like to "read" it along with you. We love adding the Felt story pieces to our flannel board as we read the book.
Our brown bear brown bear printables pack includes a variety of math and literacy activities as well as lots of fun color identification and sequencing activities.
Materials Required:
Please note that affiliate links are used in this post. Please see my disclosure policy for more information.
You will first need to purchase the Brown Bear Brown Bear What Do You See book.
Supplies We Used
Tried, tested, and loved by us here at Fun With Mama.
Brown Bear Brown Bear Activities
Providing story extension activities, like this printable pack, have excellent benefits for children. Not only does it help get children excited for reading but it helps bring the story to life more. It helps children with reading comprehension skills for the future. This is just one example of a wonderful story extension activity for Brown Bear, Brown Bear that your kids will love!
Above you will see some of our printable puppets, writing word cards and story strips. Have children put the story in order.
The activities come in color and black and white, for your preference.
Learn the names and colors of the animals. Use the word chart to place pom poms of various colors to match them on the same colored animal.
Those alphabet bears provide a fun alphabet hunt. Identify the letter on the card. In the case above, it is the letter Aa. Students will place a bingo chip, piece of paper, or circle the letter Aa.
There are a variety of math activities included too.
The color caves is a color-matching activity where children need to match the colored bear to the same color cave. If you have counting bears at home you can substitute them in for the bears in the color caves.
There's a count the room activity where you can place the numbers around the room. Once your student or child identifies the number on the card through counting or reading the number, they can then trace the number on their recording sheet.
There are count and clip cards that are great for those fine motor skills and a count the objects including counting the blue horse, red bird, yellow fish and green frog.
There are a few art activities like dot marker activities, fingerprint art, and a brown bear craft.
After reading the brown bear story, it's a great time to talk about bears and learn more about them.
The dot marker activities can be used with stickers as well as pom poms instead of dot markers.
Next, there are story sequencing activities that relate to the Brown Bear Book. Children can practice their scissor skills by cutting out the animals before placing them in the correct order they appear in the book.
This printable pack also includes a variety of math activities such as number puzzles, counting to ten cards, I Spy fun, count and clip cards, simple addition and subtraction.
All the regular fun activities such as tracing the lines, maze, fingerprint activities, odd one out, what comes next? And size sequencing cards are also included. The fun Brown Bear Brown Bear activities include art, do a dot, q tip painting, play dough and more!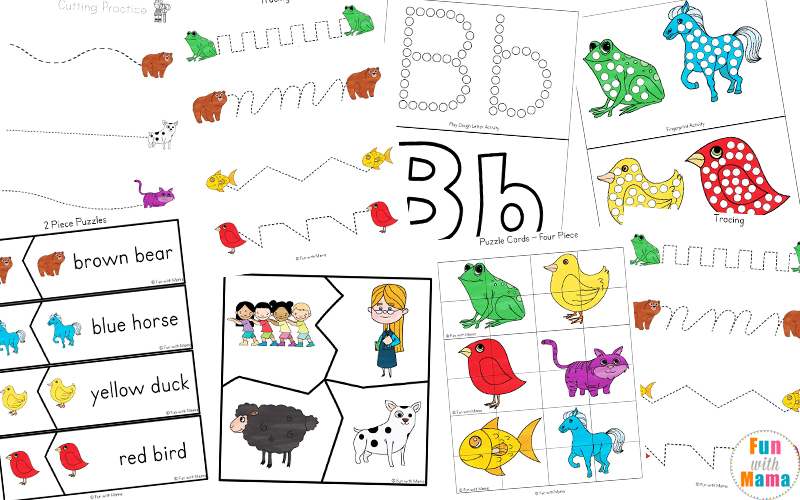 We absolutely LOVE this felt set and often use it for storytelling and story sequencing. You can find Connie's other wonderful felt story sets here.
Brown Bear Worksheets
Where to get this activity
GET THE BROW BEAR EXTENSION ACTIVITY HERE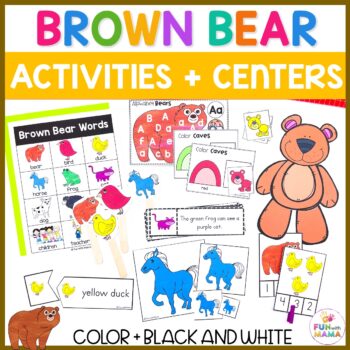 Get your students excited about reading, writing and math with this Brown Bear Activities Pack. Perfect for preschoolers and kindergarten students, this math and literacy center pack includes cut and paste sequencing activities, a mini book to read and color, creative writing pages, stick puppets, count and clip cards and much more.
Check out these Color Recognition Activities For Preschoolers or make this simple bear soup.
Don't forget to pin this activity below: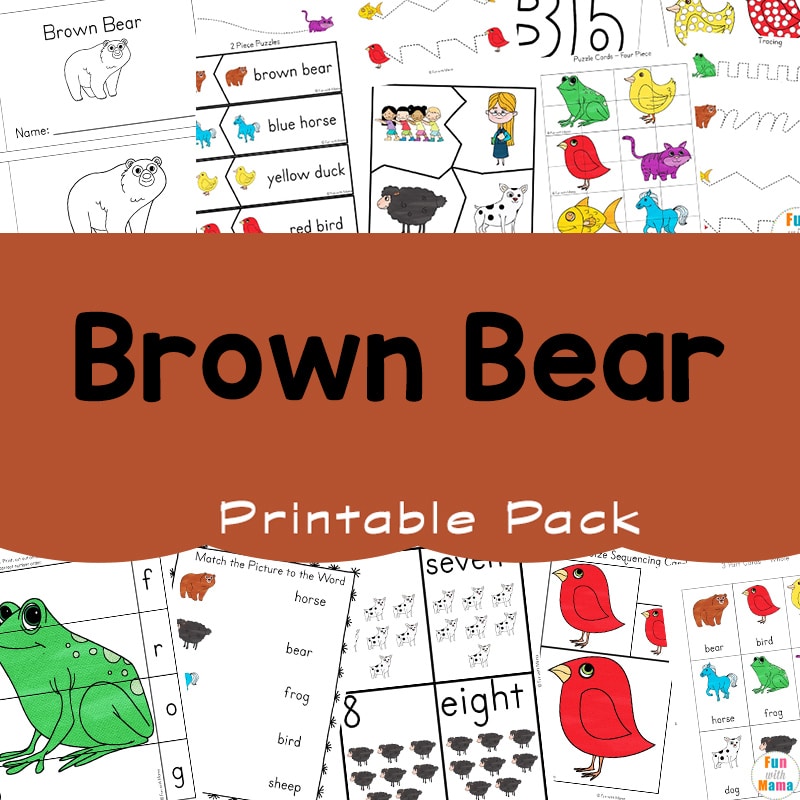 You can find all of my printable packs here.