This goodnight moon and star night sky is such a pretty and fun kids painting activity. This art and craft activity will be a beautiful addition to your art wall. Toddlers, preschoolers and elementary aged kids will all find delight and an open invitation to some creativity with this glitter filled art project. Allow them to explore the night sky by first looking at it outside the night before you do this activity.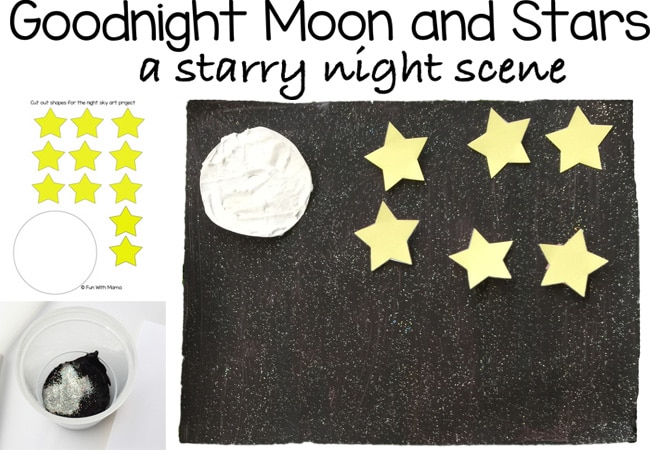 There is one scene in the book Goodnight Moon (one of our FAVORITES of all time kid books) that always makes me pause. Its the last page of the book where the room is dark and you just see the most beautiful shining night sky and stars outside. This painting scene is inspired from that book.
Materials Required:
Please note that this post may contain affiliate links. Please see my disclosure policy for more information.
Paint brush
Flour
My printable stars and moon activity (found at the bottom of this post.)
The Kids Painting Activity:

I placed the above items on an ikea tray. (This is often how I present an activity to my kids.)

I sprinkled some silver glitter into the black paint and had my toddler (2 year old) mix it in.
Once she was done thoroughly mixing it in she began to paint all over the paper.
I explained to her that she would need to cover ALL the white paper with black paint.
She made a few strokes but found that dabbing and smashing her brush into the picture was more fun. (It also turned out really pretty and different by using that painting method.)
Once the black painting was done we left it to dry.
We then got started on our Moons.
We added some flour to white paint to thicken it and give the paint some more texture.
The kids put on a thick layer and swirled it around on to their circle.
Once everything was dry (I waited until the next day) I had the kids glue on their stars and moon.
We wanted to give our pictures some depth but since we didn't have any foam sticker squares (3d look) to adhere to our stars and moon we just folded up some tape and used that to create a little bit of depth.
My 6 year old liked using the stars with the moon.
My 9 year old said that since he had recently done a school visit to the planetarium he felt that the night sky with the glitter in it already looked very realistic and that his picture would look better if he just added the moon. No stars for him.
My toddler on the other hand likes to use glue so I allowed her to play around with the glue and make a picture she was happy with.
Download the stars and moon by clicking here or the image below.

Pin it: