If you're looking for some fun Christmas activities for Preschoolers, then look no further! We've rounded up the very best Christmas activities that are out there, and put them in a set of adorable, printable cards.
These cards are full of both indoor and outdoor Christmas ideas, and kiddos love using them! Keep reading to take a closer look at what's included.
Make sure to check out my Christmas Pajamas the Whole Family Will Love so everyone can snuggle up and be festive together!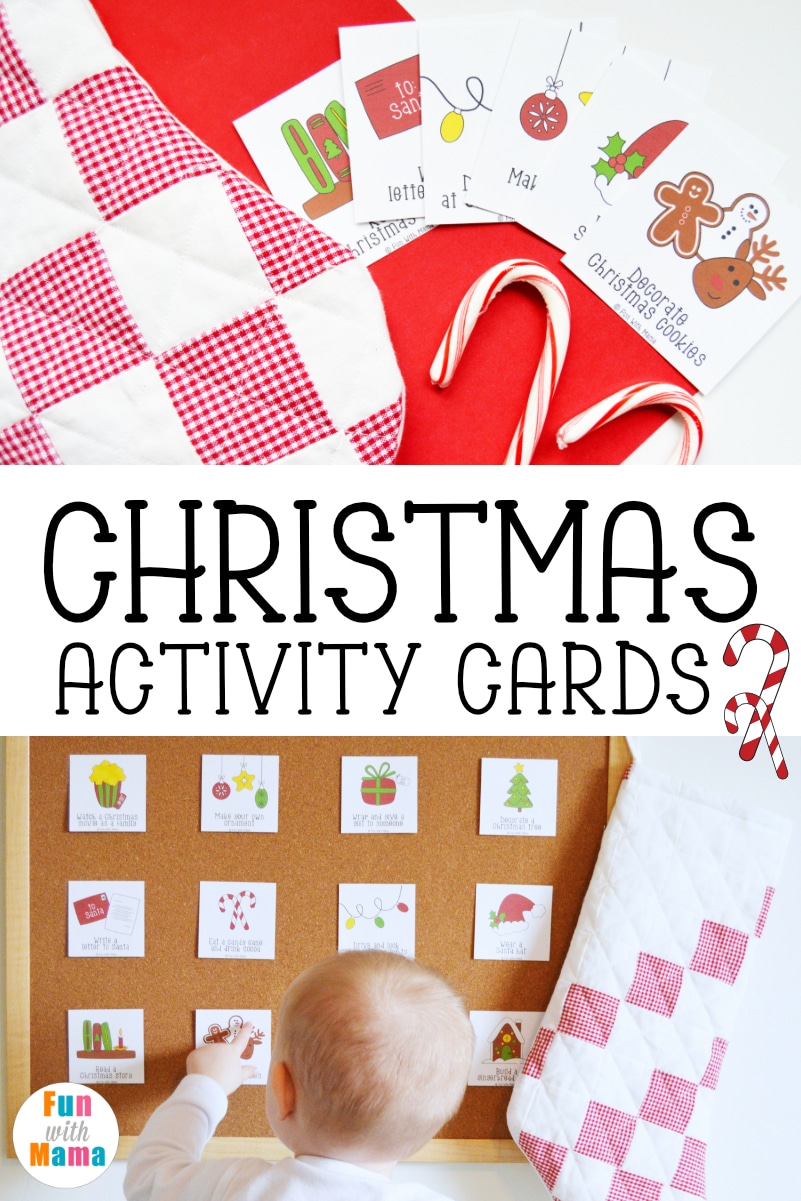 Christmas Activity Cards – Fun Christmas Activities for Preschoolers
Christmas is the perfect time to make some merry memories with your little ones, and we've taken the guesswork out of choosing which activity to do. These fun Christmas ideas are inexpensive and easy and will have the whole family feeling holly jolly in no time. Young children especially love using them, but these cards are fun for any age!
Fun Christmas Activity Cards
Please note that affiliate links are being used in this post.
Materials Required:
How To Get This Christmas Activities for Preschool Printables
Getting your cards printed and assembled is so simple. Start by printing them out and trimming around the edges of each square. You could absolutely leave the cards loose for your kiddos to thumb through OR you could make your very own board of fun Christmas activities!
To do this, all you need to do is grab a few push pins or some tape, and use them to attach your cards to a corkboard or poster board.
You could then place it in a central location like the kitchen or, for an extra festive treat, hang it in your kiddo's bedroom as we did. They absolutely love it!
One of the best parts about having the cards displayed on a board is that it helps your children see all of the fun Christmas activities at once.
Let them practice their decision-making skills by having them pick a card each day from the board. When you've completed that activity, remove it from the board or cover it with a Christmas sticker!
Fun Christmas Activities for Preschoolers
In addition to the Christmas activity board idea, there are so many other creative ways you could use these cards. Try printing a set to give as a gift to teachers or friends, or use them to do a fun Christmas scavenger hunt!
You could even string them along a length of twine and hang them as decoration.
Are you curious about which types of fun Christmas activities for kids (and other ages!) are included in your cards? Take a peek below!
Decorate a Christmas tree
Write a letter to Santa
Wear a Santa hat
Watch a Christmas movie as a family
Drive and look at Christmas lights
Make your own ornament
Eat a candy cane and drink cocoa
Go Christmas caroling
Build a gingerbread house
Wrap and give a gift to someone
Decorate Christmas cookies
Read a Christmas story
As you can see, we've made sure to include easy Christmas ideas that you can do at home or out-of-the-house, as well as craft ideas, tasty treats, reading/writing activities, and ideas to promote generosity and togetherness.
This is definitely a Christmas bucket list you'll want to try. Use these simple Christmas activities for preschoolers as a fun way to get excited and ready for the holidays!
Even more holiday activities for preschoolers
If you're feeling pretty flexible and want to come up with some of your own ideas, or if you simply want to add to the already great list above, we've made that possible.
Just print out the included blank cards and get brainstorming. You could even sit down with the kids and see what fun Christmas activities they can come up with!
If you need a little bit of inspiration, be sure and check out some of our very favorite Christmas and holiday ideas below.
Grab your free Christmas Cards Activity printable below!
Get the Christmas Activity Cards Here