Using candy canes as a simple science activity is so much fun to do. And since candy canes are plentiful during this time of year, it's easy to get your hands on some plenty of them to use. These Colorful Fizzing Candy Canes are not only fun to make but they'll get everyone in the Christmas spirit!
Colorful Fizzing Candy Canes
We're head over heels for this fun and fizzy experiment. We're always looking for fun holiday activities and various STEM activities as well and this is one of our favorites to do.
Great for early learners and simple and fun, this activity can teach children how to conduct their very own experiment on their own.
Be certain to check out our other fun Fizzy Science Experiment as well!
Here is a video: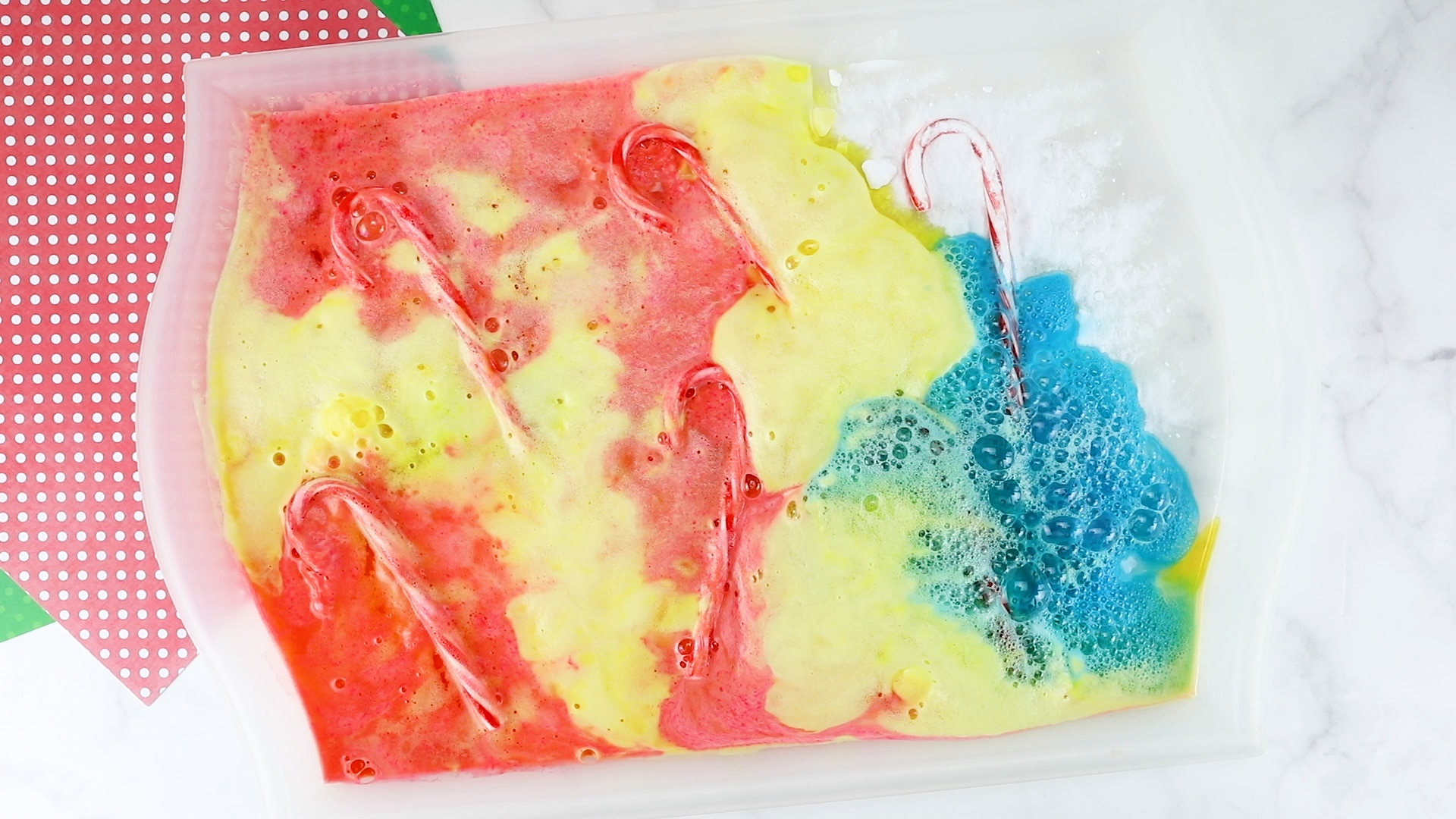 Easy Fizzing Science Activity for Kids
Are you looking for a simple science activity? This easy STEM project will have the kids loving their fizzy results! And since this is such a fun activity that is easy to do, they can easily repeat this activity over and over again.
Make certain to buy a dozen candy canes, or more, because the kids are going to want to go through them all!
This is also a great way to use up all those extra candy cane activities that you have lying around the house, too! Instead of letting the kids eat them, show them how to learn with them instead.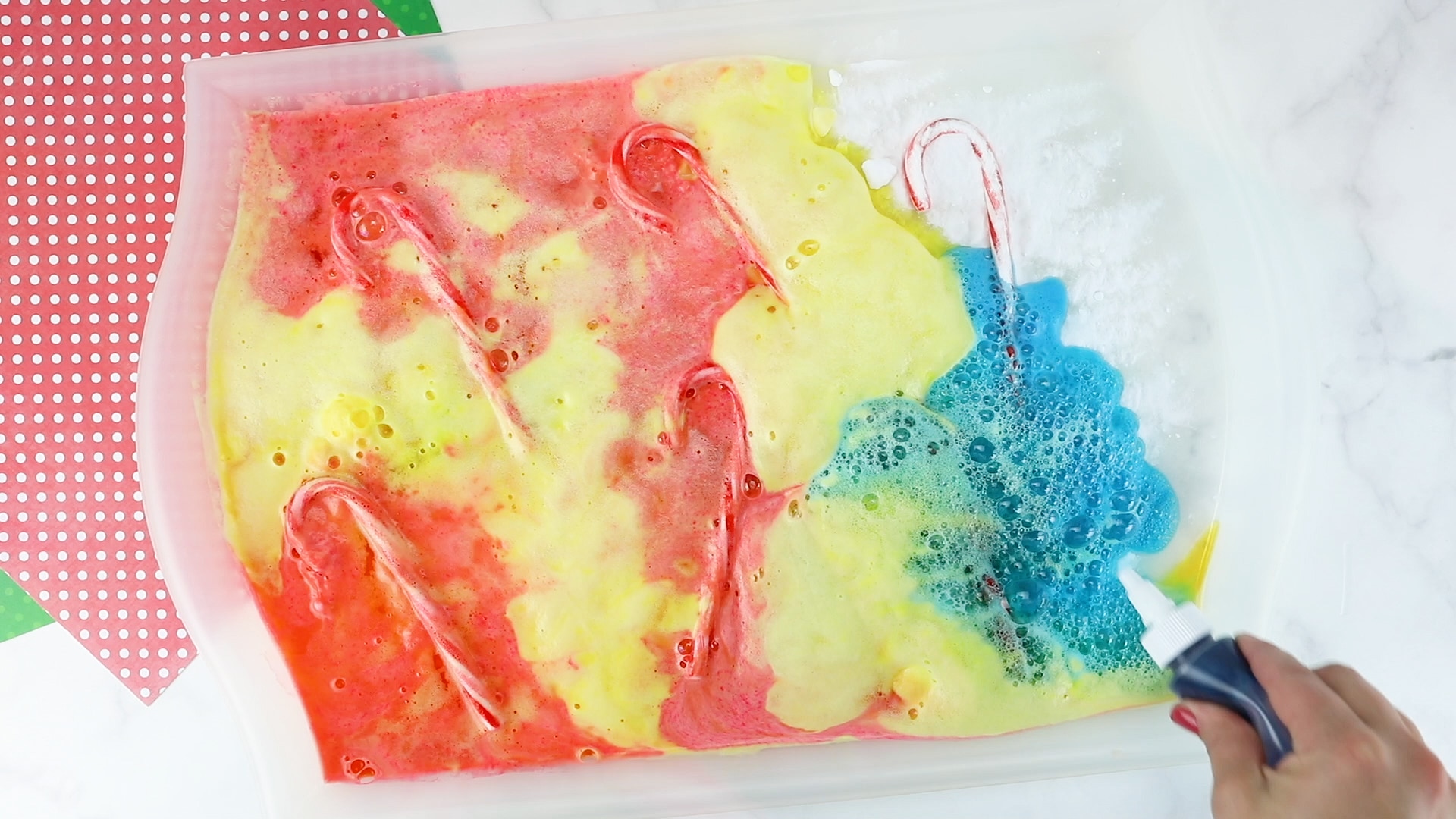 Colorful Fizzing Candy Canes Supplies
Candy canes
Play tray
Pipettes or Squirt Bottle
Baking soda
Vinegar
Food Coloring
How to Create This Fizzing Candy Cane Supplies
Start by unwrapping the candy canes. This will actually work with just pieces of a candy cane, too, but the effect is way color when you use the whole candy cane.
Line the bottom of your tray with baking soda.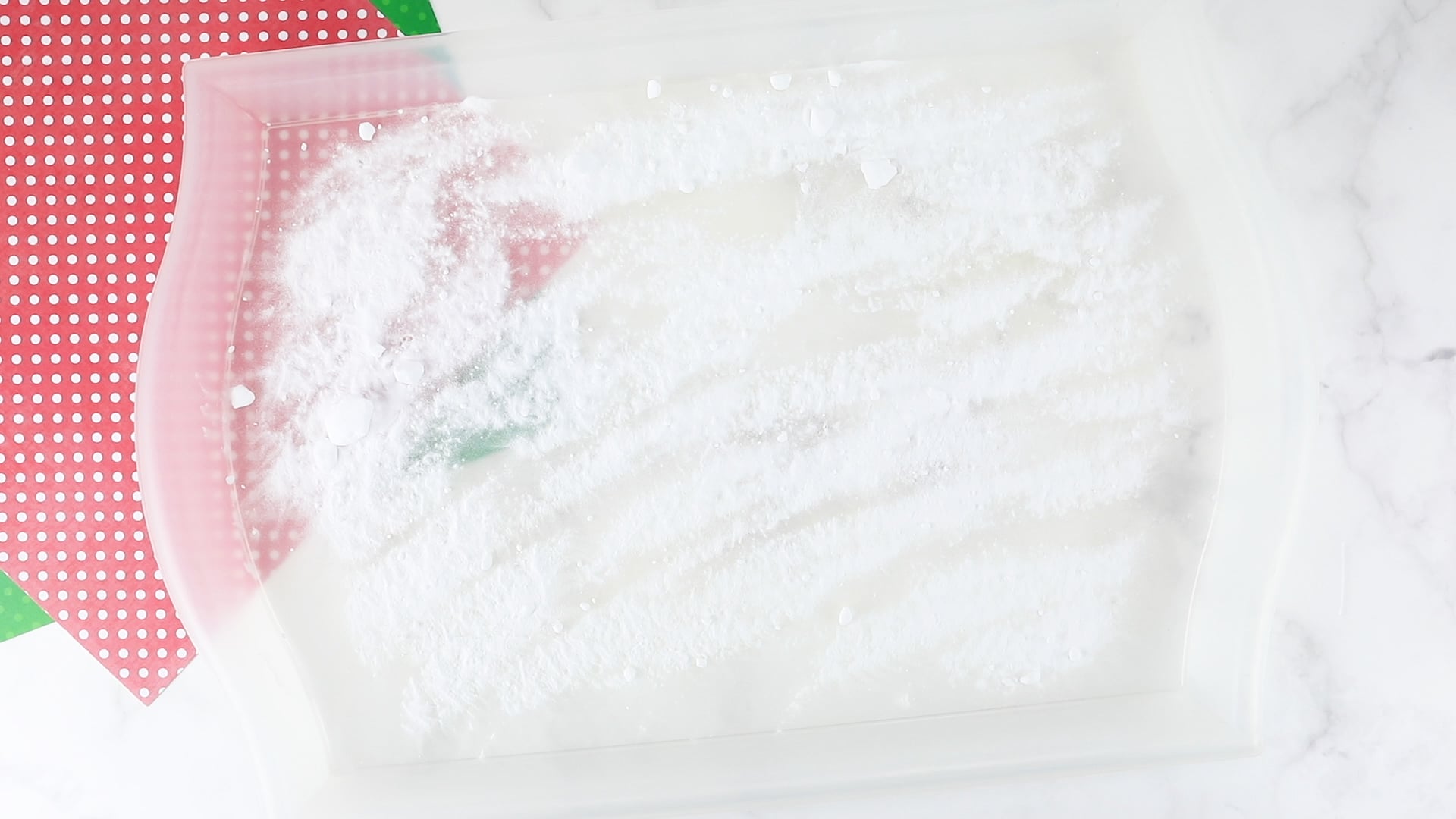 Wet the candy canes a bit, but make certain that you don't wipe their stripes off.
Once they are wet, put the candy canes on the tray in the baking soda and make certain to coat them completely.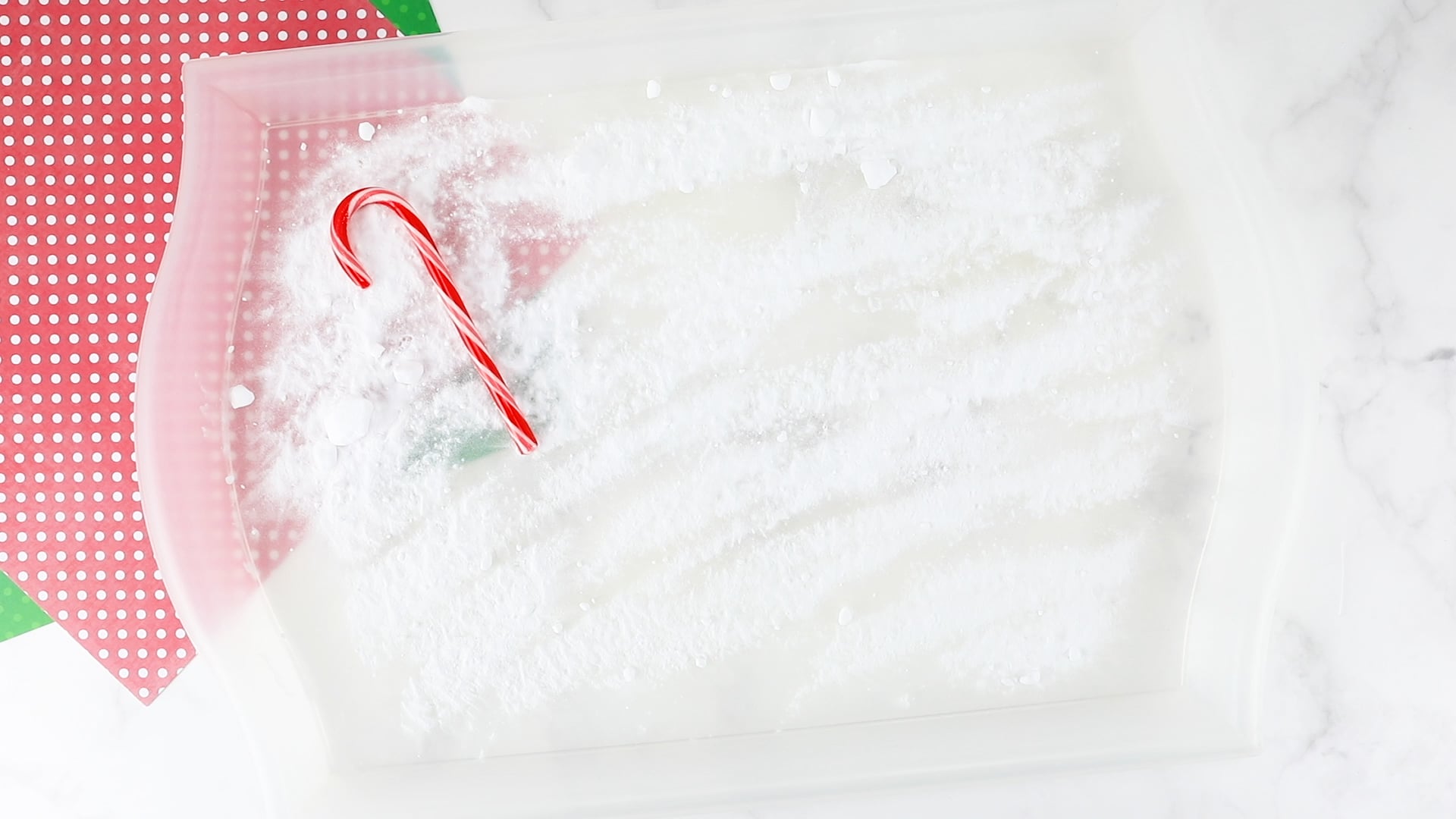 Next, take and fill a few containers with vinegar and add different food coloring drops to each one.
Use something to pick up the vinegar and then squirt a little bit onto the candy canes.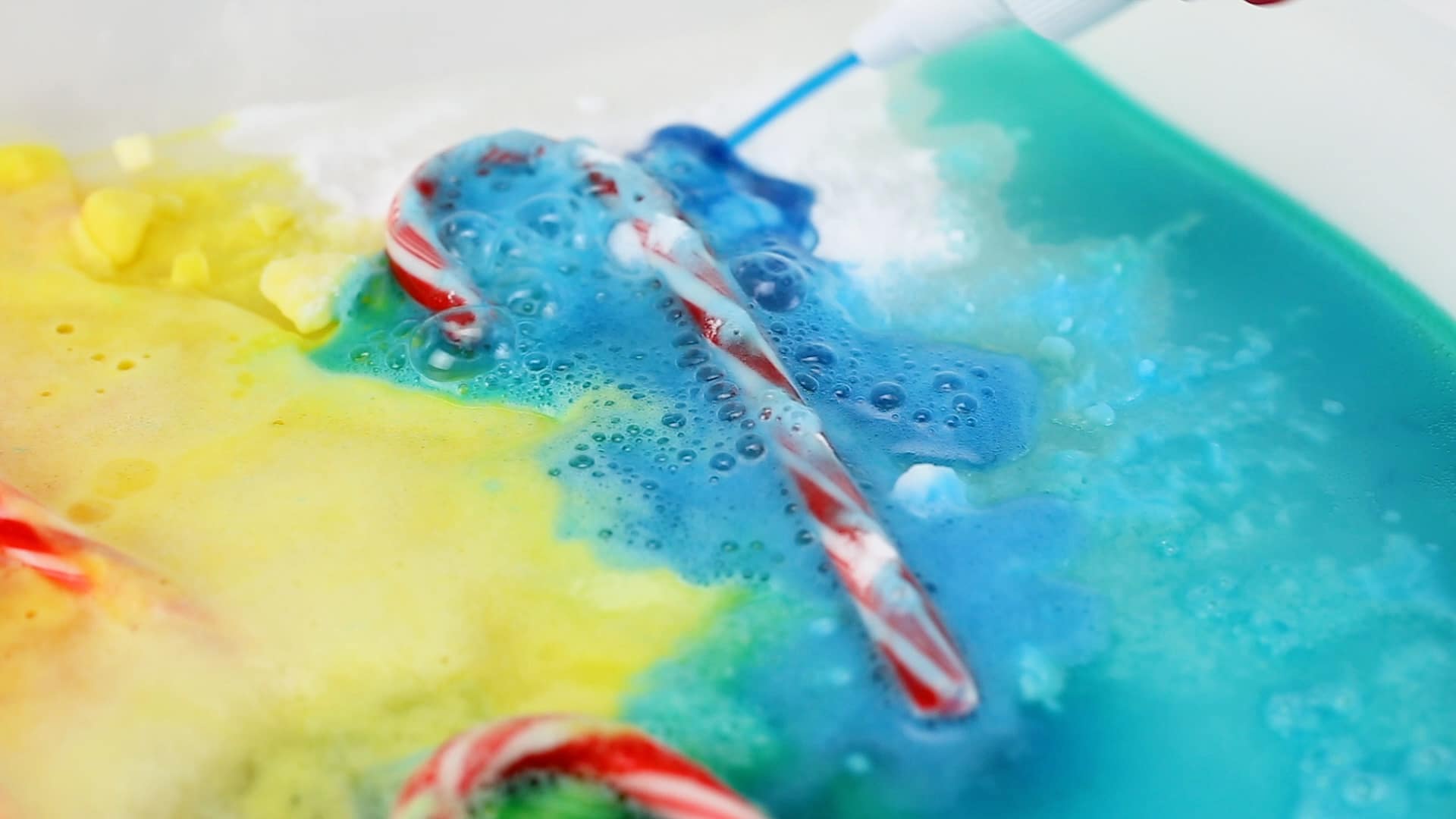 Once the vinegar hits the candy cane and baking soda, it will start to fizz.
Be certain to check out our Fizzing Easter Egg Dyeing as well.
Fizzing Science Variations and Ideas
The great thing about this simple science activity is that it leaves the door open for the kids to explore and use their other theories and hypotheses as well.
Since baking soda is a key part of making the fizz, don't eliminate that from their future experiments but let the kids see if they can get that fizzing with anything else.
Have them use water, soda, olive oil, lemon juice…any other type of liquid that is safe for the kids to handle, let them see if it works with the baking soda! (NEVER mix bleach or any other type of liquid chemical)
Why does baking soda and vinegar fizz?
Once you combine these two together, they actually release carbon dioxide which is what makes all the fizzing happen.
Is it dangerous to mix vinegar and baking soda?
It's not dangerous at all so there shouldn't be any issues with the kids doing this experiment. You should sit with them though just in case they have any questions.
What type of reaction is baking soda and vinegar?
Take this simple baking soda activity a step further and explain the actual process of how it works. Use this as a way to do Science, too. This reaction is because when combined, they create an acid-base reaction. This is because baking soda is bicarbonate and vinegar is acetic acid.
More Science Activities for Kids