This pack includes Halloween puzzles to print and some Halloween printable activities for preschoolers and kindergarten students too! Besides working on alphabet letter matching bat wings, children and students will work on counting, number recognition and rhyming too.
Halloween Puzzles to print
Halloween is my absolute favorite holiday. I have always been partial to the colors and sights of the Halloween season. Not to mention the candy free for all that happens that time of year. Every year I try to go all out for the holiday with decorating and creating cute scary activities for the kids. I love to make Halloween related activities just as much as the kids enjoy using them.
With this pack they will practice counting, reading, rhyming, and letter recognition through building puzzles and matching activities.
This pack includes:
Alphabet letter matching puzzles (Upper and Lower Case Letters)
Rhyming word match (six words in all)
1-10 Strip Puzzle with 3 Jack O Lanterns
Four -at Word Puzzles (Cat, Rat, Hat, and Bat)
Materials Needed:
I order all of our materials using our Amazon Prime Account. My readers can Try Amazon Prime for 30-Day using this Free Trial link.
You can find our favorite preschool supplies here and on my alphabet activities for kids page.
Scissors
Printer and printer paper
These Halloween activities for preschool children include:
Alphabet Puzzles
If you are looking for some Halloween puzzles to print out then check out these letter bat puzzles! They are a fun way to practice matching upper case letters with their lower case letters. Cut out each puzzle and let the children put the bats back together. You can always alphabet activities for kids here.

I love the fun themed Halloween activities we have done in the past.
1-10 Strip Puzzle
Cut apart each letter of this strip puzzle to practice counting from one to ten as they rebuild the picture. They can also count the three jack o lanterns.
You can also find some Kindergarten and first grade Halloween printable activities too!

Cauldron Rhyming Word Match
The Cauldron matching page is about matching words and images to the cauldrons that have rhyming words and images. Cut out the square boxes at the bottom and the kids will match them to each cauldron. There are six words to match in all
-at Word Puzzles
Here are four puzzles to match together. Each puzzle focuses on a different -at word. The puzzles are bat, cat, hat, and rat. Just cut out each puzzle and cut down the dotted line to separate the puzzles. The kids will put them back together and read the words they form.
Where to get the Activity
GET THE HALLOWEEN PUZZLES PRESCHOOL ACTIVITY HERE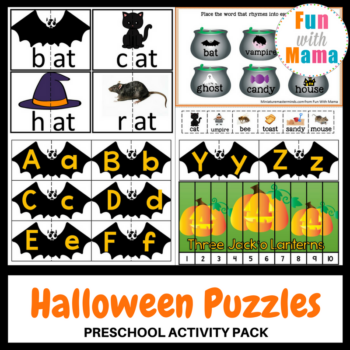 Already a subscriber? No problem. Just enter your details above so we can send this printable directly to your inbox.
Don't forget to add on more of Fun With Mama's Halloween themed activities including Bingo, patterning, a halloween matching game and pumpkin finger painting! You can find the Halloween activities for preschoolers here.
The Halloween hidden ghost activity was one of our favorites!